Are you bored to wear your hair curly, wavy, unbraided? Well, then it's time for twists! Twist hairstyles are an alternative to braids for natural African curls. Twists have one evident merit, compared to braids – they are faster and easier to make, which is crucial for beginners. Other than that twist hairstyles provide the same benefits: protection of natural hair, length retention and a great base for versatile hairstyles. Twists differ in caliber and type (hanging loosely twists and flat twists plaited close to the scalp like cornrows) There are also Senegalese twists, Havana twists, Marley twists, kinky twists.
Lovely Twist Hairstyles to Rock in 2020
Which size and type of twists to choose? How to style your twists? Having looked through our gallery of images, you will get your bearings in regards to this topic.
#1: Chunky Flat Twist Bun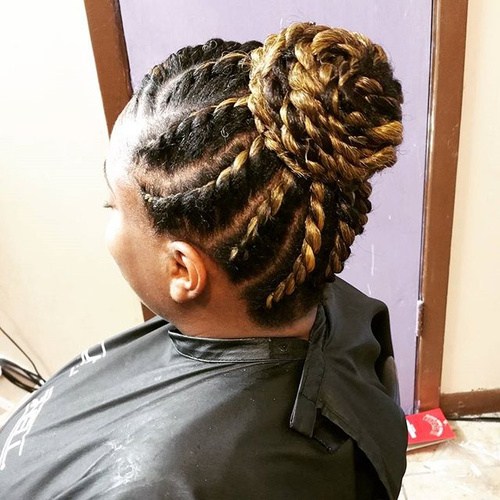 Such twisted updos for natural hair allow you to have a formal look while still protecting your strands from heat damage and over-styling. For extra flair, try weaving in extensions of a different color for a highlighted effect.
#2: Versatile Braids and Twists
Instead of a standard two-strand twist style, elevate your look with the addition of braids. Cornrows are a good choice for those who want a long-lasting option. The long twists also provide versatility for various updos like a Mohawk or bun.