Are you bored to wear your hair curly, wavy, unbraided? Well, then it's time for twists! Twist hairstyles are an alternative to braids for natural African curls. Twists have one evident merit, compared to braids – they are faster and easier to make, which is crucial for beginners. Other than that twist hairstyles provide the same benefits: protection of natural hair, length retention and a great base for versatile hairstyles. Twists differ in caliber and type (hanging loosely twists and flat twists plaited close to the scalp like cornrows) There are also Senegalese twists, Havana twists, Marley twists, kinky twists.
Lovely Twist Hairstyles to Rock in 2020
Which size and type of twists to choose? How to style your twists? Having looked through our gallery of images, you will get your bearings in regards to this topic.
#1: Chunky Flat Twist Bun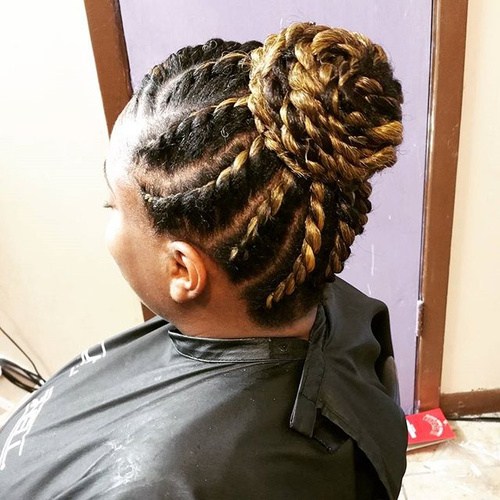 Such twisted updos for natural hair allow you to have a formal look while still protecting your strands from heat damage and over-styling. For extra flair, try weaving in extensions of a different color for a highlighted effect.
#2: Versatile Braids and Twists
Instead of a standard two-strand twist style, elevate your look with the addition of braids. Cornrows are a good choice for those who want a long-lasting option. The long twists also provide versatility for various updos like a Mohawk or bun.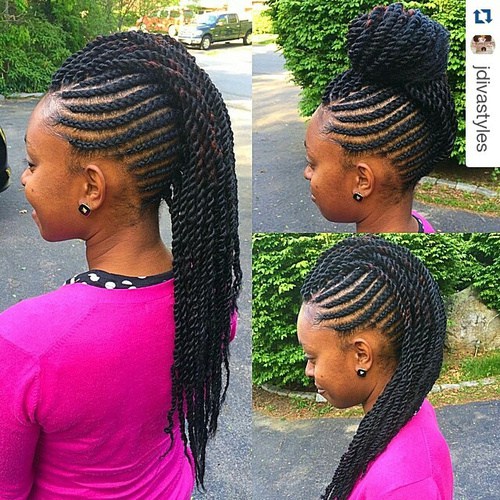 #3: Flat-Twists with Bangs
Most African-American women use braids and twists as a protective style. So, it is important that many of the styles are versatile without being damaging. There are no actual bangs in protective hairstyles, but thinner braids above the forehead can be used as such for diversity and the added flirty flair.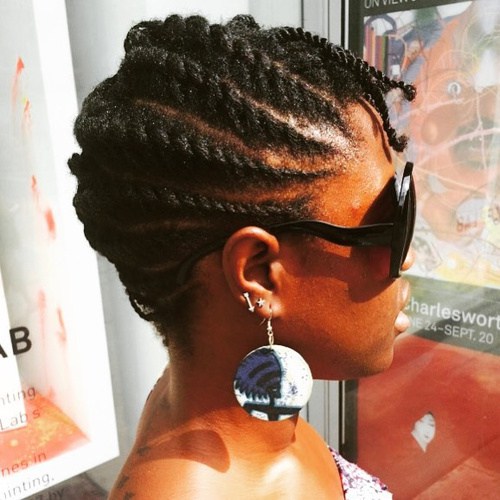 #4: Half Updo with Shoulder-Length Twists
The half-up bun is a popular hairstyle. If you're looking for a fun take on the look, try it with twisted hair. To make more of a statement, accessorize a few random twists with beads. The beads around her face also help to accentuate her smile.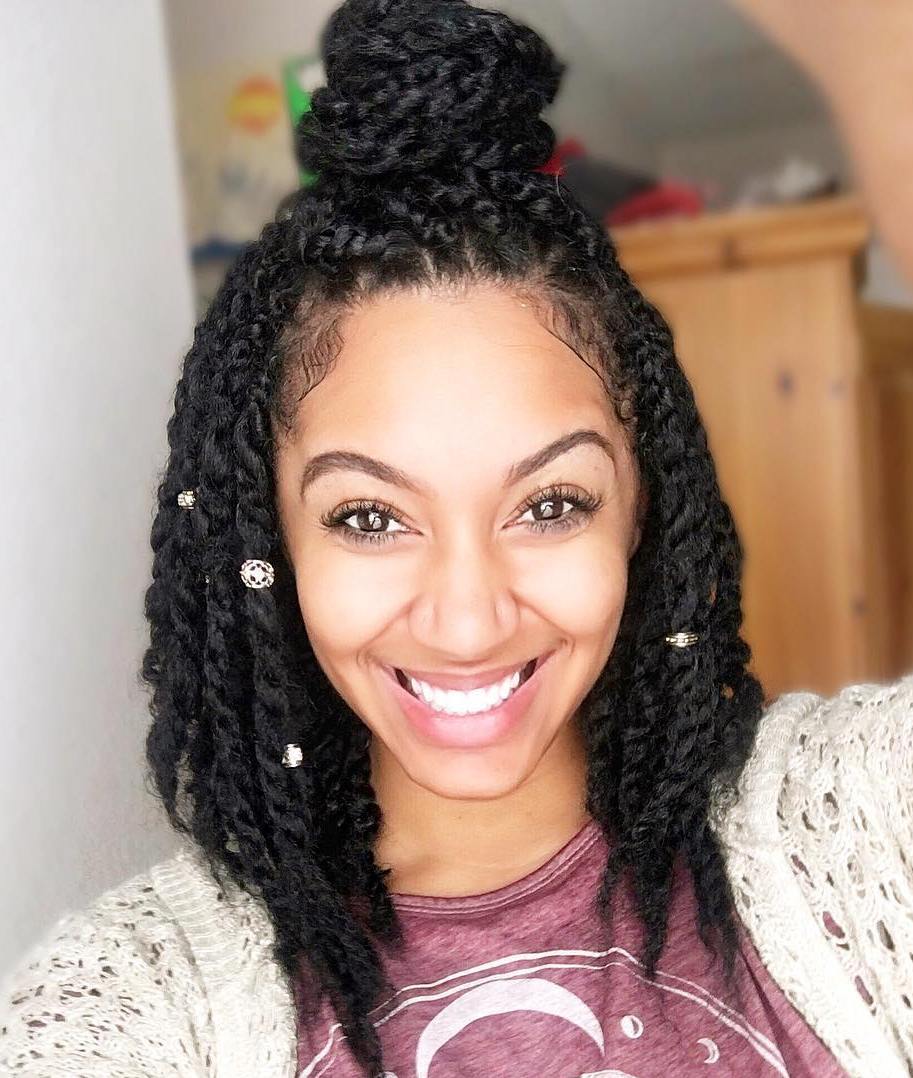 #5: Asymmetrical Flat Twist Updo
When we hear about twists we often think about numerous thin twists. However, we cannot forget about large options. This hair twist, also called a flat twist, is a simple yet elegant protective hairstyle you can easily do yourself in the morning.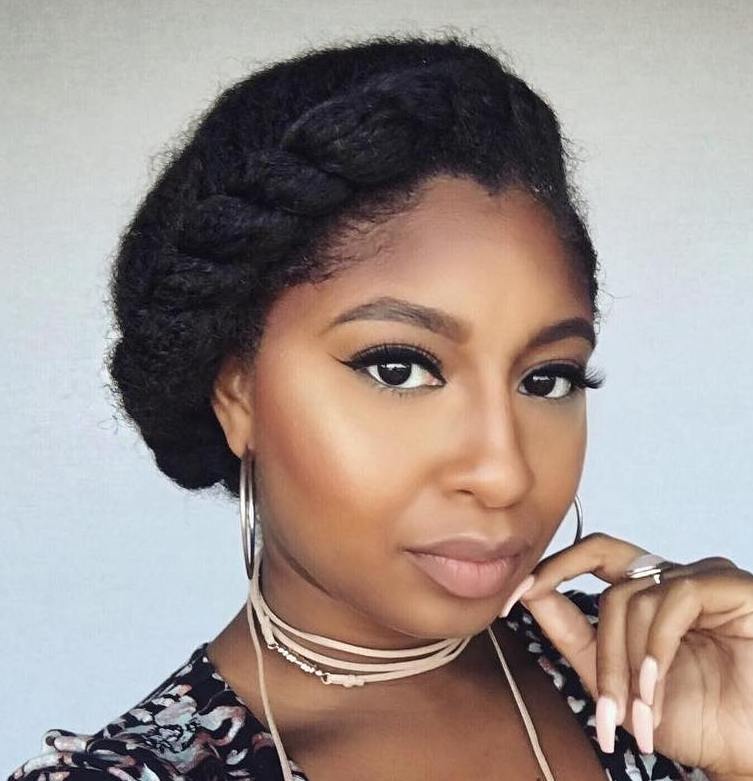 #6: Brown and Black Twists with Beads
A one-color twisted hairstyle is okay, but when you start mixing different colors, you can get a really dynamic look. You don't even need to choose rainbow shades. This look combines brown twists with black ones underneath for a classy look.
#7: Burgundy Senegalese Twists over One Shoulder
Take a look at these stunning burgundy twists. Her hair has been raked over one shoulder. Then a few locks have been twisted around themselves to form a loose side twist. It is a great alternative to simply tying them up with a hair elastic.
#8: Half Up Twists with Bun
If you're wondering how to style your twists, you're in luck because this hairstyle is very simple to recreate. Once you have your hair in thick twists, add a few beads to pieces around your face. Next, take the front sections of your hair and wrap them around to form a bun very close to your hairline. Secure with bobby pins.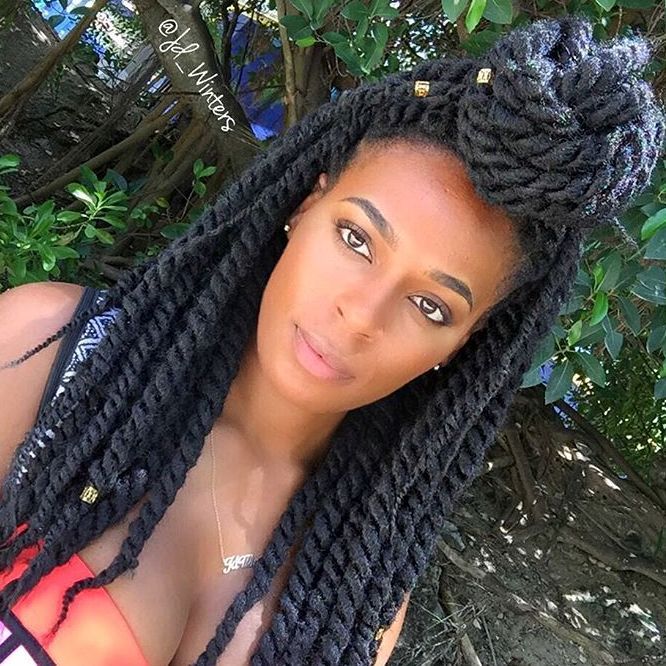 #9: Flat Twist Updo
There is not a bad angle with this look. The back of the head features curved flat twist braids which turn into long single twists. The twists are then scooped on top of the head and wrapped into a bun.
#10: Long and Thick Twists
Black twists work in a wide variety of hairstyles, but sometimes it's nice to just keep them simple so you can appreciate them. This long hairstyle perfectly showcases the way the twists coil around themselves and cascade down the shoulders.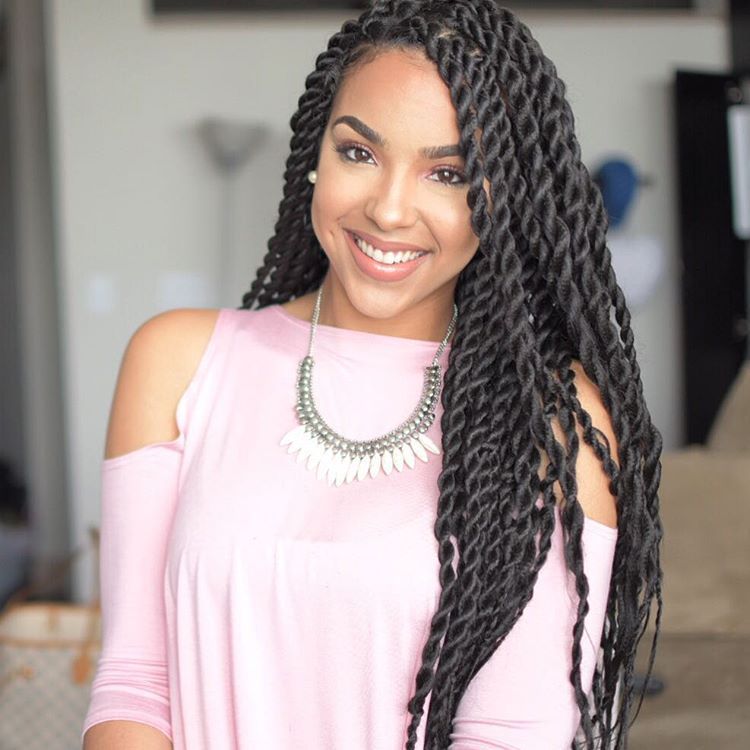 #11: Micro Twists with Kinky Ends
Different twist hairstyles with thin 2 strand twists are definitely worth trying out. Here, the tiny blonde twists are raked back off her face and tied into a half updo. The ends of braids are curled for some texture variety.
#12: Medium Rope Twists in a Half-Up Ponytail
You just have to quickly glance at her face to see that she's thrilled with her hairstyle. Her hair has been styled with silky twists. The pieces have been tied into a high ponytail so all you see is her beautiful facial features.
#13: Brown Twisted Hairstyle
Here is a protective hairstyle that expertly combines color and texture. The mix of brown, blonde and black hair really shows off the twists and their curly finish. Furthermore, the half updo is a brilliant option for girls who want their hair completely off of their faces.
#14: Thick Mid-Length Twists
For a bold look, try twists hairstyles with extremely thick black twists. You can really see the beautiful braiding in this mid-length hairstyle because of how big each individual lock is. If you're wondering about what hair to use for a 'do like this, synthetic hair, like silky braiding hair, is a good option.
#15: Tied Black Twists with Red Accents
When it comes to hair color, treat your twists in the same way you would any other hairstyle. If you're a fan of highlighted hair, work that into your twisted 'do. The deep red in this Marley twist hairstyle pops against the black.
#16: High Twist Bun
Whether you wear your rope twists up or down, they will always look good. If you opt for longer twists, like she did, take advantage of the extra length by wrapping your locks around to create a bold huge bun on the top of your head. Leave the bottom half of strands untied to form a half up.
#17: Colored Twisted Hair
Two strand twist hairstyles work for anyone, whether you're a fan of a subtle look or a statement one. If you fall into the second category, you will like the addition of a bold pink-red hair color in this style with shaved sides.
#18: Pompadour Twists with Beads
Twisted hairstyles can take the forms of fabulous sculptural updos. This asymmetrical pompadour is a worthy example. The mix of black and maroon twists allows you to appreciate the shape of the updo hairstyle even more. The gold beads add the right amount of shine.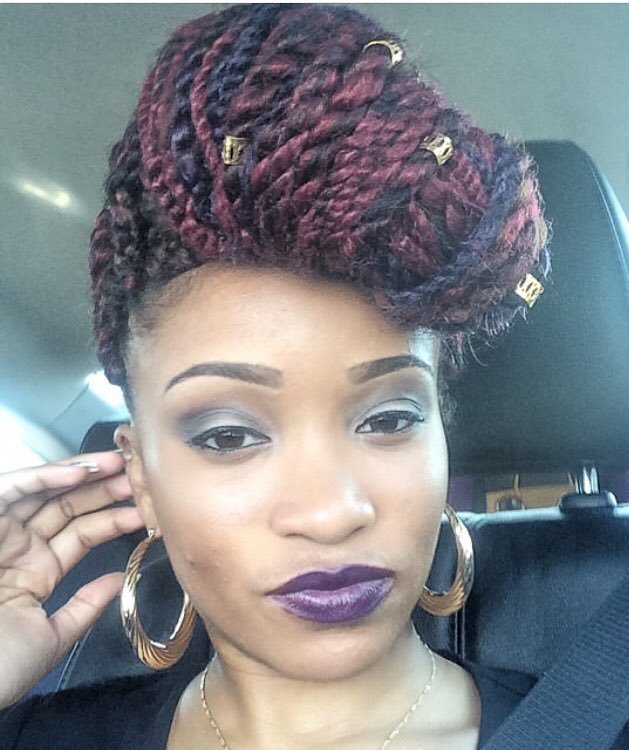 #19: Medium Twists in a High Ponytail
Take your twists off your face by securing them into a high twisted ponytail. You'll be able to fully appreciate your hair's longer length and enjoy a more refined look that also shows off your flawless makeup.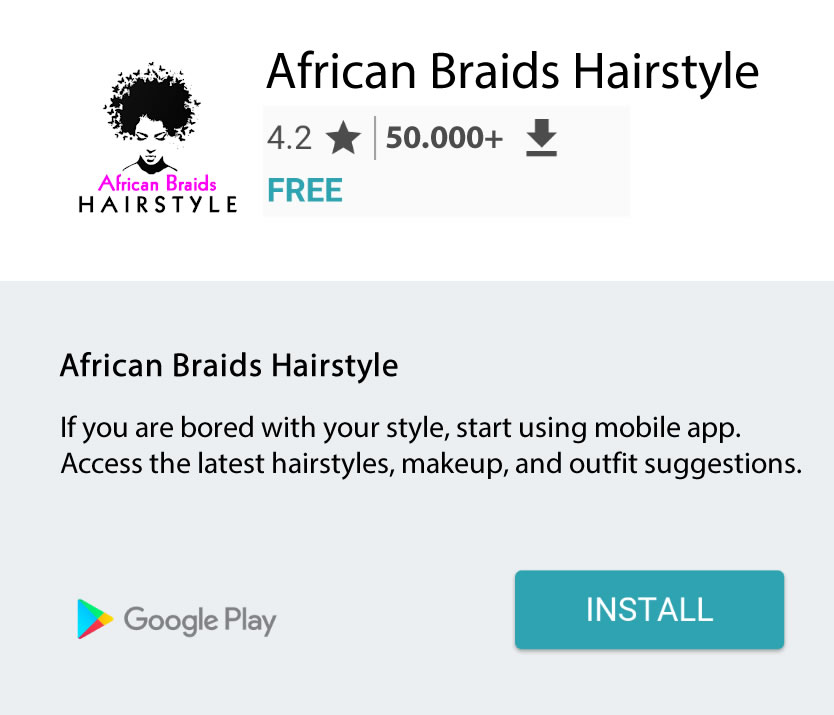 #20: Dark Twisted Braids with A Blue Accent
There are so many different versions of twist styles, but this long one will make a lasting impression thanks to the single eye-catching blue streak against the black twisted hair. This is one of those styles for women who want to add a colorful accent to their hair.
#21: Sweeping Twist Faux Hawk
Calling all faux hawk fans, this is the twisted hairstyle for you. Medium cornrows extend out into twists to form a braided mohawk. It is an edgy look, but it is also surprisingly elegant compared to some punk versions of the faux hawk.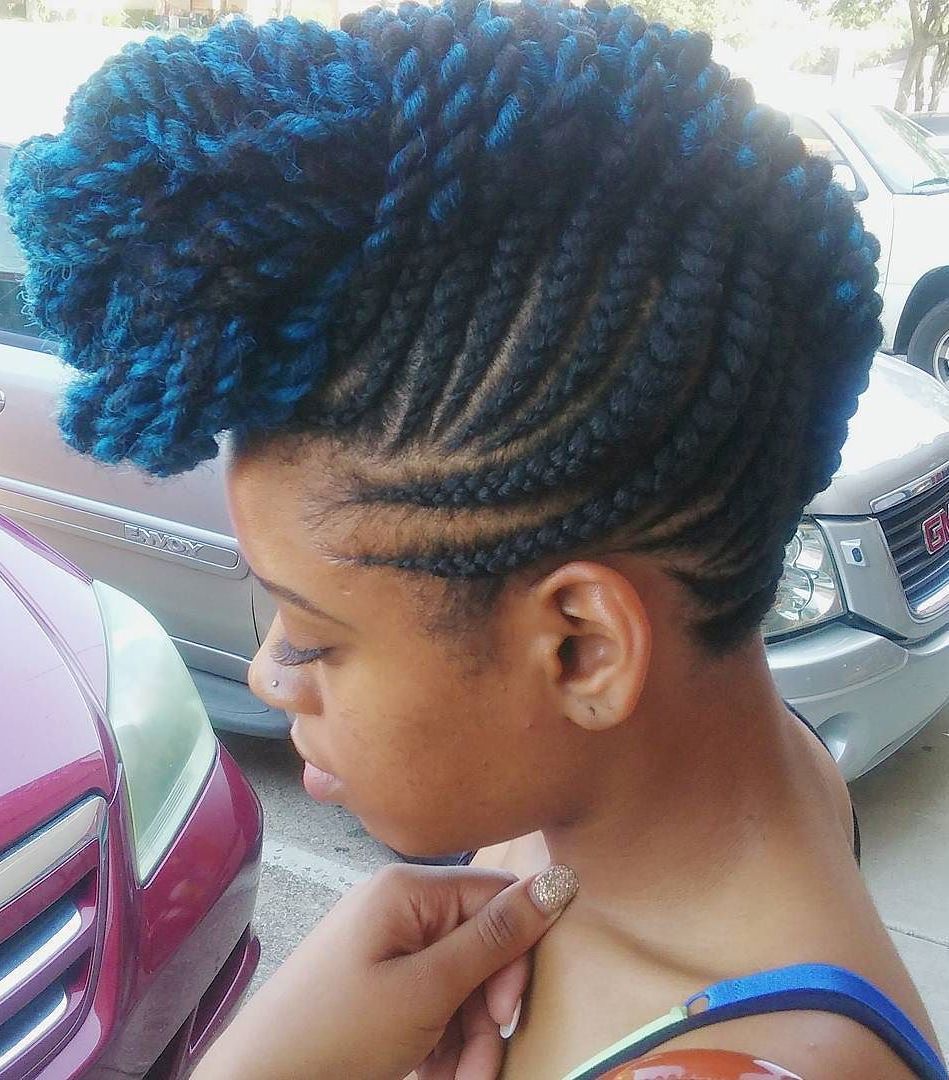 #22: Red and Black Twists
Burgundy and black is a lovely color combination for those who do not want monotonous twists. It's like balayage for twisted hair – cute and way more interesting than a solid color.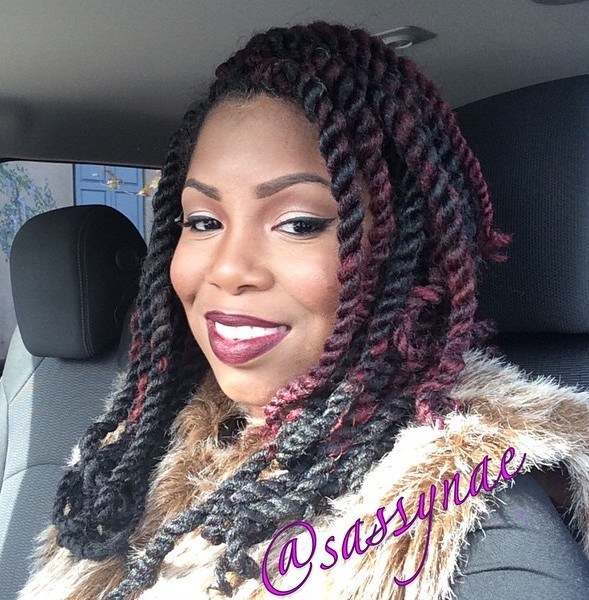 #23: Ash Blonde Twist Buns
Twist styles that do not try to make extended hair look like these are your own locks are bold and, therefore, charming. Although you clearly see where the hair is attached, when you look at the picture of this hairstyle, you realize it's a brilliant choice, don`t you?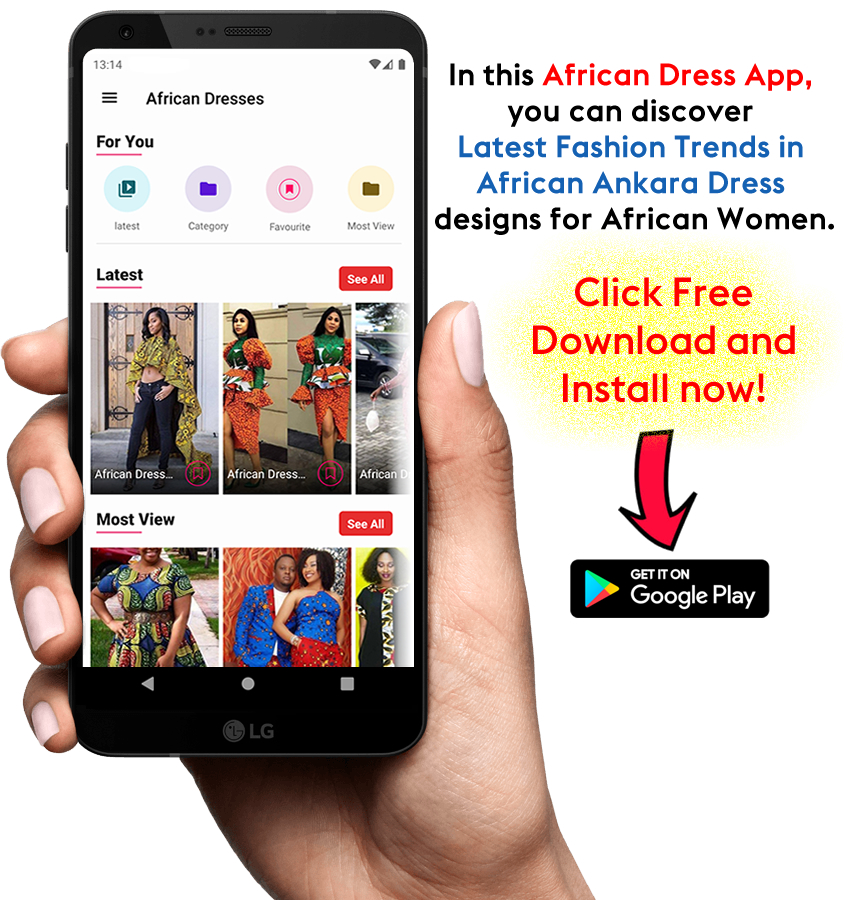 #24: High Bun with Braids
Similar to the style above, this bun uses chunky goddess braids for a quick and polished hairdo. It is a more casual look than the flat twist updo and it's perfect for a vacation or weekend.
#25: Chunky Marley Twists
When you become tired of rocking 90's inspired Poetic Justice braids, marley twists are a worthy alternative. The natural twist hairstyle is lighter than the braided style which gives you the same retro effect without the added weight.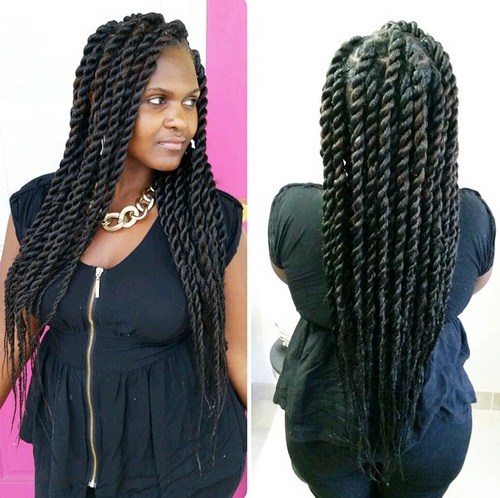 #26: Red Puffy Twists
If you are looking for a style that blends well with thick natural hair, this twisted look is perfect. Use extensions to give you protection and extra length, as well as a variety of different styling options -buns, ponytails and half-updos.
#27: Low Bun with Hair Twist
Smaller twists allow you to experiment with different style options like this large bun with a braid effect. This is a polished style that can work just as easily at a backyard bbq as it would at a black-tie wedding.
#28: Waist-Length Twists with Quirky Updo
For a more bohemian vibe opt for waist length twists that are reminiscent of Lisa Bonet (or her daughter Zoe Kravitz). If you opt for a kinky texture, you can mimic the appearance of dreadlocks. Pair your carefree style with a whimsical detail like a giant bow.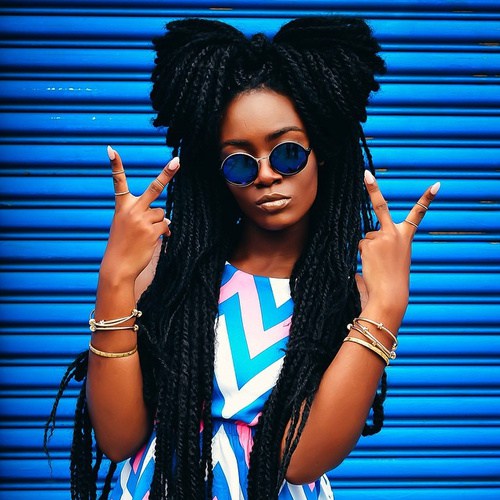 #29: Silky Flat Twist Style
If you prefer a low maintenance style, a twisted Mohawk updo is your best bet, as it requires little to no maintenance in the morning—just get up and go! It is perfect for a professional woman or a busy mother who is short on time but still wants to look pulled together.
#30: Braided Style with Jumbo Twist Mohawk
Why to choose just one option when you can combine them for a memorable hair moment? This look blends thin cornrows in an intricate design, jumbo Marley twists and a Mohawk for a standout style. Definitely not the look for a professional environment, but this is perfect for a fun night on the town.
#31: Long and Luscious Ponytail
While chunky natural twist styles are attractive, the weight can be very damaging on your hairline, especially for brittle processed hair. Slimmer twists are flattering, gorgeous in styling, and they allow you to protect your hair at the same time.
#32: Updo with Statement Chunky Braids
One benefit of large twist hairstyles for natural hair is that they are not as time-consuming as smaller styles. This updo with braids is an ideal option when you want to wear a statement style for awhile, but don't have a lot of extra free moments.
#33: Loose Twisted Style with Curls
Rocking lovely ringlets at the ends of your twists is an easy way to personalize your style and add it a romantic note. Simply place your twists on roller rods and dip the ends into a bowl of hot water. The result is the two-strand twists with curls, and the best part is that you don't have to worry about them falling flat or frizzing!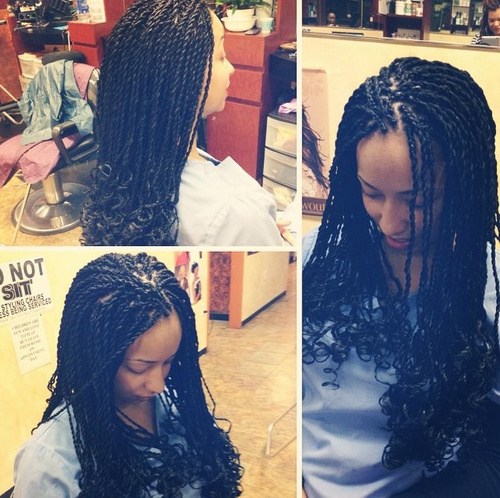 #34: Two-Tone Kinky Twists
Kinky twists have a more natural look than some of the other styles shown here, even though most are made with weave. You may also add in loose waves for an authentic flow.
#35: Easy Natural Twist Hairstyle
As stated earlier, a quick flat-twist updo is an ideal way to create a pulled together look with relatively minimal effort. While many twisted styles with extensions can take between 5 to 8 hours, this high-bun can be completed in less than an hour.
#36: Updo with a Swirl
Try a top roll for a fun alternative to a Mohawk or a high ponytail. It is a quirky yet trendy flat twist hairstyle you'll be happy to rock in any setting.
#37: Jet-Black Twists with Curled Ends
Put a sweet spin on your Marley twists and curl the ends. It is a perfect way to change the overall look of your twisted hair when you need to dress it up for a special occasion.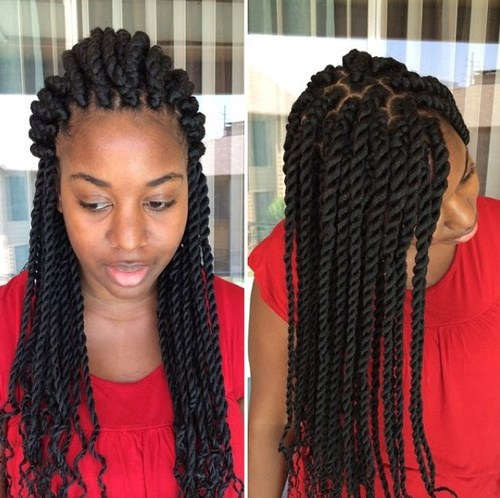 #38: Kinky Twist Updo with Looped Bang
Kinky twists are prefect for women who want a natural-looking style without the extra length of Marley twists—they usually are chin or shoulder-length. The medium length allows you to easily create a variety of quick updos with your two-twist hairstyle, like the bang above.
#39: Sweet Cinnamon Twists
Cinnamon African-American twists may be a delicious dessert, but they also make a delectable hairstyle. Mini-twists provide you with a lot of versatility to create styles like a jumbo bun updo. You can even braid your twists for double texture.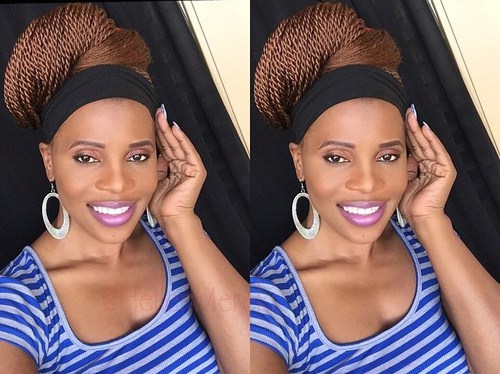 #40: Medium Twisted Side Ponytail
While high ponytails and buns are fun, a low side ponytail seems more elegant and formal. Adding in a rolled detail elevates your style with more texture and visual interest.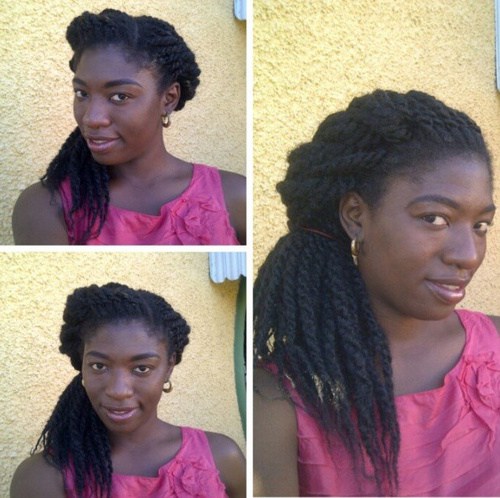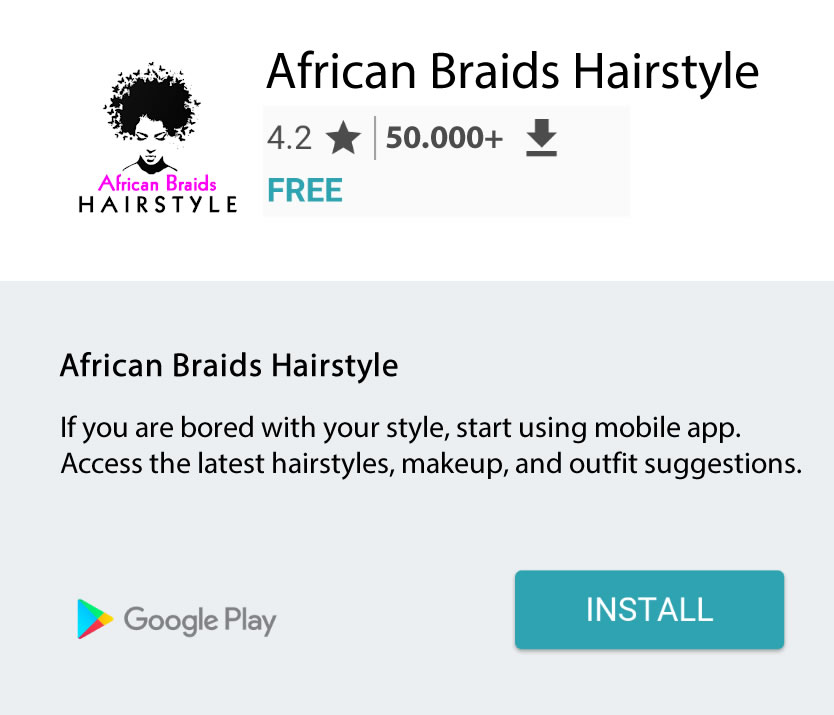 Our review eloquently demonstrates that although all twists are done according to the same simple principle, you can come up with a twist hairstyle that looks individual and exquisite. So, have you already picked up a type of twists to rock in 2020?