Women with long hair are a "weakness" of many men. No wonder, long beautiful locks are a sign of good genes. However, growing your hair "that long" is not possible for some of us or too painstaking for the others. With long box braids you can make your long-hair dream come true, at least for a couple of months. They are, indeed, beautiful, fun and simply "wow!"
Whether you opt them to reach graciously to your waistline or even longer, let's say, the butt length, long box braids offer a full range of superb hairstyles, showing off your "extended treasure". Even wearing your lengthy box braids loose on both sides over your shoulders with a stylish hat or a printed head kerchief is going to make you stand out of the crowd.
The main attraction of long box braids is its length, so be open to try a variety of styles where your gorgeous braids are worn loose. Twists for the front tresses and high ponytails create effortlessly cool looks, so do the highlighted box braids, if you do not mind a pop of color in your braided mane. Single chocolate or cherry braids usually look quite interesting. Simple middle-parted half up half down styles, draped to one side, also appear very eye-catching.
Hair Styles for Long Box Braids
Most girls wear their box braids, simply pinning the front to one side. This style is extremely plain, but it really remains the most favorite way of spotting long box braids. View our gallery for more ideas on how to rock lengthy box braids.
#1: White Mane Box Braids
Very long braids are a great way to add a ton of flair, without having to grow out your hair. These white braids create a great temperature contrast with the skin tone, and we love the effortless twist of the side braid, as it shows off a bit of unbraided hair underneath!
#2: Braided Bun and Long Twisted Tail
This hairstyle with long box braids offers a neat combination of a top knot, side twist and fishtail. The bun gives some height to the top, while the twisted side braid falls down over the shoulder. Attached at the scalp, these braids won't give you frizz or unruly hair, just easy, quick and creative styling!
#3: Amber and Ebony Wide Box Braids With Bun
This over the top bun is truly a sight to behold! The mix of colors and chunky braids makes it a one-of-a-kind style you won't see every day. This starts with installation of the braids, and then twisting the top half into a bun, while tucking under all of the ends. Just wait for the pictures!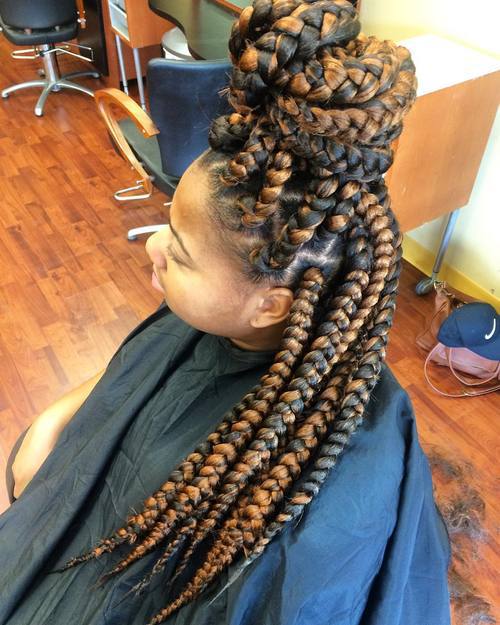 #4: Red Crown Chunky Box Braids
Big box braids are oftener styled halfway up. We love these copper red braids that form a sort of crown-like style, resembling Queen Amidala in Star Wars. Regal and full, the top braids are pulled back in two sections, and tied at the back of the head, with some freely-hanging braids being thrown over the shoulders.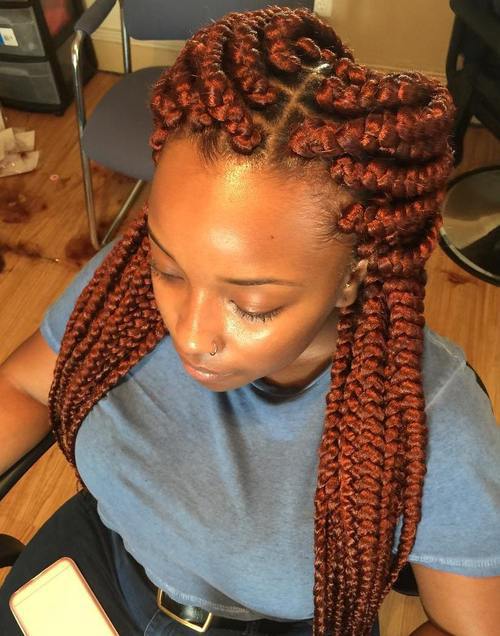 #5: Plum Box Braids in Elrgant Half Updo
Ready to make a bolder statement? These long box braids in deep purple are an exceptional feat! With the front swooped across and twisted back up on the side, it's a really interesting and unique asymmetrical look. Matching lips and eyes help to finish the job.
#6: Purple Blue Box Braid Bun
Got really long box braids? You can simply twist them up into a larger bun like this. All of the braids are gathered right at the crown and secured. And then they are simply wrapped around, with the ends tucked inside. Easy but fairly impressive!
#7: Ombre Box Braids
These very long, skinny box braids fade to white, giving a two toned look that is not seen often. The tight braiding in thin braids results in a smoother texture, while the few white strands further up in the braids give an extra bonus detail!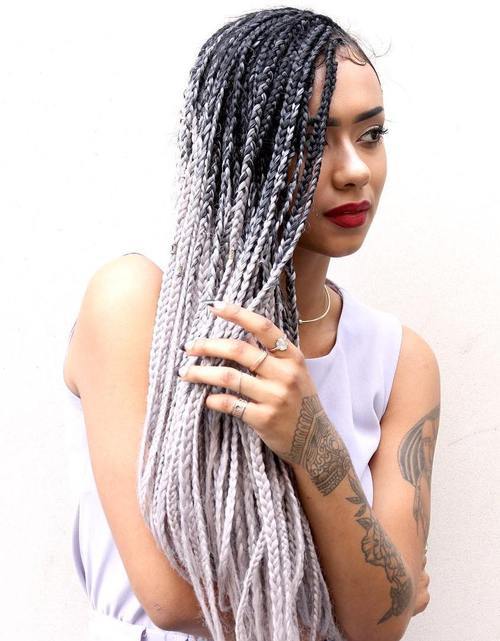 #8: Kentucky Blue Box Braids With Surface Braid
Not all long braid styles are created equal…and neither are college basketball teams! This is TRUE Kentucky blue! Wear it to support your team or simply because it's your favorite color. One side is done up in a very wide surface braid, that wraps down and over the ear.
#9: Nacho Ordinary Yarn
These interesting and really long box braids incorporate as many colors as possible to create a more refined homage to the Master of Funk, Mr. George Clinton. Many strands of different colors and textures are added to the braids, and we love the result!
#10: Elegant Box Braid Bun Updo
Ready for pictures? You will be with these box braids! This bun updo creates a beautiful and more delicate style that can be worn for an evening out or to a gala. Pair with a glamorous dress, some sexy heels, and your favorite clutch.
#11: Black Box Braid Bun Half Updo
Wearing long braids means they sometimes get in the way. But this style ensures your face is free to smile and be seen! Yep…it worked. You smiled, too! Arrange the front to sit horizontally in a sort of bangs, and work the remaining braids from the upper part into a simple bun that proudly sits on the crown.
#12: Sunny Yellow Box Braid Pigtail Buns
These big box braids are the most outlandish in our collection here. The globe earrings make the "dual suns" seem oh-so-appropriate, and we love the braided-and-then-twisted look achieved here!
#13: Tall Cone Box Braid Buns
Wearing big box braids is a test of your neck's strength. They can really add some weight, which explains the move toward updos. These red braids are separated half and half, and then parted to create two tall, compact buns up top. Dress casually, or wear them as a dress up accessory!
#14: Swirled Front Bun Box Braids
These long braids are swirled into a front coiled bun pushed onto the forehead. The rest of the hair is swept over one shoulder, creating a very dynamic visual effect achieved with twists, curves, and straight lines.
#15: Crown of Braids
A crown of very long braids is just what a queen needs for a winter look (or any season for that matter)! These blonde and black braids blend together to create a truly unique style. The front is pulled back around the crown, and then a smaller bun is shaped to balance this style.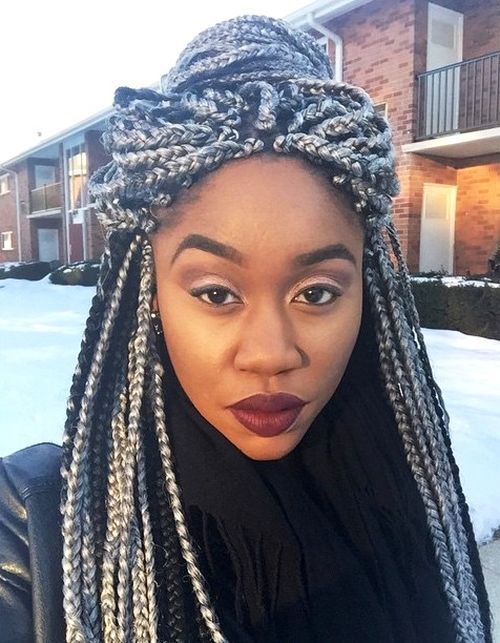 #16: Janet's Revival
Remember pictures of Janet Jackson from the 80's? This is a great new twist on her hairstyle. In this one, the dark bronze color of the hair stands out quite a bit more than a darker brown hue. Pull everything up to the top of the head, and wrap the ponytail with a handful of braids, tucking in the ends for a smooth, flawless wrap.
#17: Half and Half – Burgundy and Black Long Braids
Red and black long box braids with a few beads for detail create a look that is closer to dread locks than box braids. If you like them, simply try these braids on for size! Pull a few back from the front, and secure with a hair tie.
#18: Basket Bun
If you want some really, really long box braids but need them out of your face, this is the style for you! There are so many braids that the style looks similar to a basket! All of the braids are swept up, twisted and tucked until fully secured.
#19: Box Braid Mohawk With Undercut
Want an alternative to traditional styles for big box braids? This faux hawk is a good way to set yourself apart from the traditional crowd and really make a statement. Add many braids to the top section, and then pull them all straight back into a high ponytail. Done…and beautiful!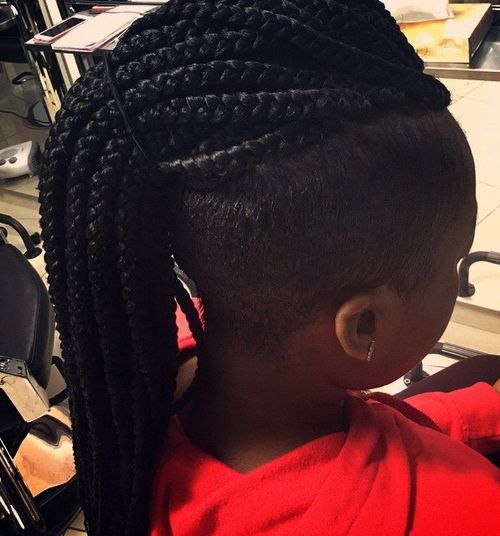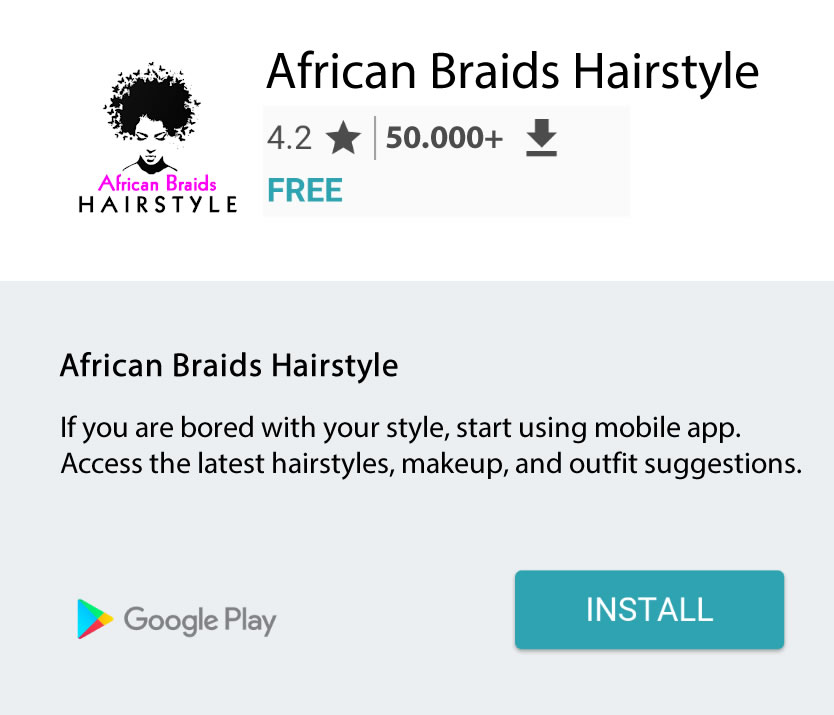 #20: Undercut and Accented Box Braids
For another undercut style featuring long box braids, here is something a bit more adventurous. A few blonde strands are braided in on one side, creating three unique accent braids that really stand out against the darker hair. Tie a pony with a wrap to keep them all up and show off your other attraction – the undercut!
If you are not sure you'll enjoy them really long, check small box braids and big box braids gallery, featuring shorter lengths and more variations of hairstyles with box braids. And note that a full kaleidoscope of braided hairstyles is also waiting for you in the corresponding category.