Box braids are a gorgeous hairstyle base but you may always enhance its beauty with fast and simple styling solutions. Most hairstyles in this article are made with just a couple of bobby pins and in a few simple steps, you'll easily master, following the given visual instructions.
A whole row of quick fancy hairstyles with box braids is made on the basis of a high ponytail. The easiest style you can do is a high ponytail wrapped with box braids into a bulky bun. Alternatively make a ponytail, then divide it into 3 sections and braid each section to have them further draped to one side and fixed at the back of your head.
Since with box braids you don't have any bangs, you can make an illusion of bangs with a bouffant-like volume. It can be easily created with simple braiding or twists for the front braids, while the rest of them are worn loose or raised up into a chic updo.
A double bun is one of the most elegant hairstyles, suitable both for work or a night out. It's done like a common high bun out of a ponytail, but it's also completed with a wrapped twist for the front braids above the forehead. A simple braid, made upside down that you can further drape around your forehead and adorn with an eye-catching hair flower is another example of a chic braided updo to make for a special occasion.
How to Style Box Braids
Here are some comprehensive picture tutorials you can follow and come up with fantastic hairstyles for your new box braids.
#1: Modern Twist on an Old Fashioned Bun
This glam look starts with a high ponytail sectioned off into three parts which are then braided and wrapped around to create a side bun that rests atop the head. This is a fun and fancy style for every day wear.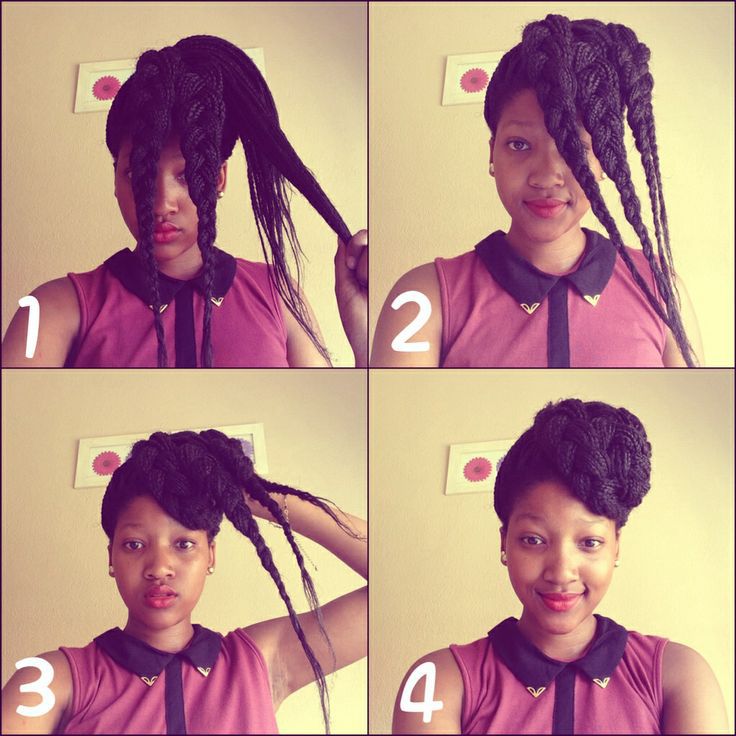 #2: Classic High Bun
Want to know how to style box braids for an everyday look? Start with a basic ponytail and separate your hair into two sections. Braid them separately and then wrap together into a cinnamon bun at the very top of your head. Simple and sweet, styles like this can be dressed up or dressed down.

#3: Bumpin' Hair
Don't let the pictures scare you away from creating this look. Section off the front pieces, pulling them in front of you, and twisting atop your head. Tie your hair back and then use two sections to create a layered donut bun. Finish off with long earrings and a red lipstick.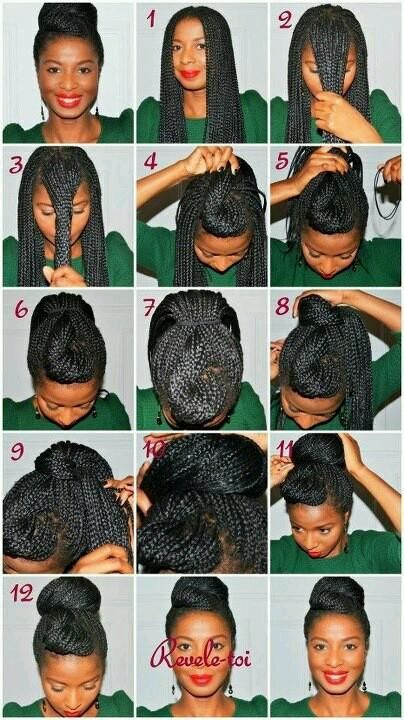 #4: Textured Half-Up Hairstyle
Styling box braids should be fun and effortless. Part your hair to the side and grab a top section for your future braid. Make a simple braid to the side, loop it and pin its end on the other side. This is a cute look for casual outings, but don't be afraid to dress it up with a bold lipstick and a bright-colored top.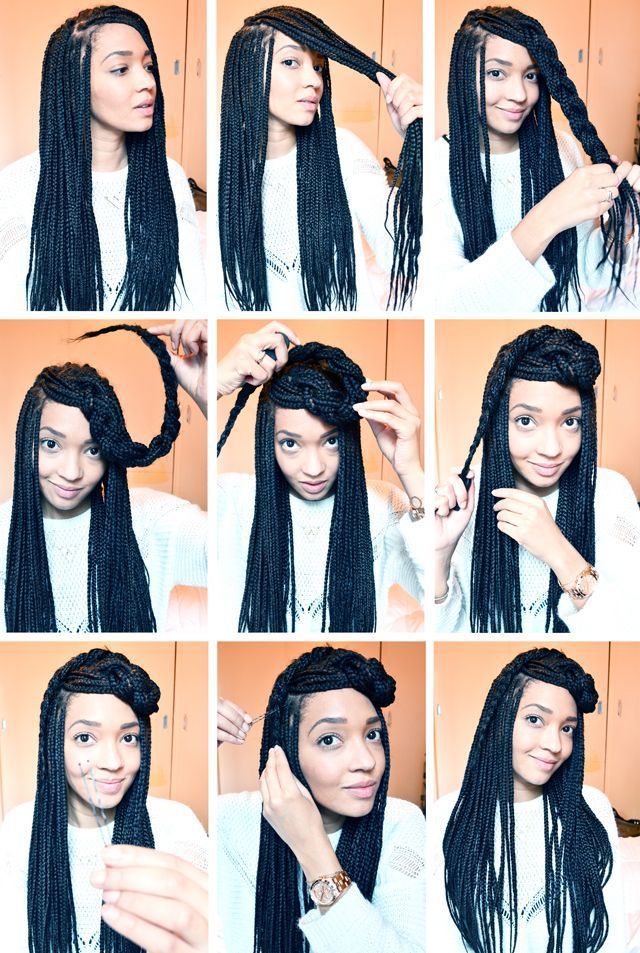 #5: Braided Pompadour
Still not sure how to style big boxed braids to get a special and comfortable style? Try a different version of the timeless pompadour, a hairstyle that began in the 1700's – isn't that so retro? The pompadour looks great with the rest of your hair down or in a ponytail. Don't be afraid to switch it up.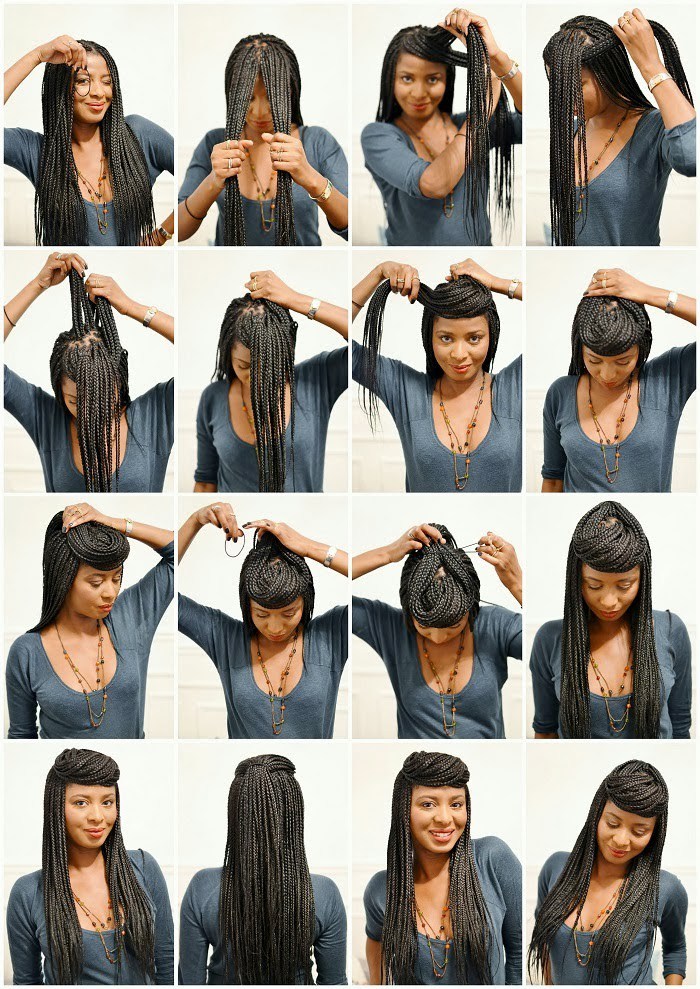 #6: Pretzel Bun
There are so many ways to style a bun, but remember one of the best ways to form a high bun: utilize a high ponytail. This will keep your hair in place preventing it from falling, shifting, or loosening. This is especially important if you're attending an important event and don't want to stress about it.

#7: Wrapped Bun with Stray Pieces
Play around with box braids; there are many different hairstyles that can best fit you. Use two large pieces of your ponytail: spin both around each other, letting stray pieces fall where they may. Bobby pins or hair clips will help you keep the height. Just like a twisted ice cream cone, this look is sure to please.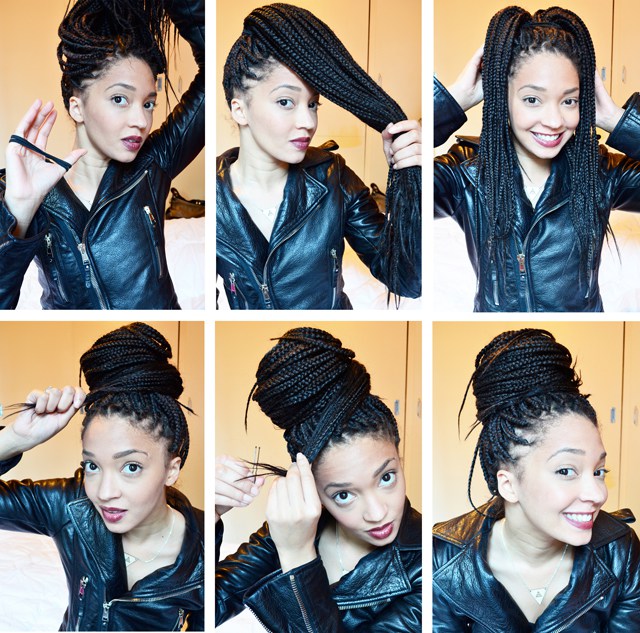 #8: The Twister
Don't skip a step, if you want to learn how to style box braids. Best with highlights, this hairstyle blends two twists to create an easy and playful updo which looks great with or without a ribbon.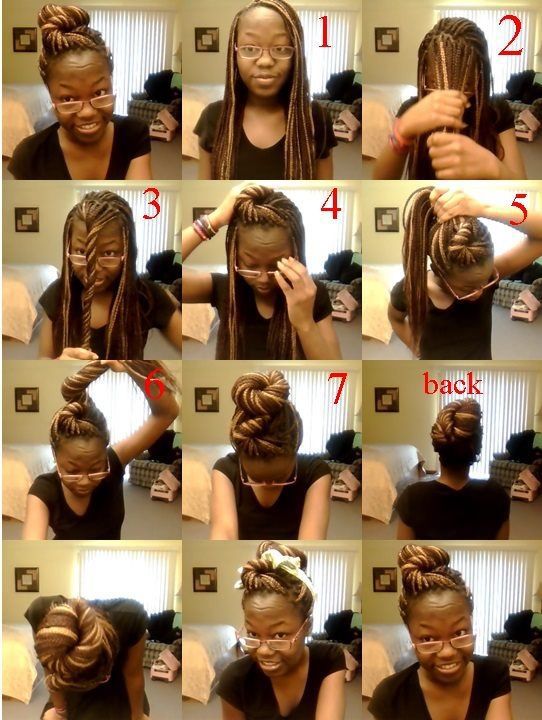 #9: Brilliant Mini Buns
Simple and creative, all you have to do to achieve this style is to make enough mini buns side-by-side to form a large bun. Best of all, these buns create an unusual design of a common high bun, and if you really want to stand out, add a unique pair of earrings.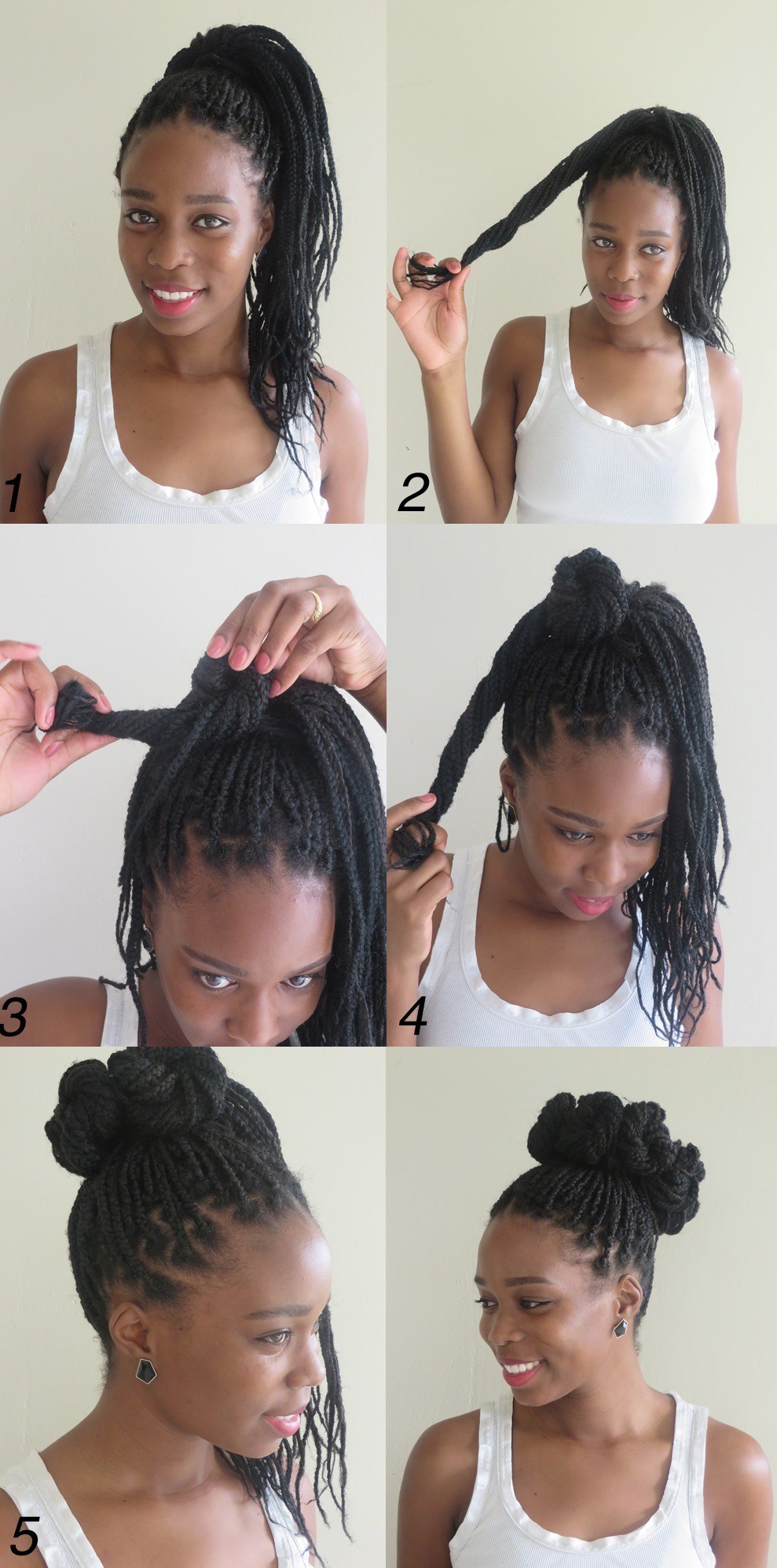 #10: Elegant Knotted Half Updo
Start with a basic front twist and pin it back. Then collect a few braids from each side and tie them pinning in place.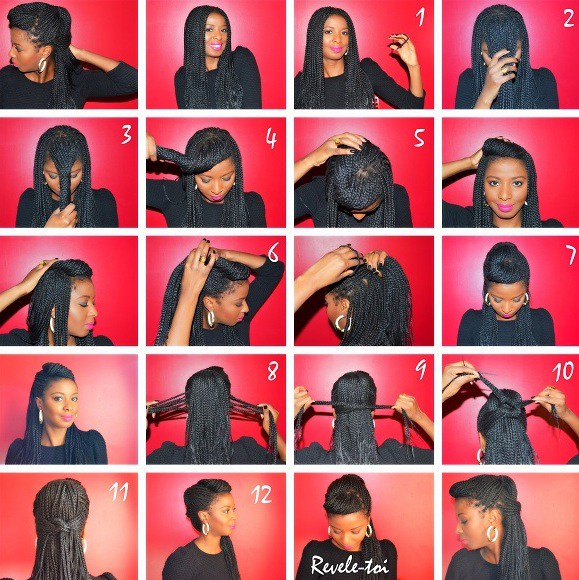 Styling box braids seems tricky, but rest assured you'll cope with these styles easily if you follow the step-by-step instructions. Whether you're looking to make a fashion statement with your hair or simply compliment your facial features, your style, or your personality, try these pretty 'dos on for size. You may also check box braids updo hairstyles for more inspiration. And the richest selection of braided hairstyles in general can be viewed here.