Thinking of the most convenient female hairstyles for African American women, box braids are the first that comes to mind. And I mean here, first of all, big, full and rich box braids, giving you that special effortlessly presentable look, so precious especially through the summer months.
Someone may remark that these long chunky box braids aren't anything new or fresh but rather reminiscent of the 90's style. We won't argue, they are, but fashion is cyclic and if they are back, we welcome them with pleasure and go for this statement look, same like Beyonce, Solange and many other gorgeous African American celebrities.
Big box braids look fantastic in simple downdos, letting demonstrate the full length of these superb chunky braids. One of the most popular styles is when your take a few braids from the front section above your forehead and twist them to fix behind your ear. Alternatively you can also go for chic updos, featuring bulky buns or chunky braids. A side-swept fishtail, braided out of big box braids is another on-trend style to rock this season. Half up half down styles with big box braids introduce more variety into your braided hairstyles and allow avoiding an excessive bulkiness on the top of your head if you find it too eccentric.
40 Unhackneyed Hair Styles for Big Box Braids
Oh, yes, box braids look appealing and prepossess with low-maintenance. Light shampoo for your scalp cleansing and light peppermint oil for extra care are going to be the most important items in your list of care products, but finally you will be able to rest from other styling solutions with chemical ingredients and thermal procedures. Let's check what is proper for you and your hair.
#1: Braids With Bead Embellishments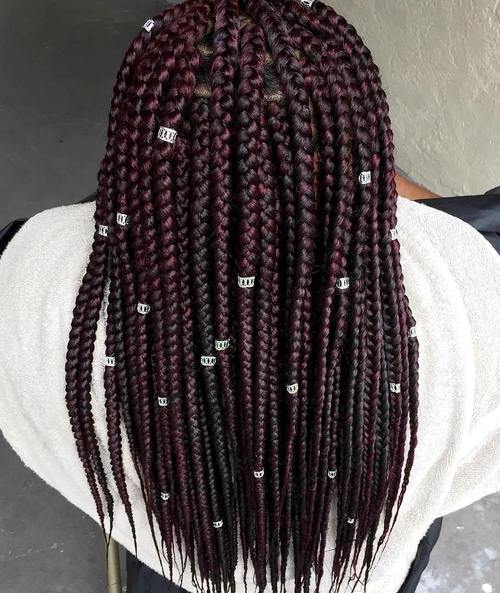 This simple look adds a fun touch with minimum hassle to the classic big box braids style. Weave in some beads to your braids and, you've got yourself a whole new look that doesn't require any additional styling. Let the compliments roll in!
#2: Half Pulled-Back Braids
This neat and adorable look is perfect for showing off your braids and your beautiful face! Simply pull the braids from the side of your face back and tie them in a neat miniature ponytail. You're ready for the day!