Thinking of the most convenient female hairstyles for African American women, box braids are the first that comes to mind. And I mean here, first of all, big, full and rich box braids, giving you that special effortlessly presentable look, so precious especially through the summer months.
Someone may remark that these long chunky box braids aren't anything new or fresh but rather reminiscent of the 90's style. We won't argue, they are, but fashion is cyclic and if they are back, we welcome them with pleasure and go for this statement look, same like Beyonce, Solange and many other gorgeous African American celebrities.
Big box braids look fantastic in simple downdos, letting demonstrate the full length of these superb chunky braids. One of the most popular styles is when your take a few braids from the front section above your forehead and twist them to fix behind your ear. Alternatively you can also go for chic updos, featuring bulky buns or chunky braids. A side-swept fishtail, braided out of big box braids is another on-trend style to rock this season. Half up half down styles with big box braids introduce more variety into your braided hairstyles and allow avoiding an excessive bulkiness on the top of your head if you find it too eccentric.
40 Unhackneyed Hair Styles for Big Box Braids
Oh, yes, box braids look appealing and prepossess with low-maintenance. Light shampoo for your scalp cleansing and light peppermint oil for extra care are going to be the most important items in your list of care products, but finally you will be able to rest from other styling solutions with chemical ingredients and thermal procedures. Let's check what is proper for you and your hair.
#1: Braids With Bead Embellishments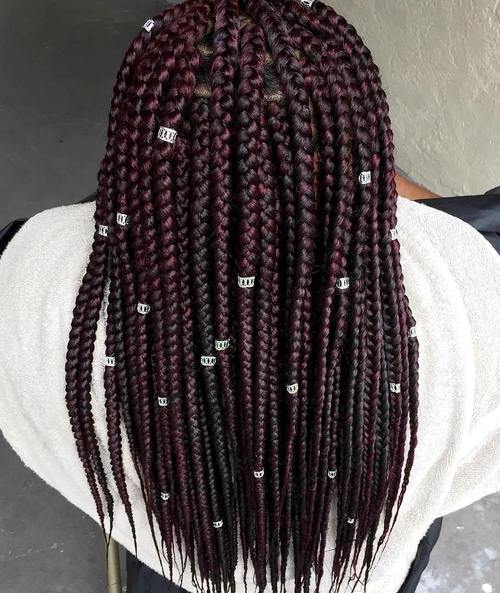 This simple look adds a fun touch with minimum hassle to the classic big box braids style. Weave in some beads to your braids and, you've got yourself a whole new look that doesn't require any additional styling. Let the compliments roll in!
#2: Half Pulled-Back Braids
This neat and adorable look is perfect for showing off your braids and your beautiful face! Simply pull the braids from the side of your face back and tie them in a neat miniature ponytail. You're ready for the day!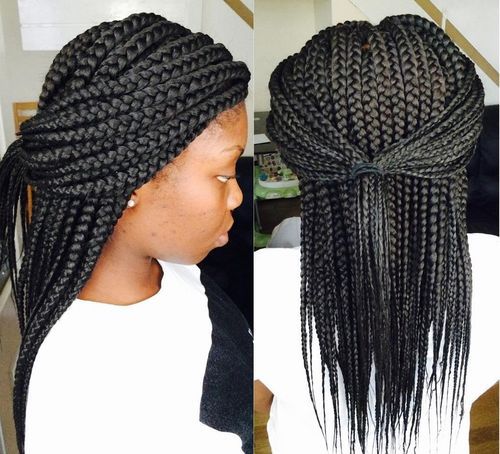 #3: Chopped Off Shoulder Length Braids
Need a new look? Spice things up with some hair accessories to go along with your bob braids for a modern African look. Use some small beads like the ones in this photo for a subtle hint of shine.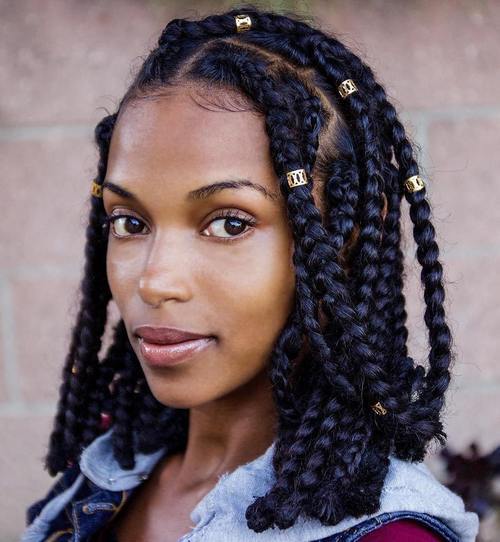 #4: Braids with Kanekalon
Show off your color with this braided look. In this photo, the braids near the front of the face are pulled back and woven through each other where they meet on the crown of the head. A put together look with some edge to it.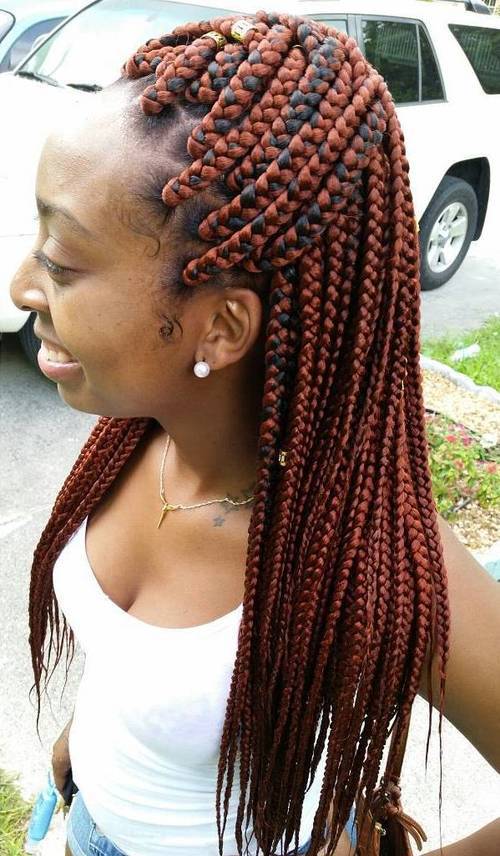 #5: Chunky Golden Blonde Braids
Every other girl rocks dark brown box braids. But what about personalizing this style with an exquisite color? This dark golden blonde is very appealing to the eye. Add a splash of style to your big box braids by simply incorporating a bead embellishment. It's simple, subtle and classy. Who knew looking good could be this easy?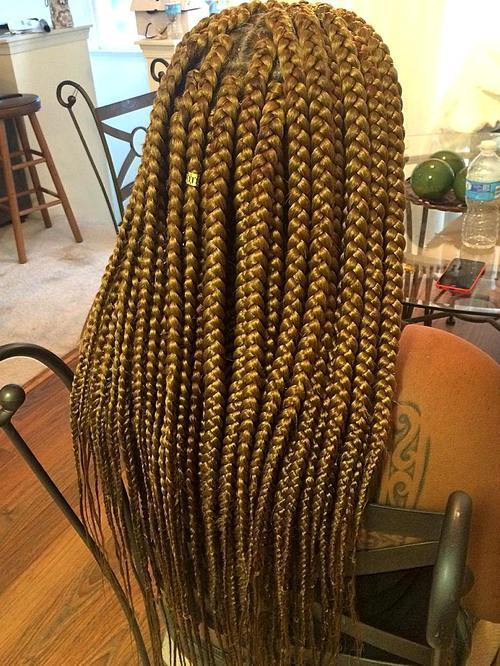 #6: Two-Tone Auburn Box Braids
Box braids are a popular hairstyle amongst African-Americans thanks to not only their low maintenance, but also the cool-girl vibe they ooze. These are great for experimenting with bold colors that you wouldn't normally go for. But a shade that compliments your skin tone is always a safe choice.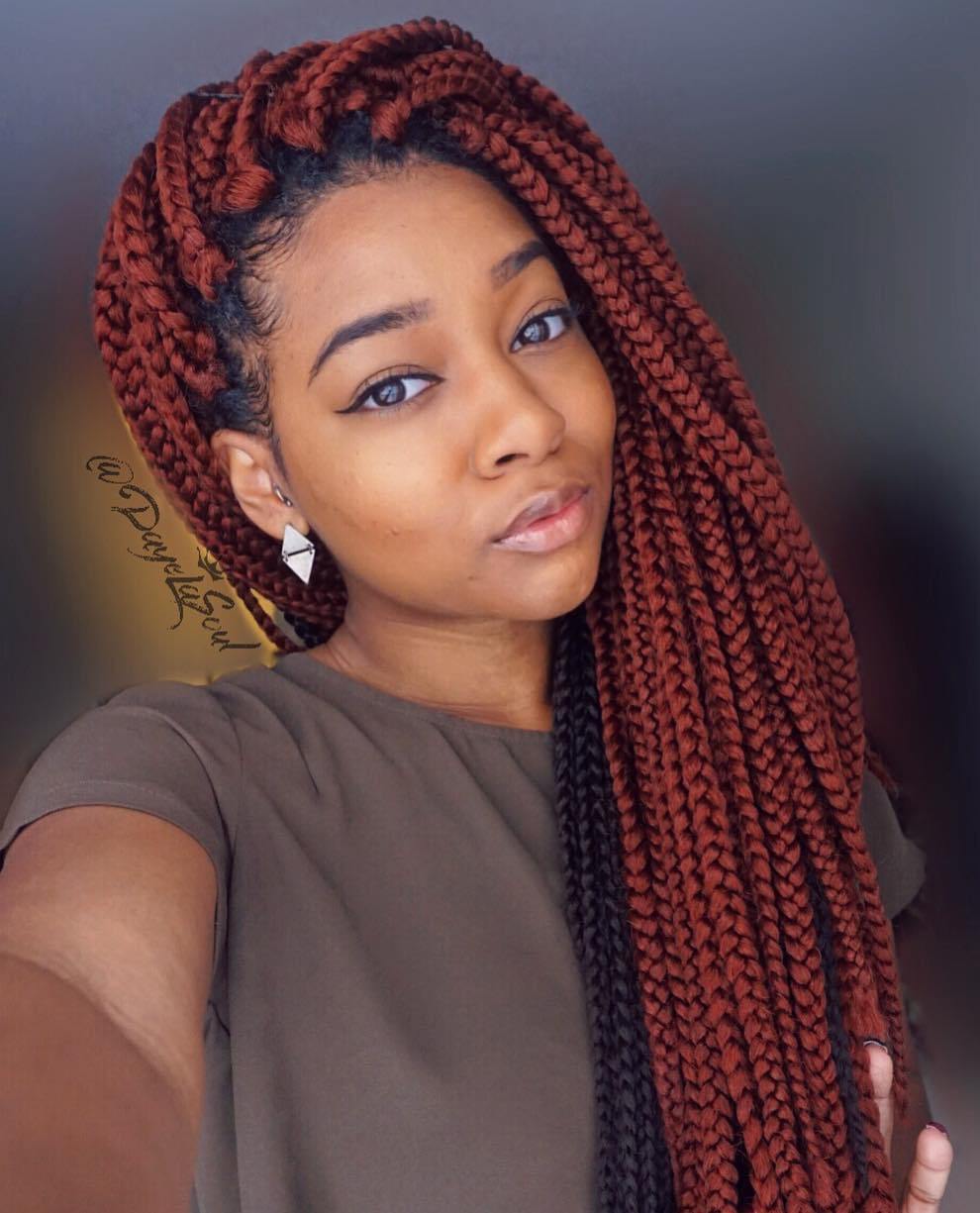 #7: Half up Bun for Thick Braids
While big box braids are a statement in and of themselves, there are simple ways you can make them more unique to you. Geometric parts are just one of those ways. To show off the parts, try a half-up, half-down style, topped off with a big bun.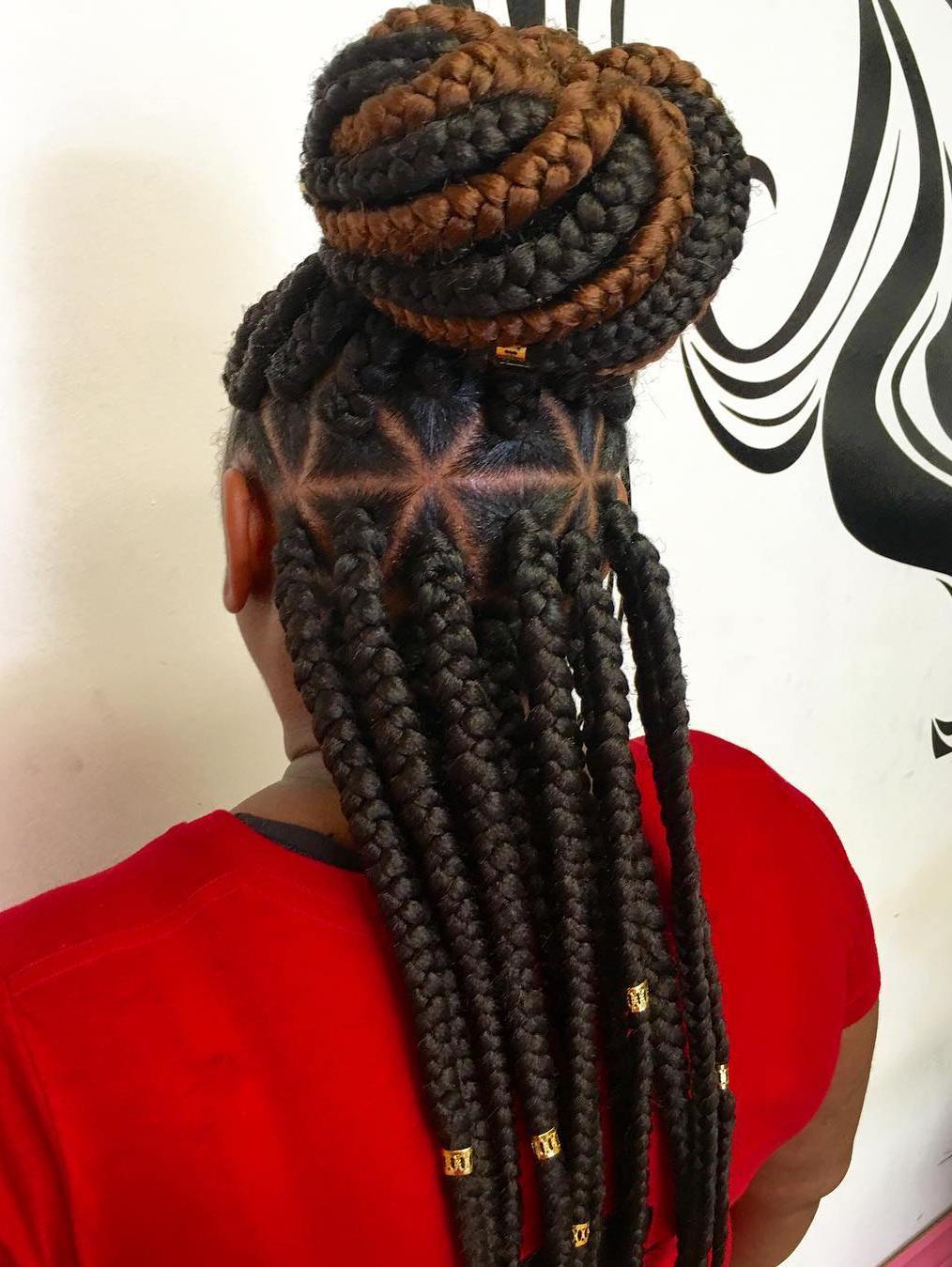 #8: Ombré Box Braids
Chunky braids are in high demand now because not only do they take significantly less time to install than micro braids, but also their oversized style looks modern and self-sufficient. Why not enhance that stylish appeal with an equally popular ombre? The best part is, you don't have to worry about dying your natural locks.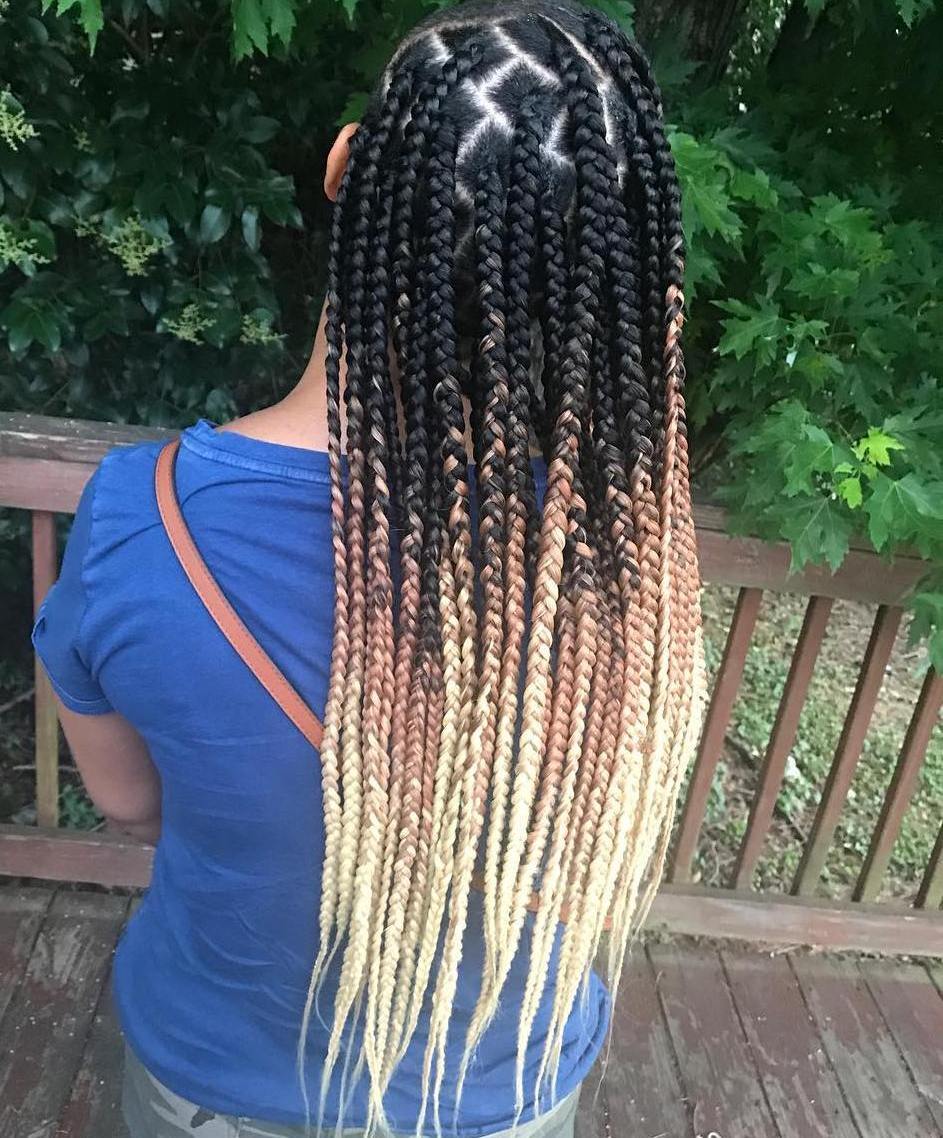 #9: Hip-Length Black Box Braids
If you have always wanted long locks, box braids are definitely the way to go. They protect your natural hair if you are trying to grow out your own tresses. Add a little interest to your hairdo with metallic wraps.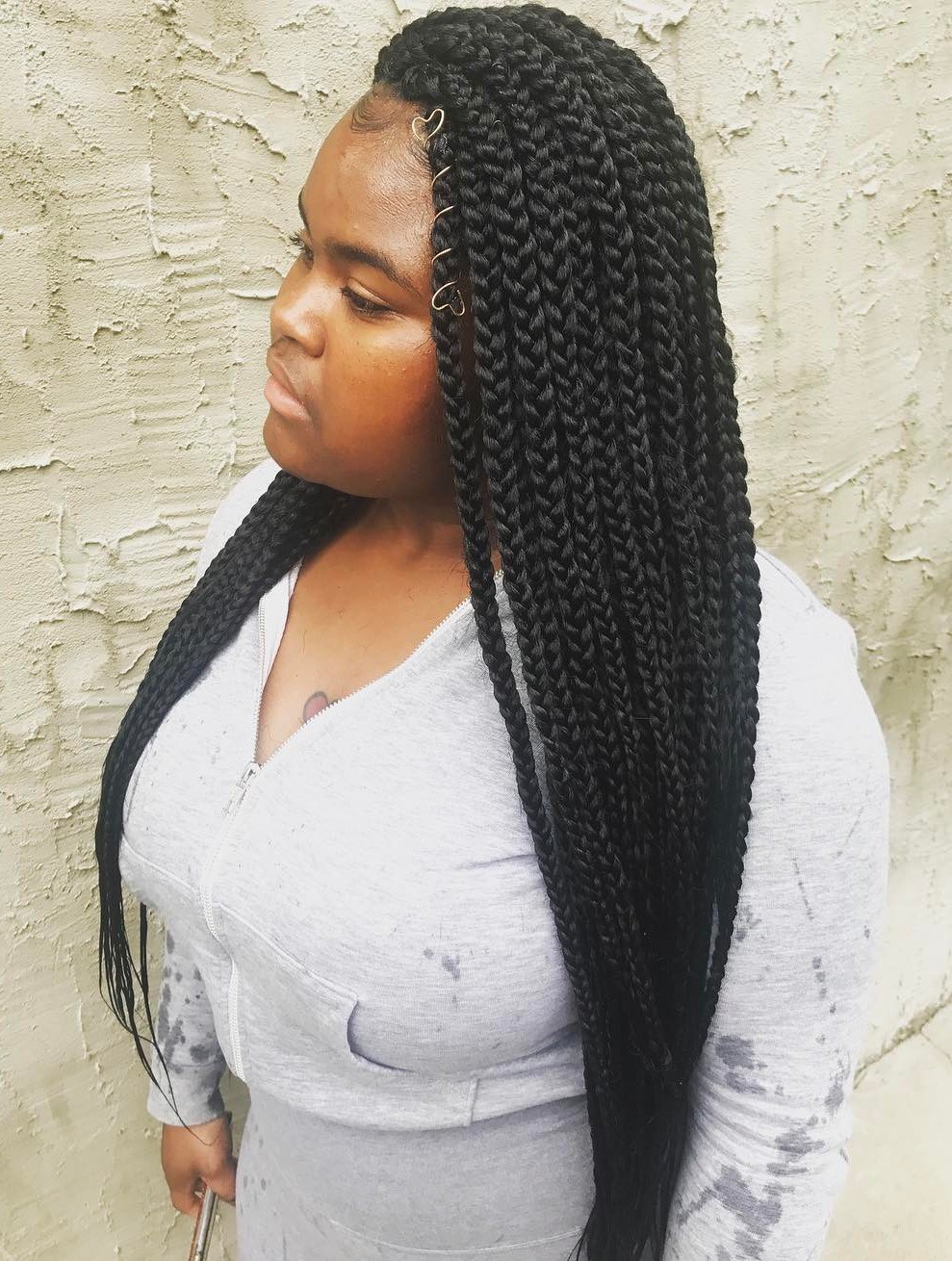 #10: Thick Braids with Cuffs
Give a boho accent to your big braids with beads or metallic cuffs. The subtle additions bring a little luster and a lot of visual interest that keeps your braids from being a bore or just like everyone else's.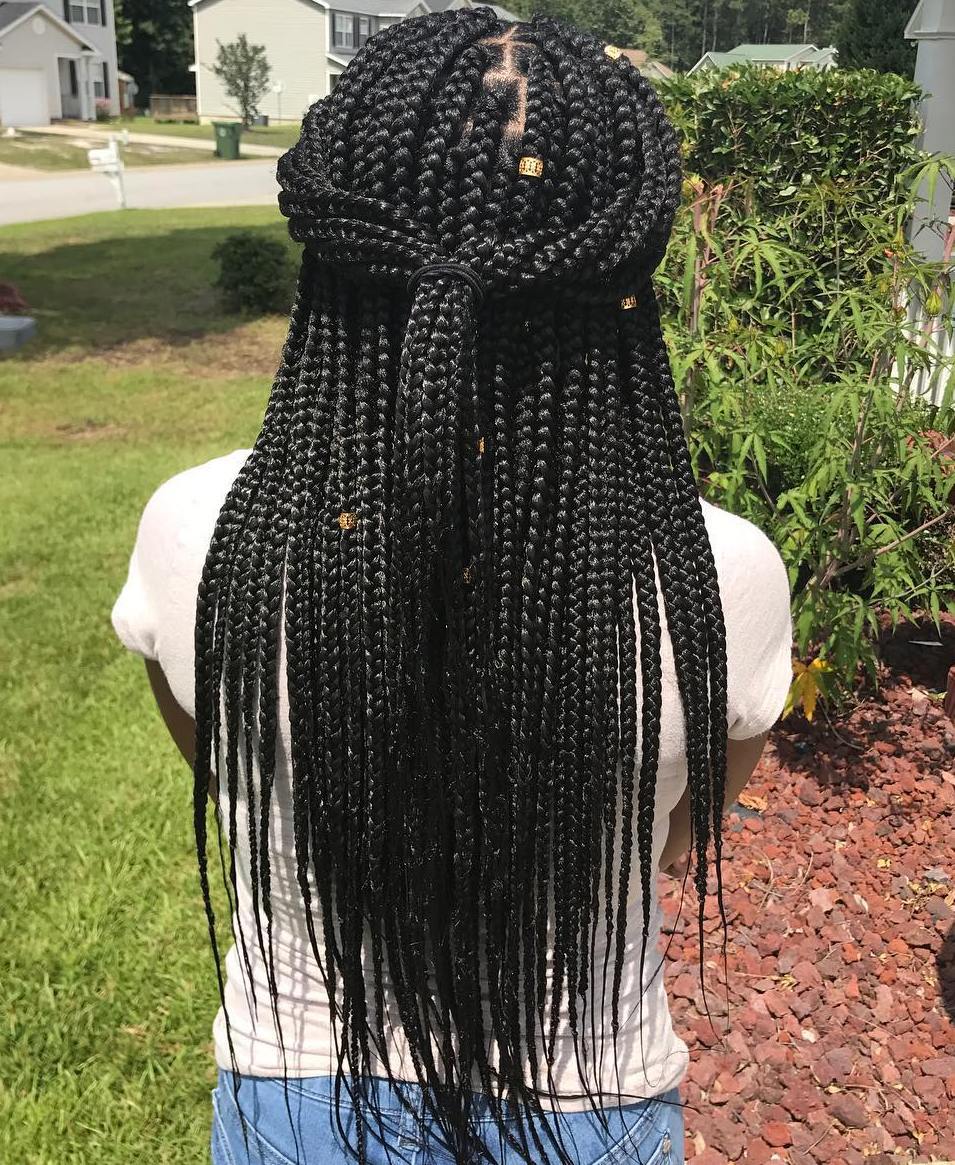 #11: Jumbo Braids with Wraps
With braids, you can freely play with any color your heart desires. Burgundy and auburn are especially flattering colors for darker skin tones. The deep red shade works for every season.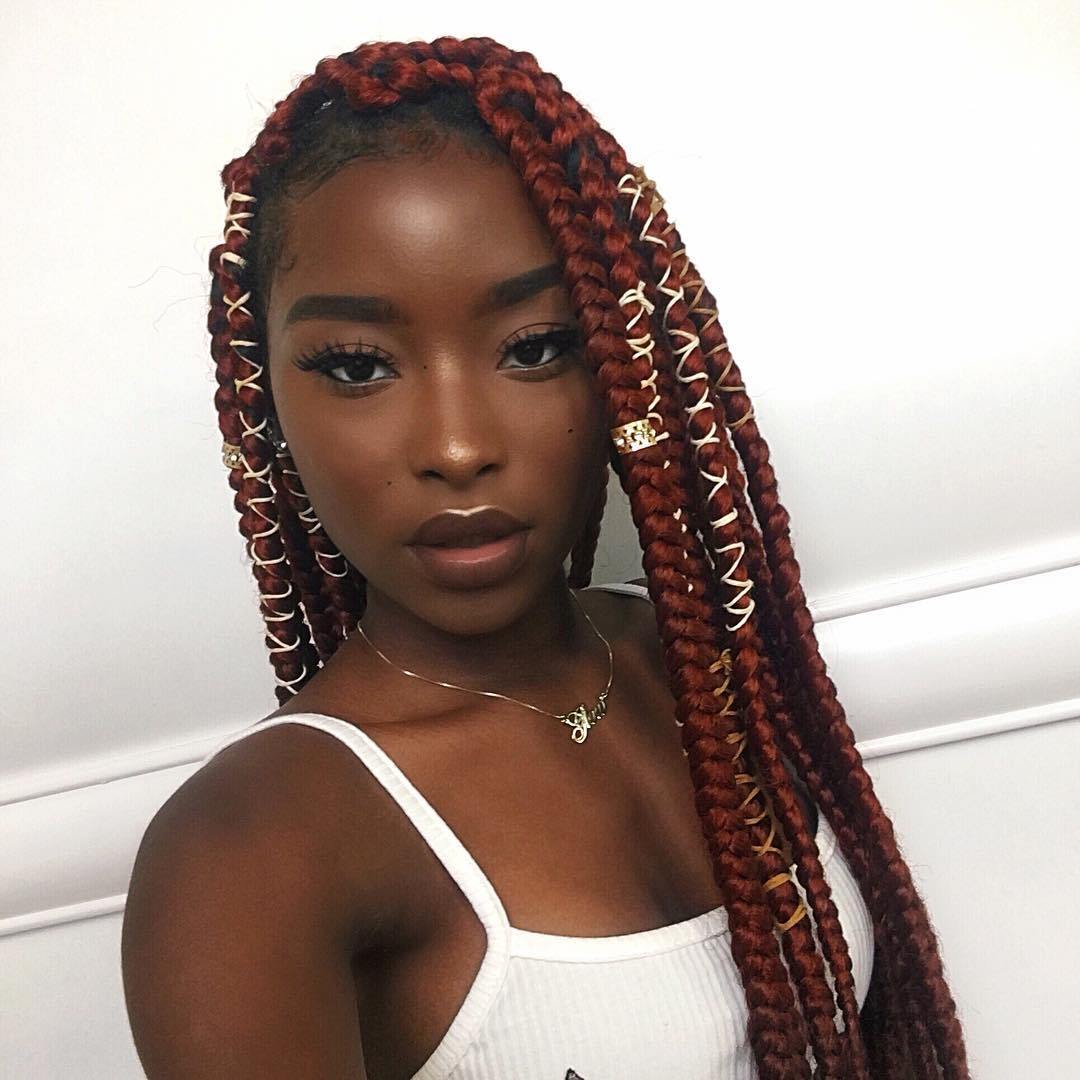 #12: Half-Up Braids with Colorful Wraps
Add some color to jet black braids with multicolored hair wraps throughout. They convey a playful and flirty feel to your locks. The wraps will look especially cool as they peek through a top knot or a half-up ponytail.
#13: Caramel Box Braids
Large box braids will offer you the volume and style you are craving. They let your natural hair grow out beneath, so you can feel free to finally go light — sans the bleach.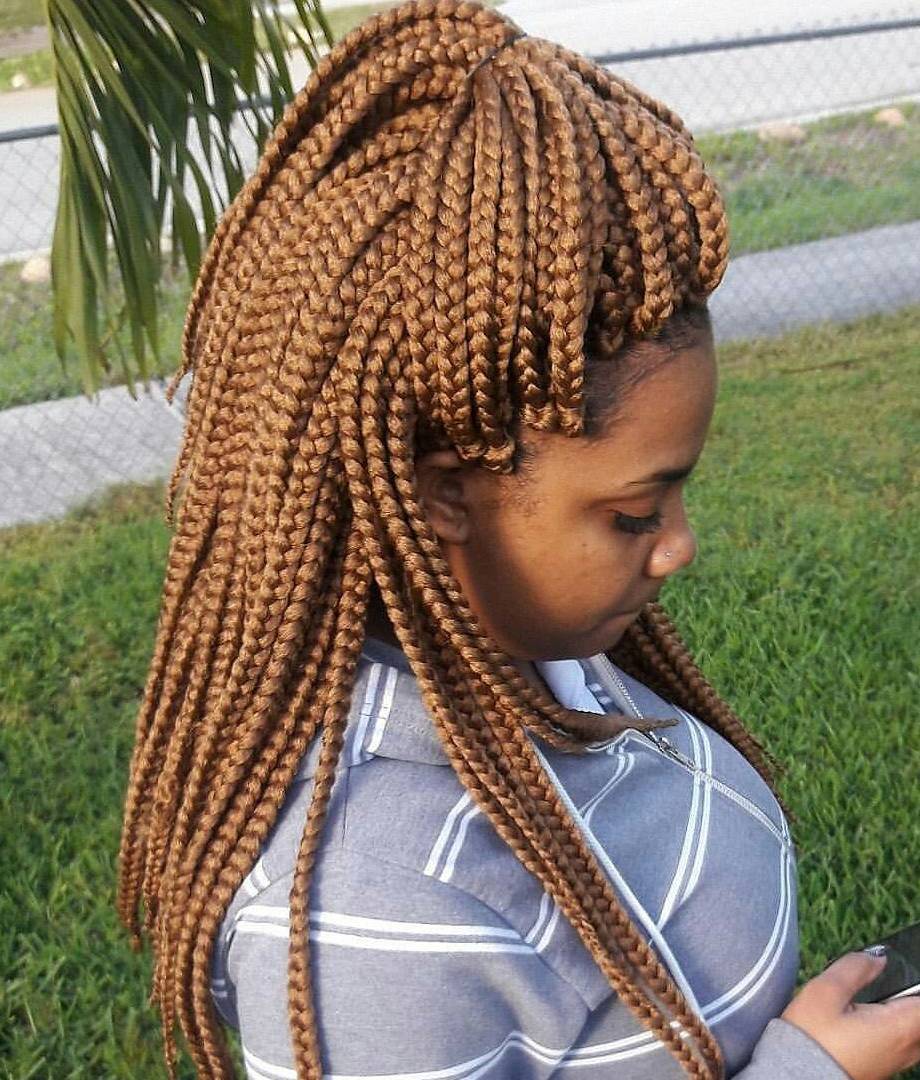 #14: Large-Sized Box Braids
They say the bigger the better for a reason. Go jumbo to make a statement. The thick braids are definitely bolder and younger than their thinner counterparts. You don't need to opt for unexpected colors or extra finishes if you're going for a nice, clean style.
#15: Braids with Highlights
Mix two different colors within each individual braid for a hairstyle that imitates highlights. Sometimes, being uniform is overrated. The mix of hues breaks up the braids nicely, giving them endless dimension.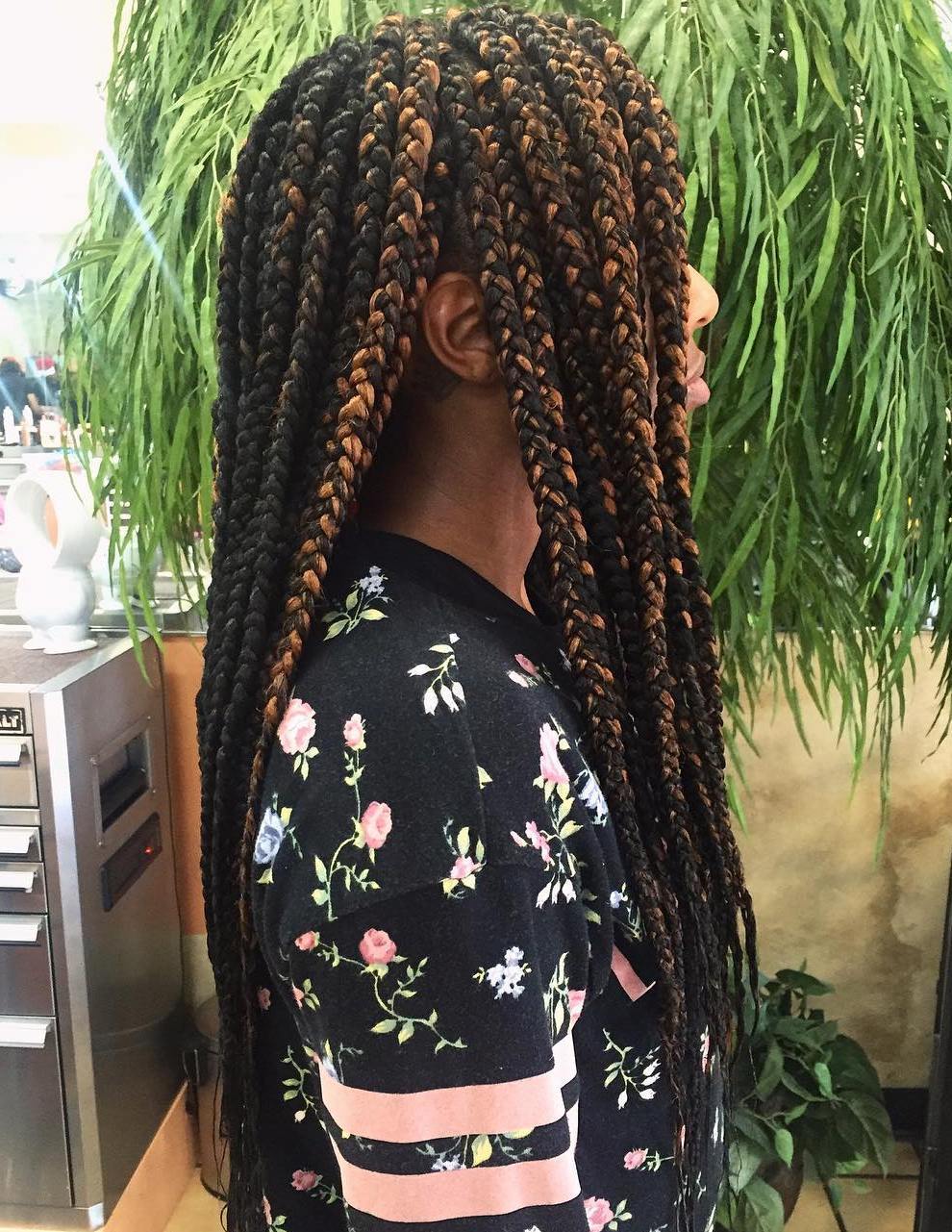 #16: Black and Blue Box Braids
Thick box braids look awesome in sophisticated colors. To spruce the whole look up a bit, why not try a tonal dark blue to add a little depth to the hairstyle without going overboard.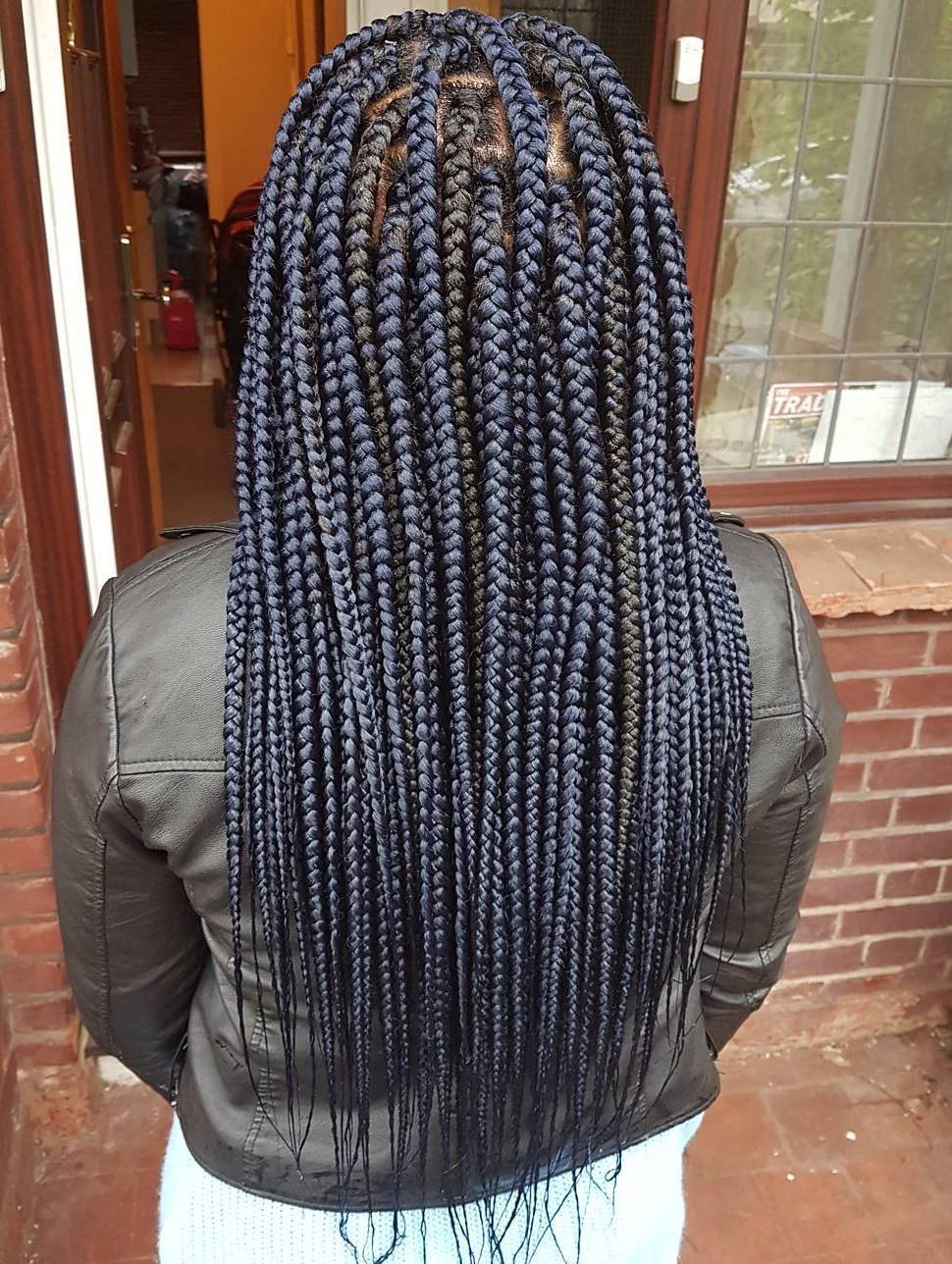 #17: Large Braids with Burgundy Highlights
For extra style, try extra large box braids. These jumbo braids might get a little heavy, but it will be worth it. Mix in different colors to make the look even more fun. Don't forget to slick down your baby hairs for a perfect, sleek finish.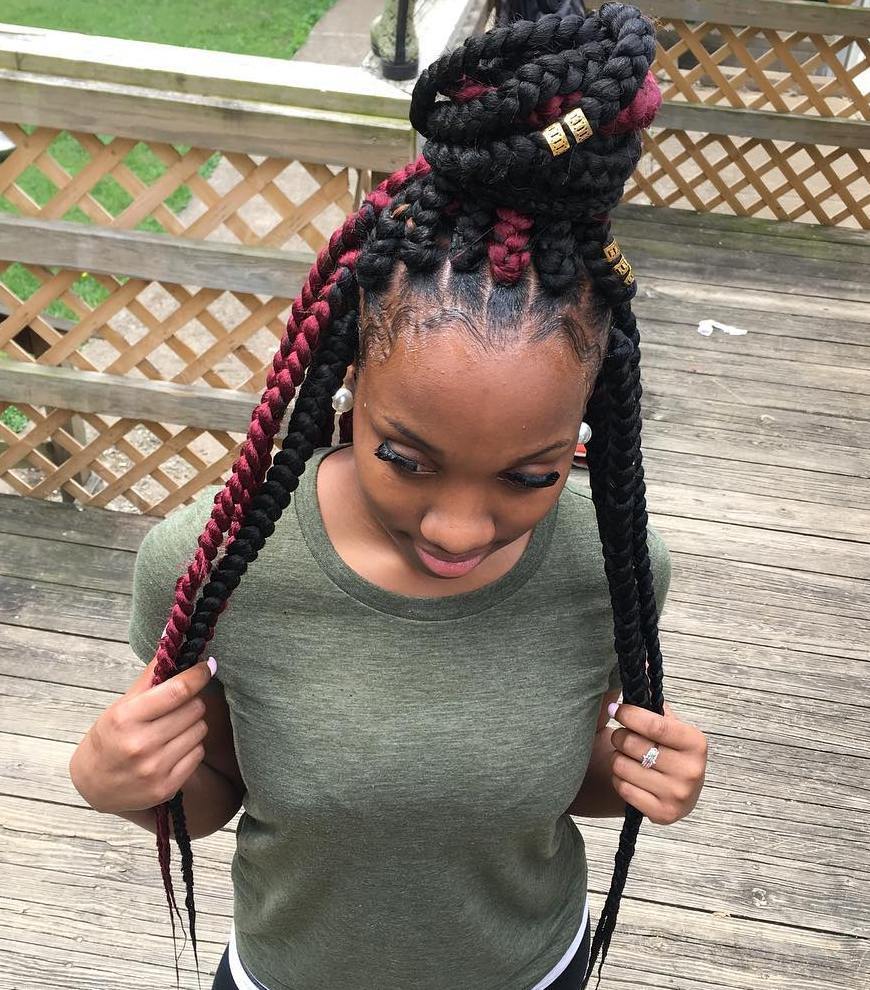 #18: Purple and Gray Braids
Box braids are a good choice for trying out the hottest colors of the season, like this lavender and grey hairstyle pictured below. The braids are non-committal and make the "it" colors look even cooler — just when you thought that couldn't be possible.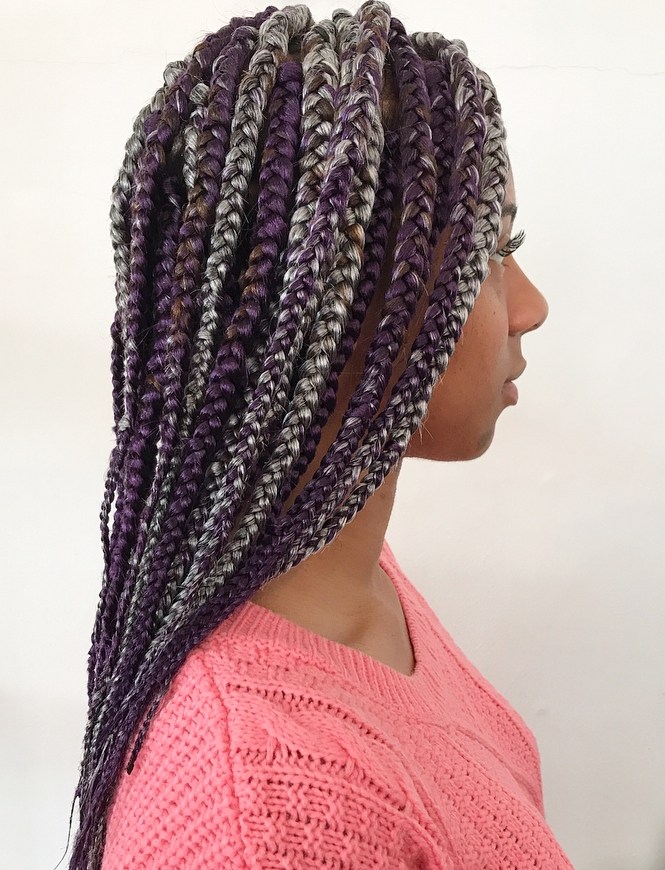 #19: Half-Up Brown Braids
Before you get your hair done, looking at as many pictures of box braids as you can is a smart way to help you choose the color you think will be right for you. Honeys and chestnuts are a nice complement on a wide range of African American skin tones.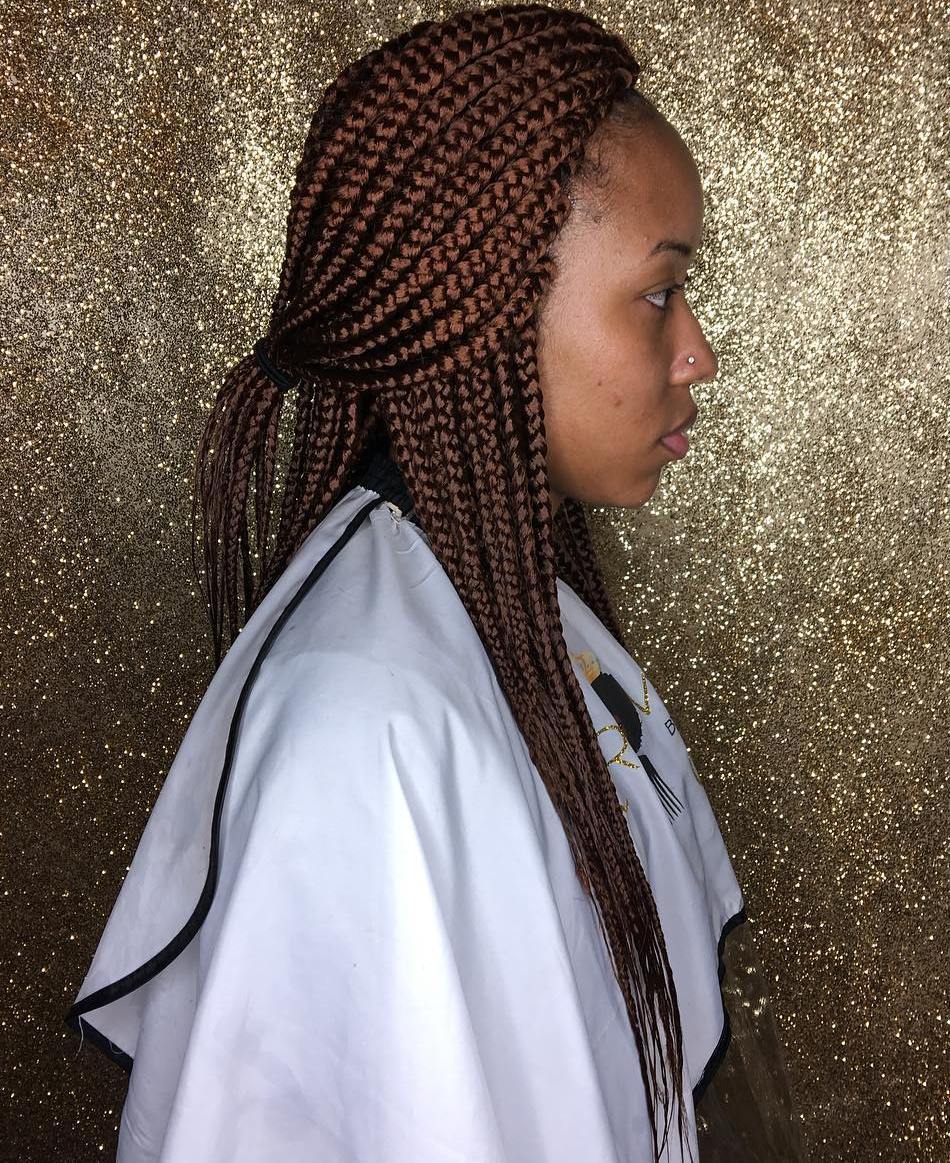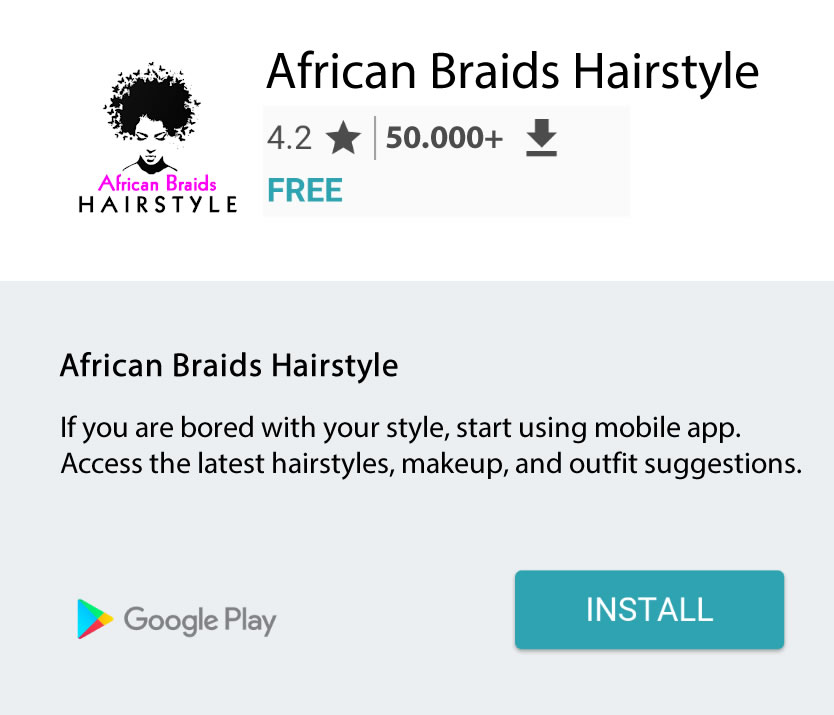 #20: Thick Platinum Braids
Large sized braids are a nice canvas to show off the nuances on the chosen color. The hues are amplified and have nowhere to hide. Go platinum blonde without ever even having to touch the bleach. The thick extensions will cover up your darker strands, turning you into one pretty blonde.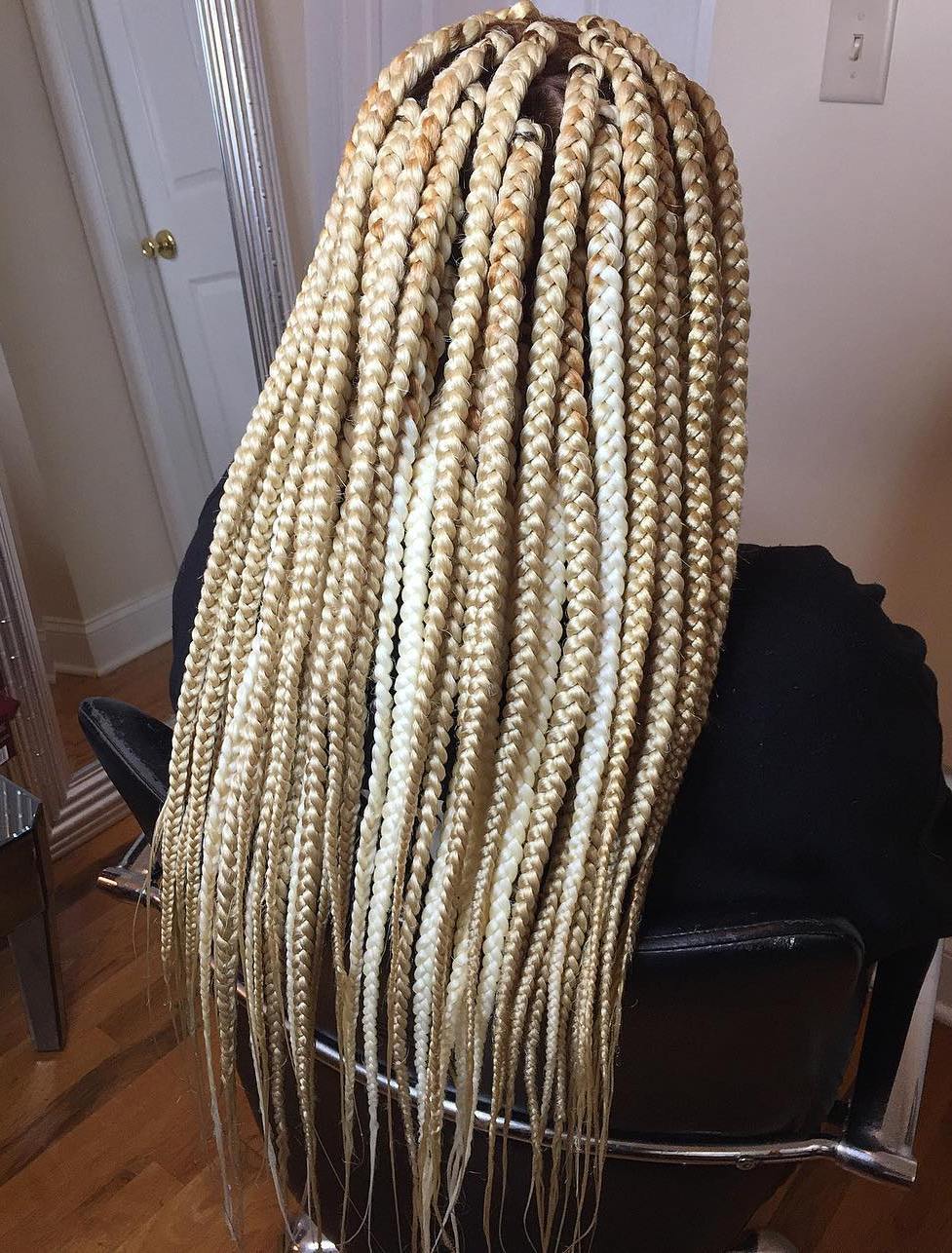 #21: Braided Bob with Highlights
A short, neat bob is another option for braids that is not to be overlooked. Easier to maintain than waist length extensions, this 'do is especially great for women on the go. A little color mixed throughout ensures the shoulder-length crop doesn't skimp on style.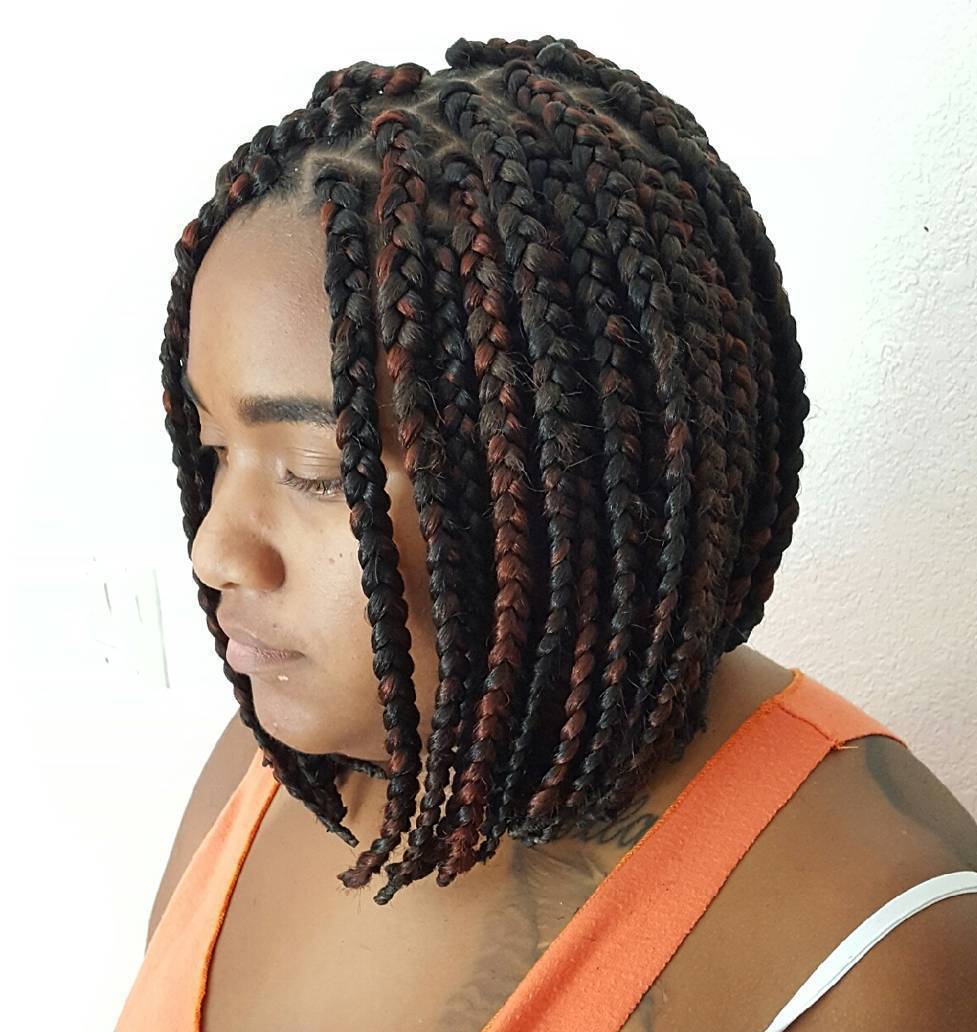 #22: Multicolored Braided Mohawk
Big braid styles can be very tame, but they are also in demand for more adventurous looks like fierce mohawks. Showing some scalp, braids are instantly transformed into something bold and edgy. Mix in warm colors to play up the unique look.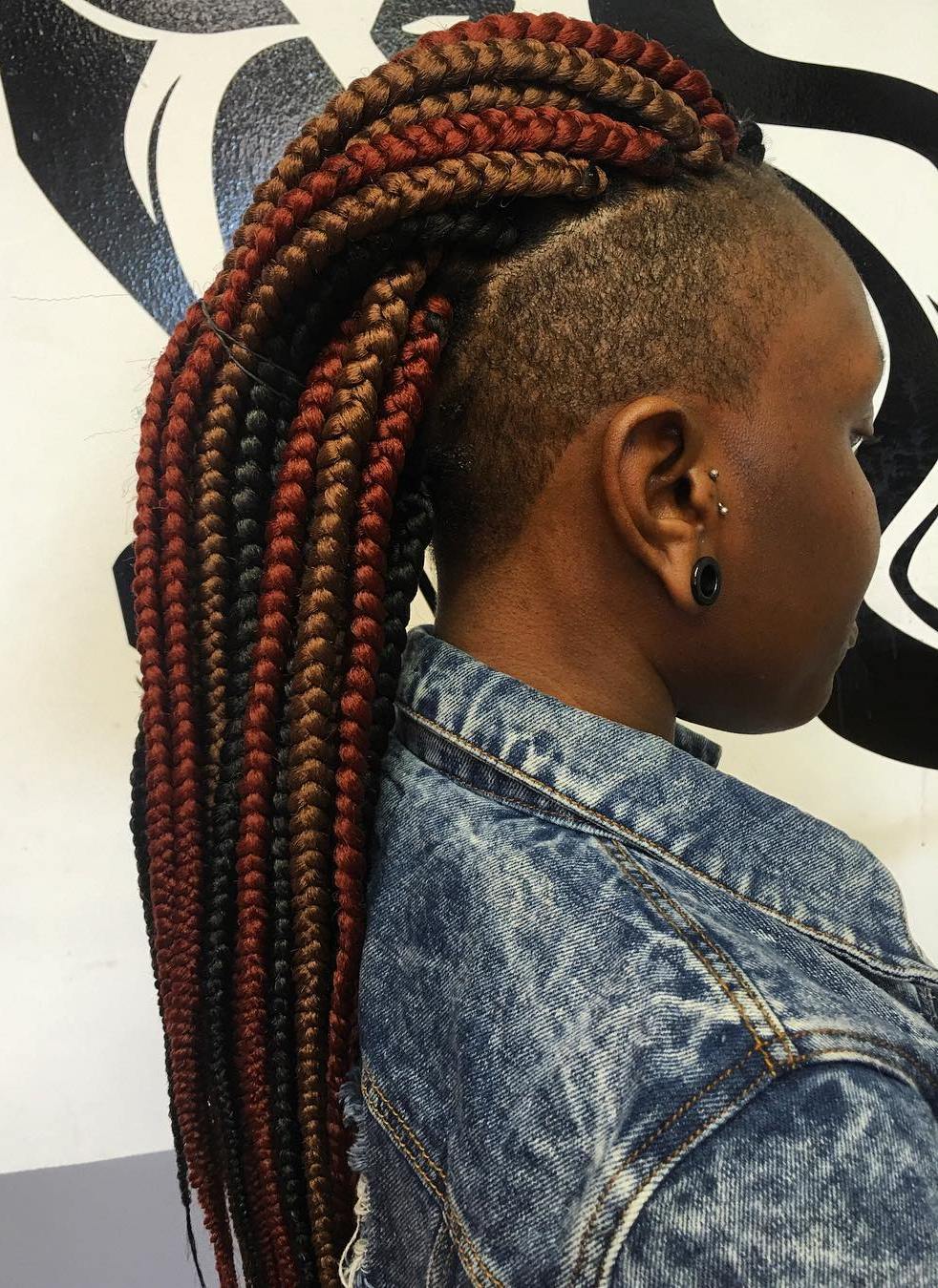 #23: Fuchsia Braids with Cuffs
For the girly girls, try a bright fuchsia. The deep hue is eye-catching yet surprisingly understated. You can pair it with both neutral and bright wardrobe. Metallic cuffs are always a nice touch to elevate a braided hairstyle.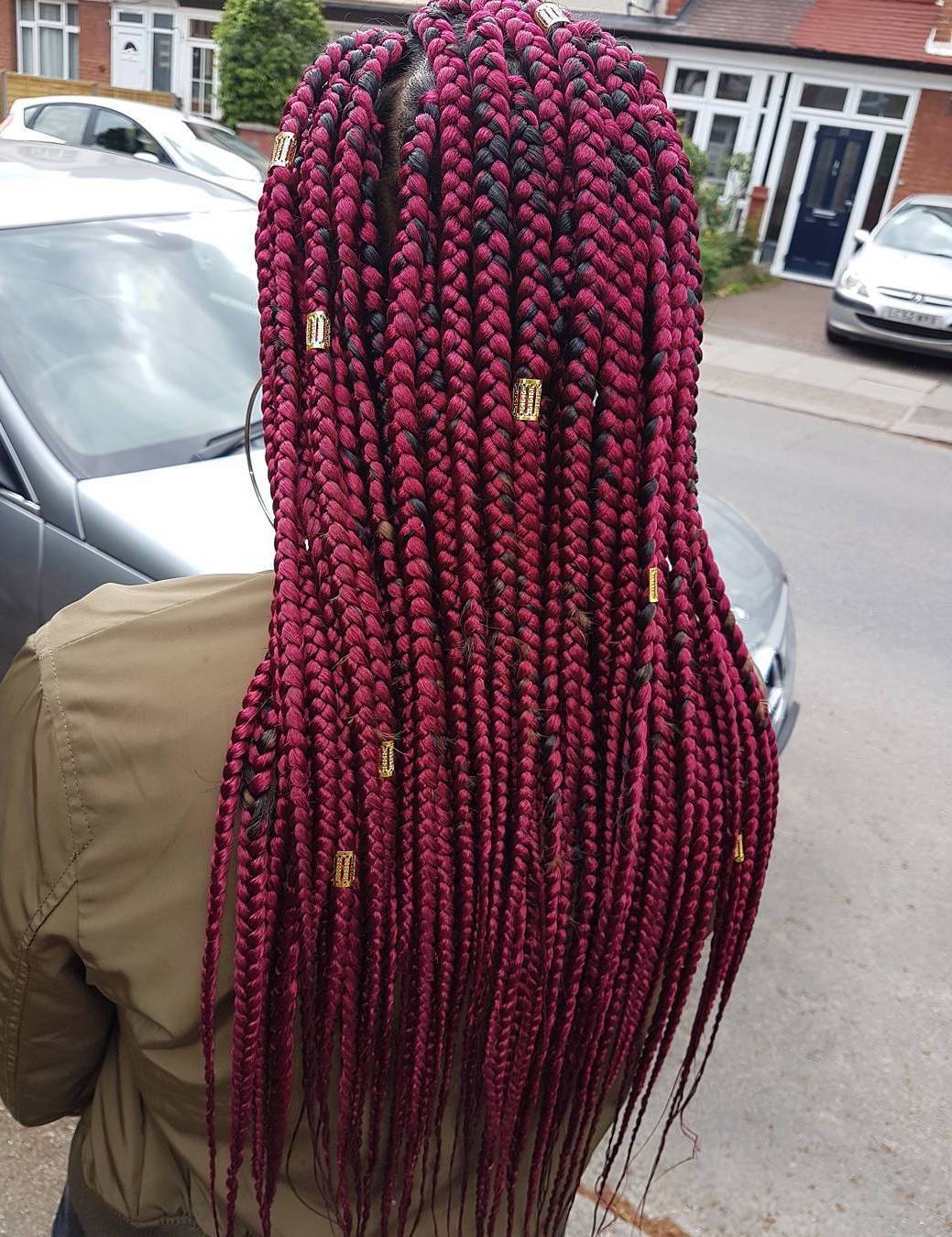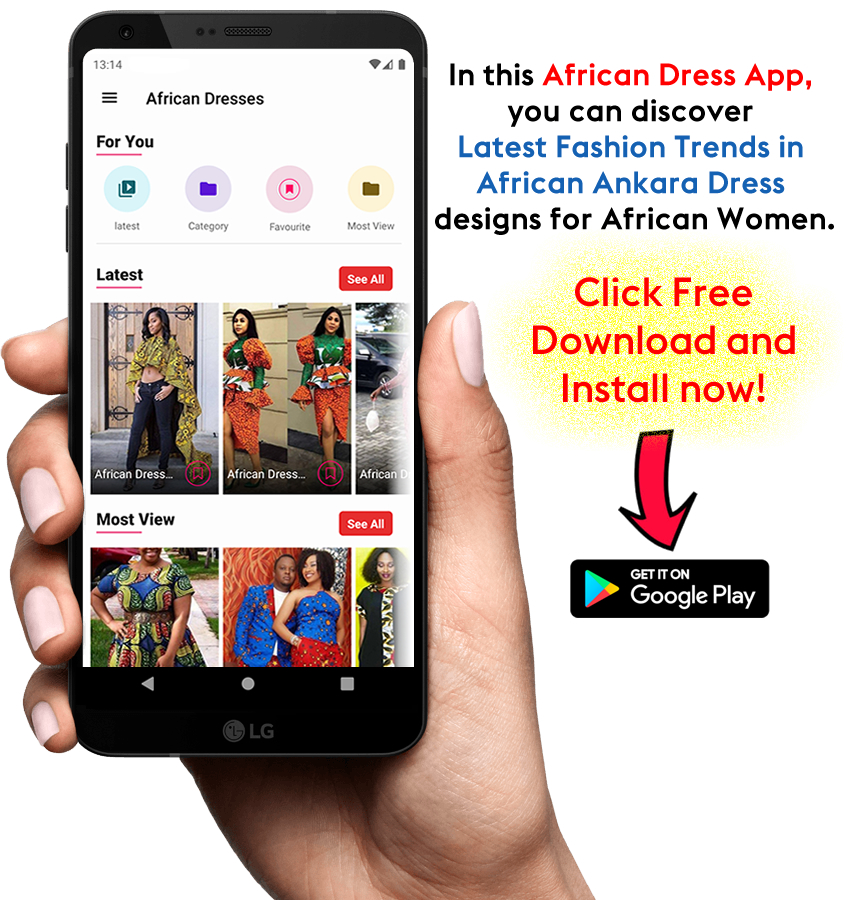 #24: Classic African-Inspired Box Braids
Keep the braids close together if you want maximum volume and minimal scalp showing. It also lends itself to a neat and put-together look. Sure you can go with vibrant colors, but there is something so chic and sleek about waist-skimming jet black braids with feather ends.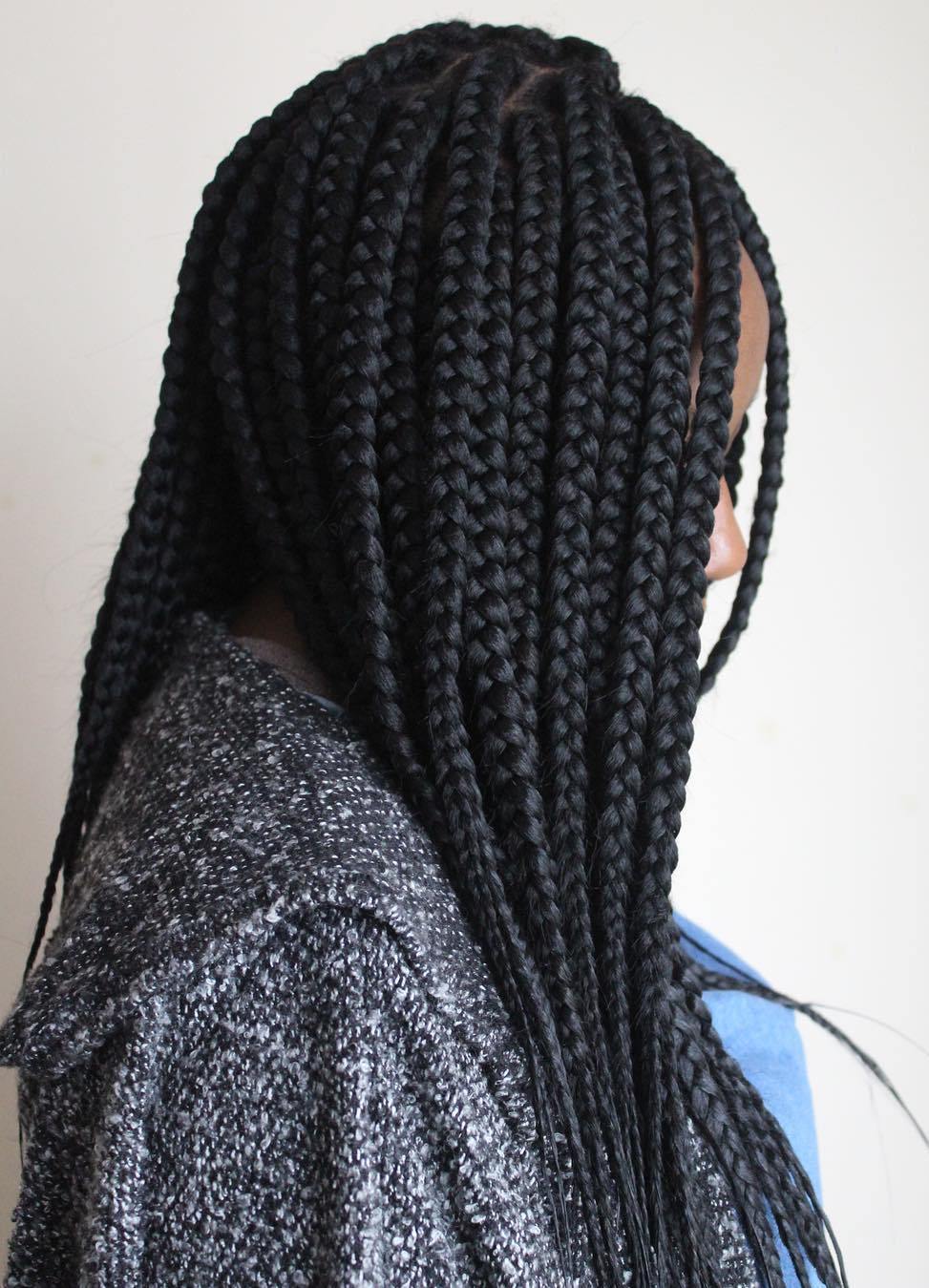 #25: Oversized Bun with Highlights
Big braid hairstyles often feel heavy when worn loose. Throw your braids up in a bun for those days when you don't have to worry about long braids flapping against your back. A bun is always the right, polished look for a formal event or meeting at the office.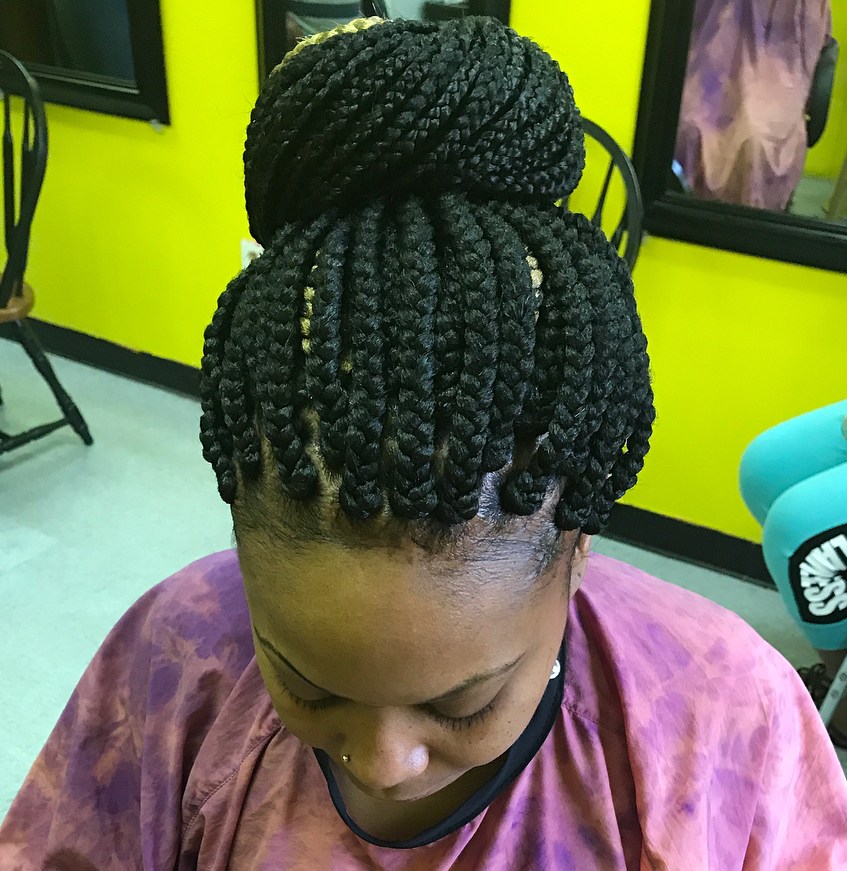 #26: High Pony of Braids
Whether you're hitting the club or running errands, throwing your braids up into a pony shows the world that you're ready to rock. Pair box braids with undershaves for more edge!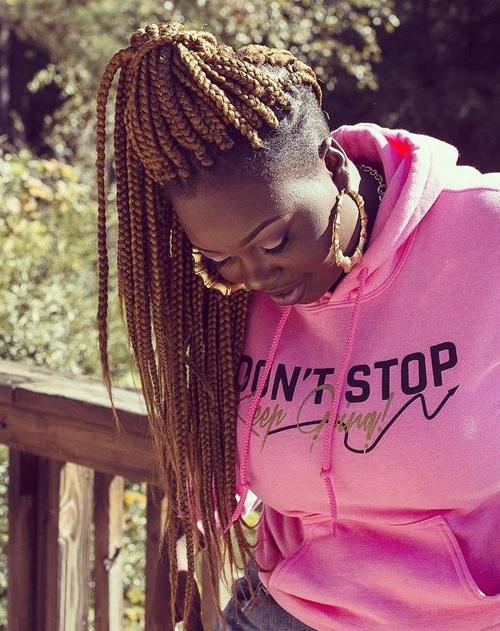 #27: Half-Up Halo Braid
Having long luscious locks can be both a blessing and a curse, but with these big box braids you can truly embrace the length you've always dreamt of. This hairdo pulls half of the braids back for a casual yet clean look. You really can't go wrong with this easy and cute solution!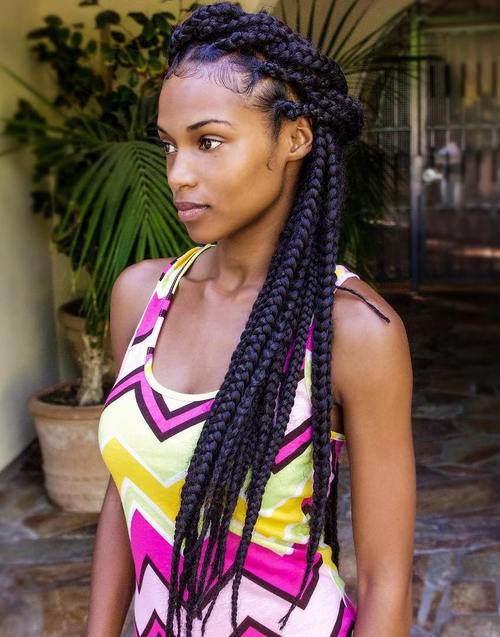 #28: Braids with a Streak of Blonde
Add in a splash of color to make your large box braids unique. This works perfectly with chunky braids because it allows you to really show off your blonde streak.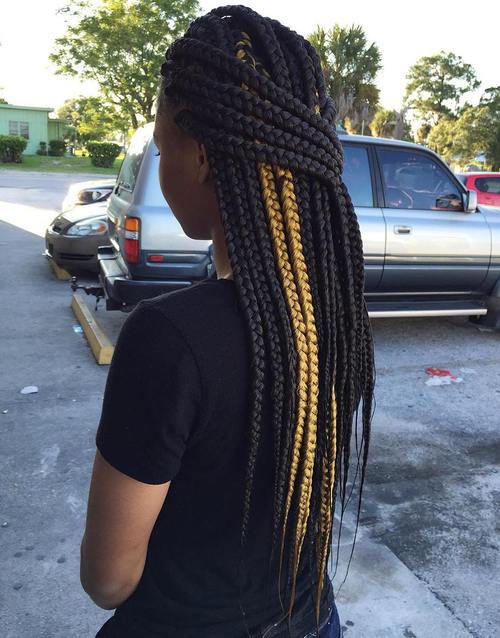 #29: Pompadour Made of Braids
This casual take on a classic look creates a stylish new do for your braided hair. It's actually a basic half up, half down look, but with the trendy and polished effect of the pompadour. It's the best of both worlds in one look!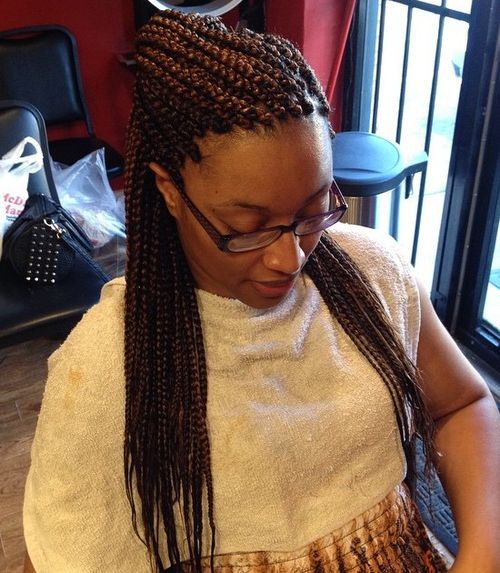 #30: High Space Buns
This look has it all: sass, originality, spunk and cuteness! Simply gather your braids on each side of your head and twist them into buns. Be ready to receive a lot of compliments, and be sure to have your friends take some pictures of this fun look. This hairdo is a sure way to get people talking!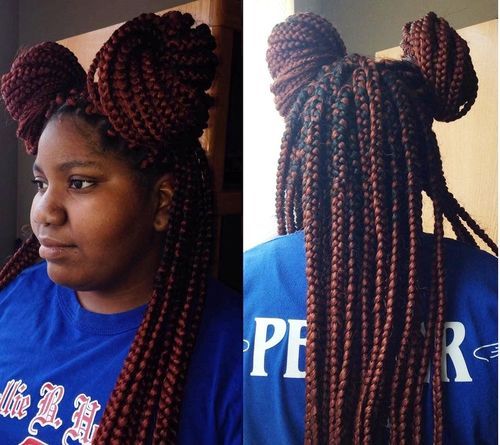 #31: Twisted Half-Up Bun
Get creative with your big braids by utilizing this trendy hairdo. The top knot is a classic style that works for almost any occasion, and it can even be used to show off your free hanging braids by leaving a half of your hair down. Photos like this show that this look never gets old!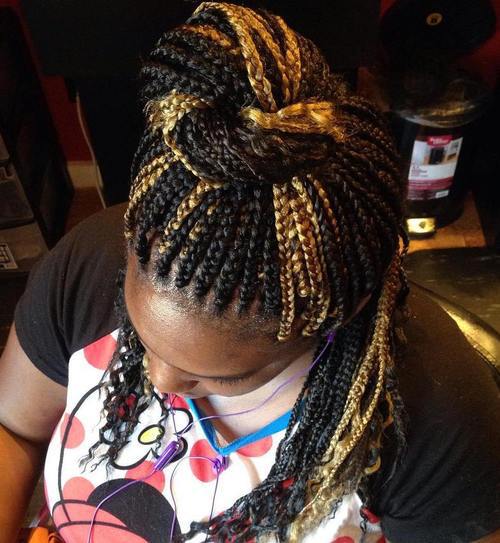 #32: Tightly Woven Braids
Impress all of your Instagram followers with an intricate look like this. This hairdo might take a little extra time, but the beautiful result is totally worth it. Tightly weave your braids on the top of your head, overlapping them to create a sort of bouffant. A look fit for a queen, how fitting.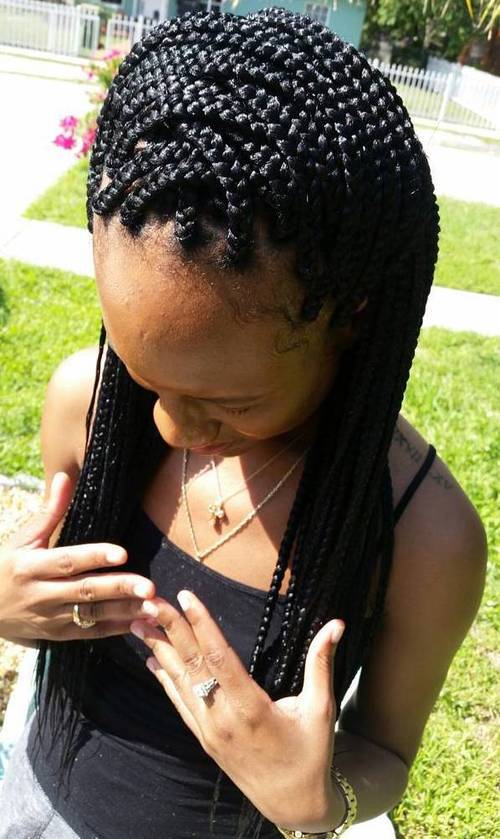 #33: Chunky Braided Pony
Turn heads with this boss look! This isn't any regular old ponytail, and it's sure to draw the attention you deserve! Show off your thick braids by piling them on top of your head and loop a row around to tie them up. You're a force to be reckoned with, and now everybody knows it!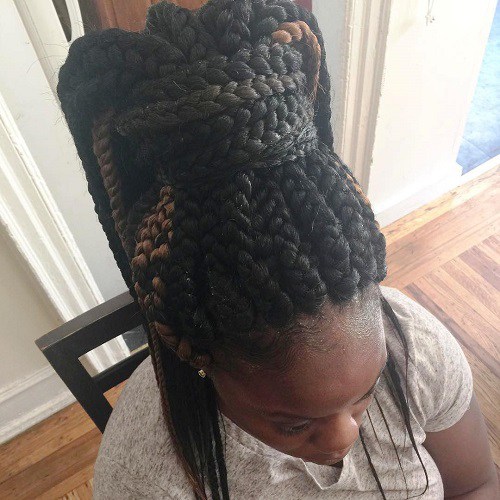 #34: Ponytail of Thick Braids
Sometimes the best way to "let your hair down" is to pull it back into a classic ponytail updo. The good news is that this simple hairdo looks much more fun when it's done with braids. Making classic modern in one easy step!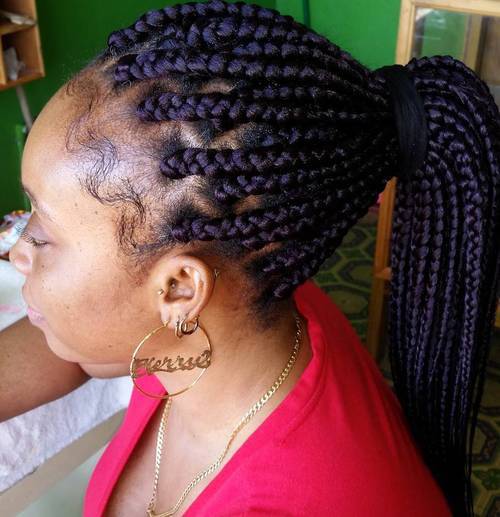 #35: Braided Half-Up Style
Get the relaxed, stylish look of a loose ponytail with this half-up hairdo. This is a perfect way to showcase your braids and keep your hair out of your face while you're out conquering the world. Fun, flirty and hassle-free!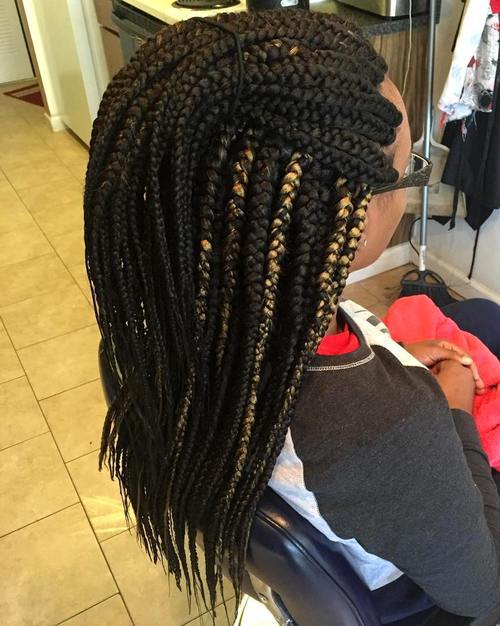 #36: High Half Ponytail
Just like you, this look is ready to party! Use your big box braids to their maximum potential by getting both the fun look of the high ponytail and the free-spirited look of long braids down your back. Party on the top, party on the bottom!
#37: Top Bun with Blonde Highlights
Try out this bold hairstyle and look just like your favorite style icons from the images in the magazines. In this photo, splashes of color add the finishing touch to the large top bun twisted effortlessly around its base. It's a look that shows everyone you're not afraid to take risks when it comes to style.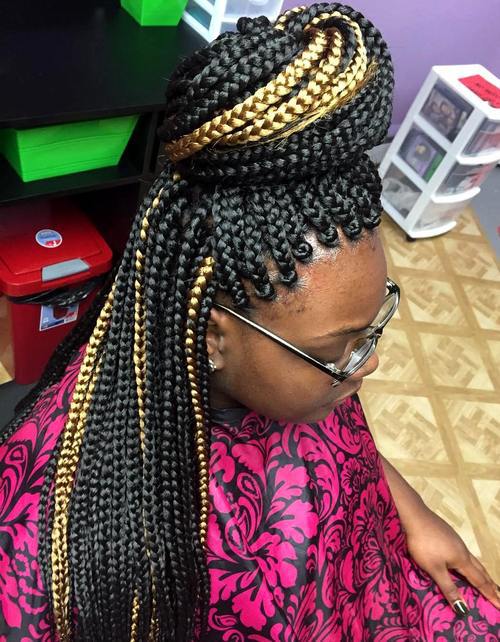 #38: Elegant Side Twist for Box Braids
Tired of feeling the weight of your braids on your shoulder? Shift them all to one side with the help of a half up twist. Hmmm… Feels good and looks great!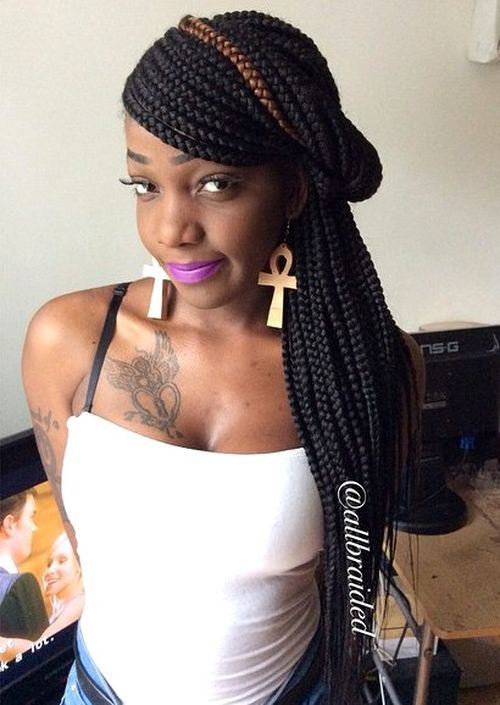 #39: Half-Up Classic Bun
The classic bun is a great look, but sometimes it feels a little too formal. Avoid overdoing it with this half-up half down style. This easy half updo is perfect for large box braids, and it makes anyone look classy.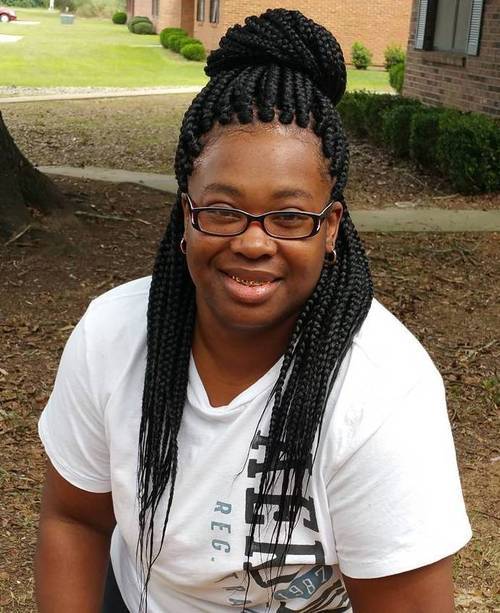 #40: Low Ponytail for Chunky Box Braids
Thick braids can be a lot to handle, but this hairdo takes care of that. Wrap your braids into a casual ponytail using some stray braids to create this easy, ever day look. The mixed in unnatural color here makes this hairdo that much more playful. Who said ponytails were boring? Not us!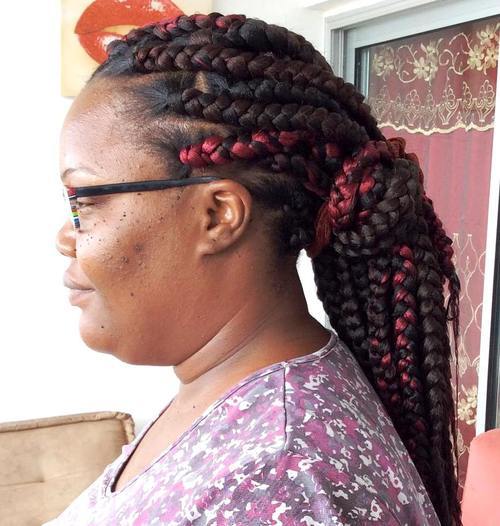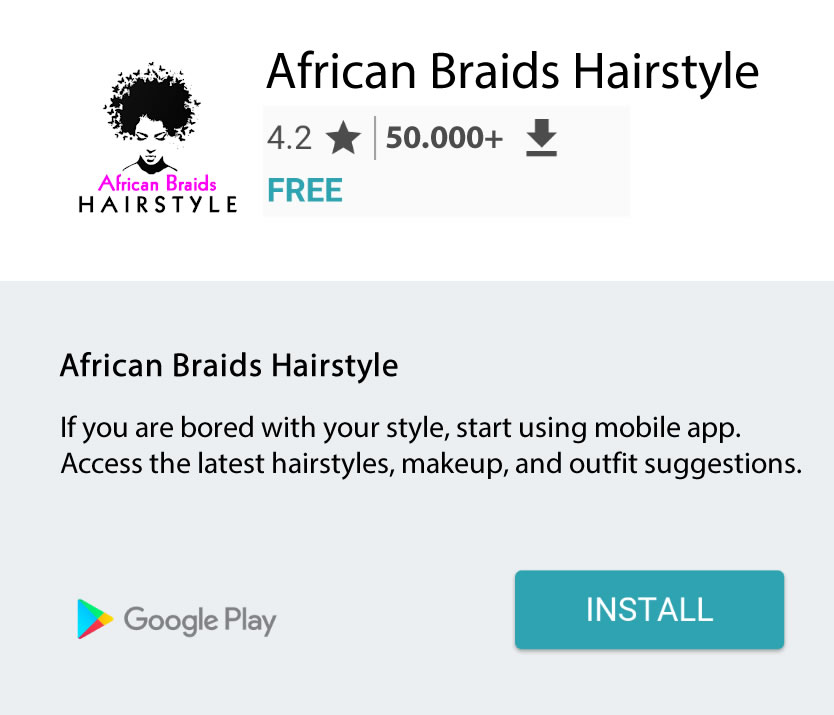 Well, if box braids sound like a good idea, decide on their length and calibre. The following detailed galleries may help you to pick something you really like: small box braids and long box braids. More captivating and versatile versions of braided hairstyles are also at your disposal.