Braids are an easy and so pleasant way to forget about hair styling for months, give your hair some rest, and protect it from harsh environmental factors. Besides, with the awesome hairstyles listed below, you will attract attention, admiring glances, and sincere smiles.
Braided hairstyles make space for creativity. There are many interesting braiding techniques to make every head unique. Besides, you can experiment with highlights, natural or curly texture, clips, patterns, shapes, etc.
Natural perm and hair thickness is your big plus and a unique bonus that you simply can't leave unused. Your hair, that you might have been complaining of before, is created for braids. So why not use this idea to your advantage?
African hair braiding is very versatile: microbraids, cornrows, fishtail braids, blocky braids, black braided buns, twist braids, tree braids, hair bands, French braids, and more are at your disposal. Once you pick a desired braiding style, thickness and have your hair braided, you may shape your braids into gorgeous hairstyles both for every day and special events.
Researchers say that braids were "in fashion" even 2000 years b.c. If they have survived till our time, there definitely must be something special in them, don't you think? No wonder, every year world-famous designers experiment with braids at fashion shows. Fancy to know what's new they offer!
Popular Trends in Black Braided Hairstyles
Fashion shows are always inspiring, yet when it comes to clothes, we need to wait at least till March to begin to bring some new fresh ideas into life. As for hairstyles, things are much easier here: get inspired and try on new images already now. What's new was there in braided hairstyles? These are some trends for inspiration:
– Tight and edgy cornrow styles, cornrowed buns. Cornrows have been always considered as a rather casual hairstyle, but now when they are in Couture collections, it's high time to rock them for a while in the new season.
– Wrap-around braids and twists for black hair with fresh flowers. These are loose, messy and inspired by Boho chic.
– Very loose whimsical braids for long hair. The braid that starts from mid-shaft is not noticeable in the front and looks sloppy in the back.
– Low braided buns. Braided bun updos are always an extra charge of elegance to ennoble even the simplest outfit.
– Twisted rope braids. These long 3 dimensional braids, ideal for long thick hair, look very interesting, unhackneyed and worth a try.
The Most Gorgeous Black Braided Hairstyles
Check out the ideas in the pictures below to get inspired.
#1: Criss-Cross Goddess Braids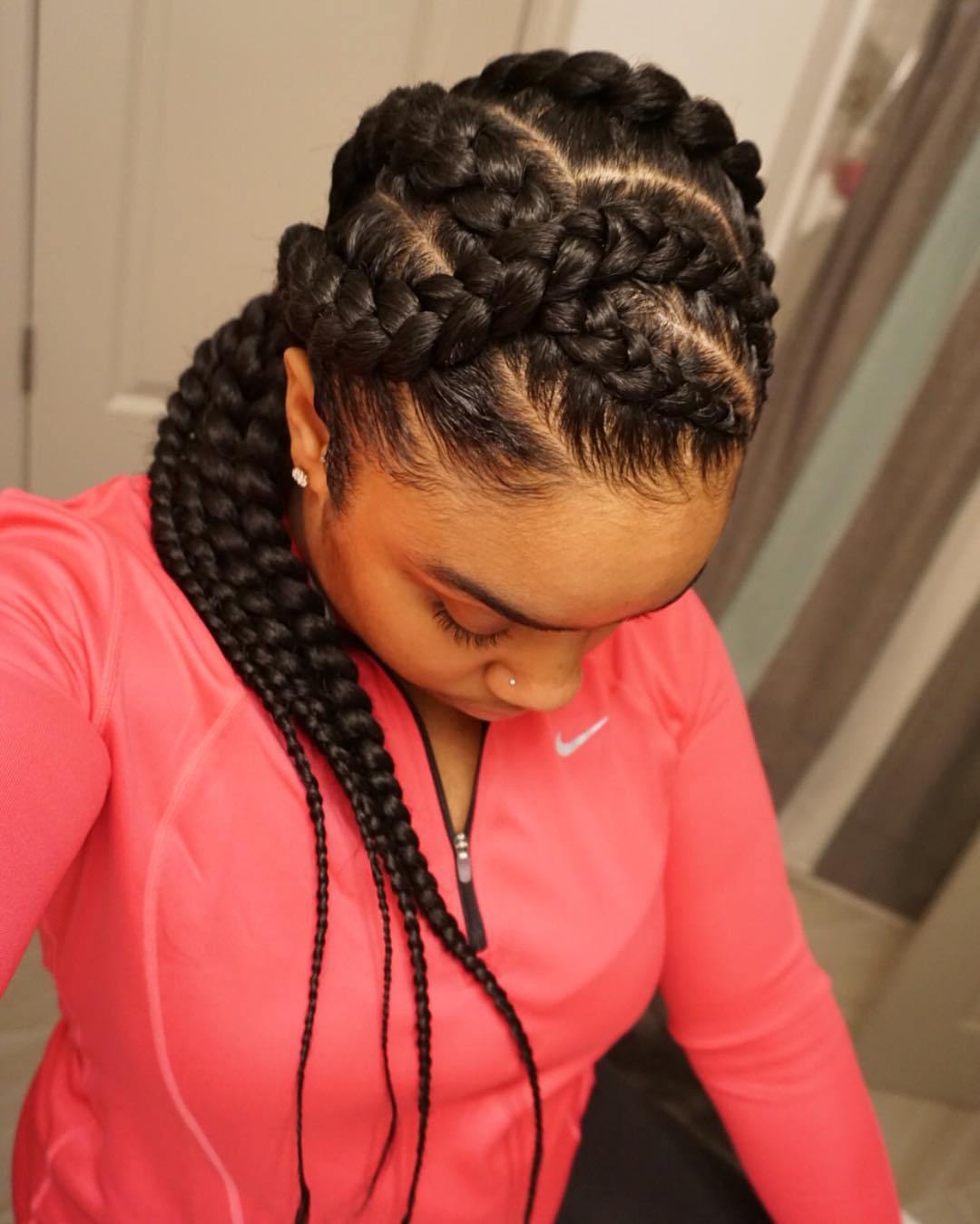 Chunky cornrow braids, referred to as goddess braids, are perfect for days when you want to give your hair a break or when you are going on a beach vacation and would rather not worry about styling your strands every morning. The great thing about the braids of this size is that they don't take too long to do and are easy to take out.
#2: Bold Triangle Parted Box Braids
Braided hairstyles are quite common among modern women, especially traditional looks like box braids. One of the easiest ways to make a standard style seem fresh and new is by changing the size of the braids and experimenting with parting. Large braids will go well with the 90's revival and athleisure/streetwear fashion trends that are popular at the moment.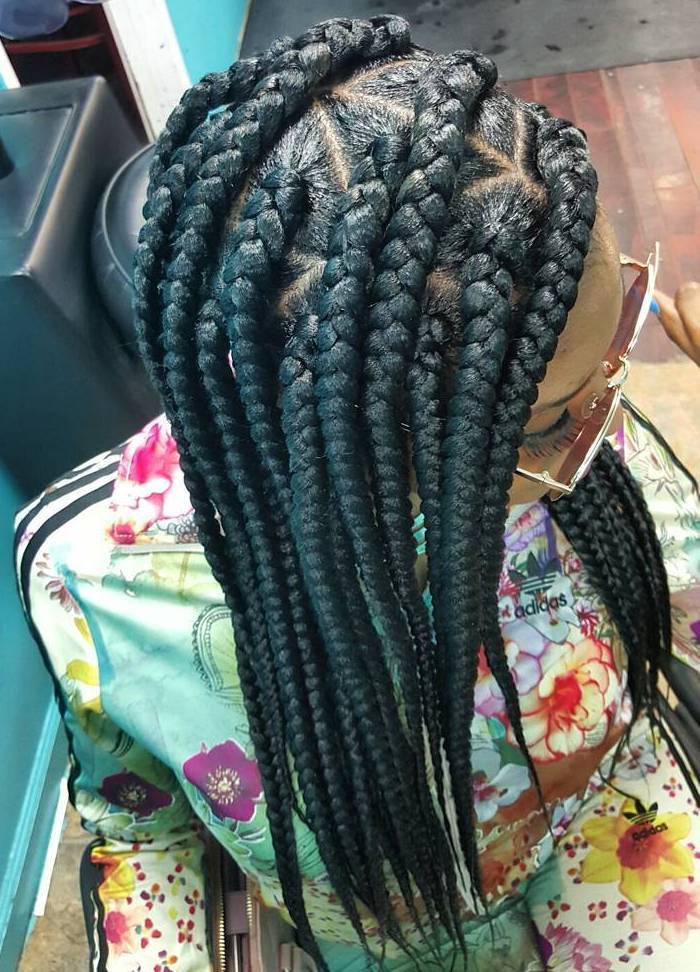 #3: Braided Bun
For a long time, large braided updos were reserved for older women on the go. But everything old is new again, and now younger women are embracing the style with flair. The micro braids accent the jumbo cornrows for a fun twist on the classic.
#4: Long Braids for Black Hair
Even if you are adding hair for length, chunky black braids are not ideal for those with short natural hair because they can slip out or cause too much tension. A good way to combat this is to feed small tight cornrows into larger ones for a similar, but more secure, effect.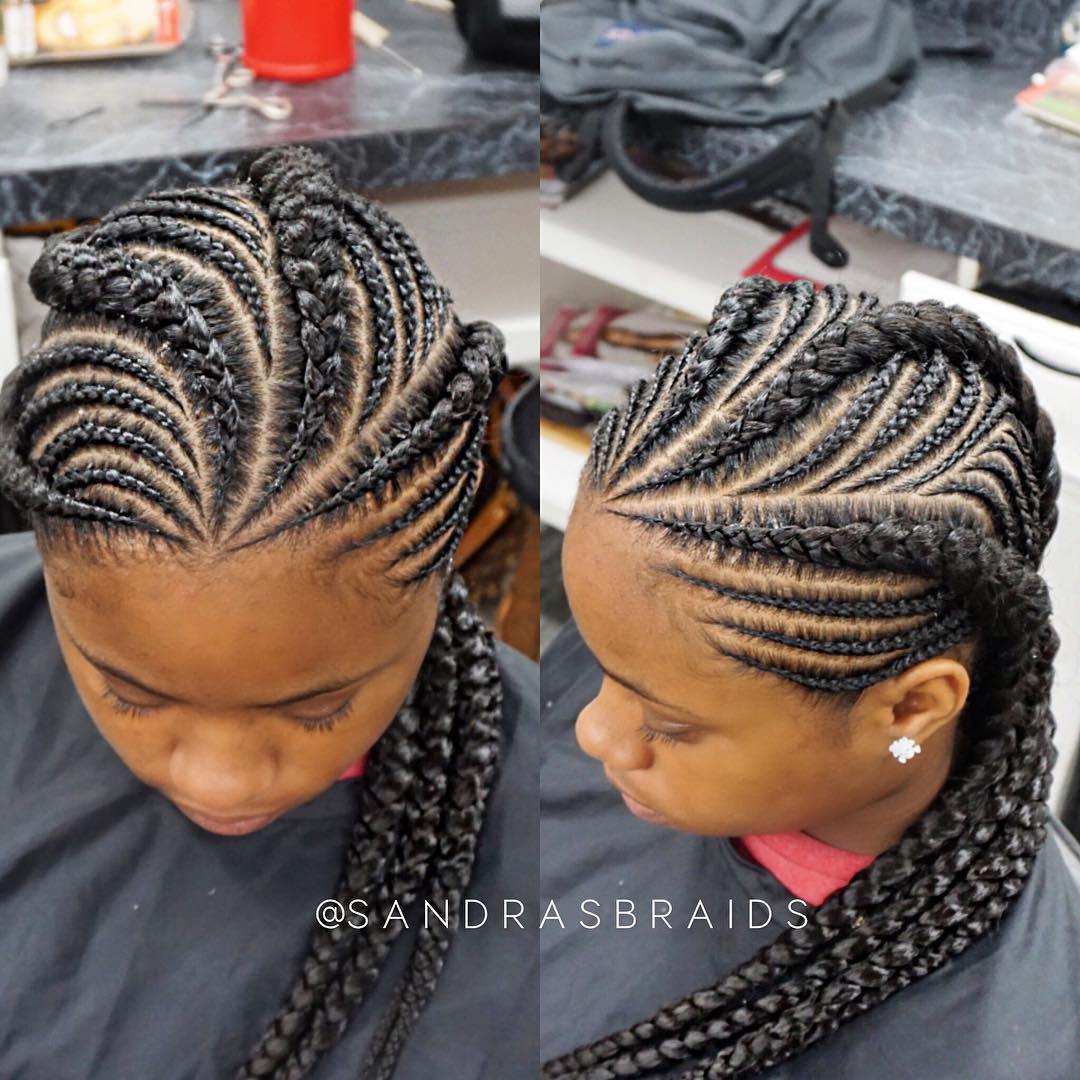 #5: Feed-in Braids
The benefit of the feed-in method is that it makes cornrow hairstyles look more natural and less bulky by creating a narrow and flat point at the hairline. This also creates less tension and protects the edges. This method of braiding can be done at any African hair braiding salon.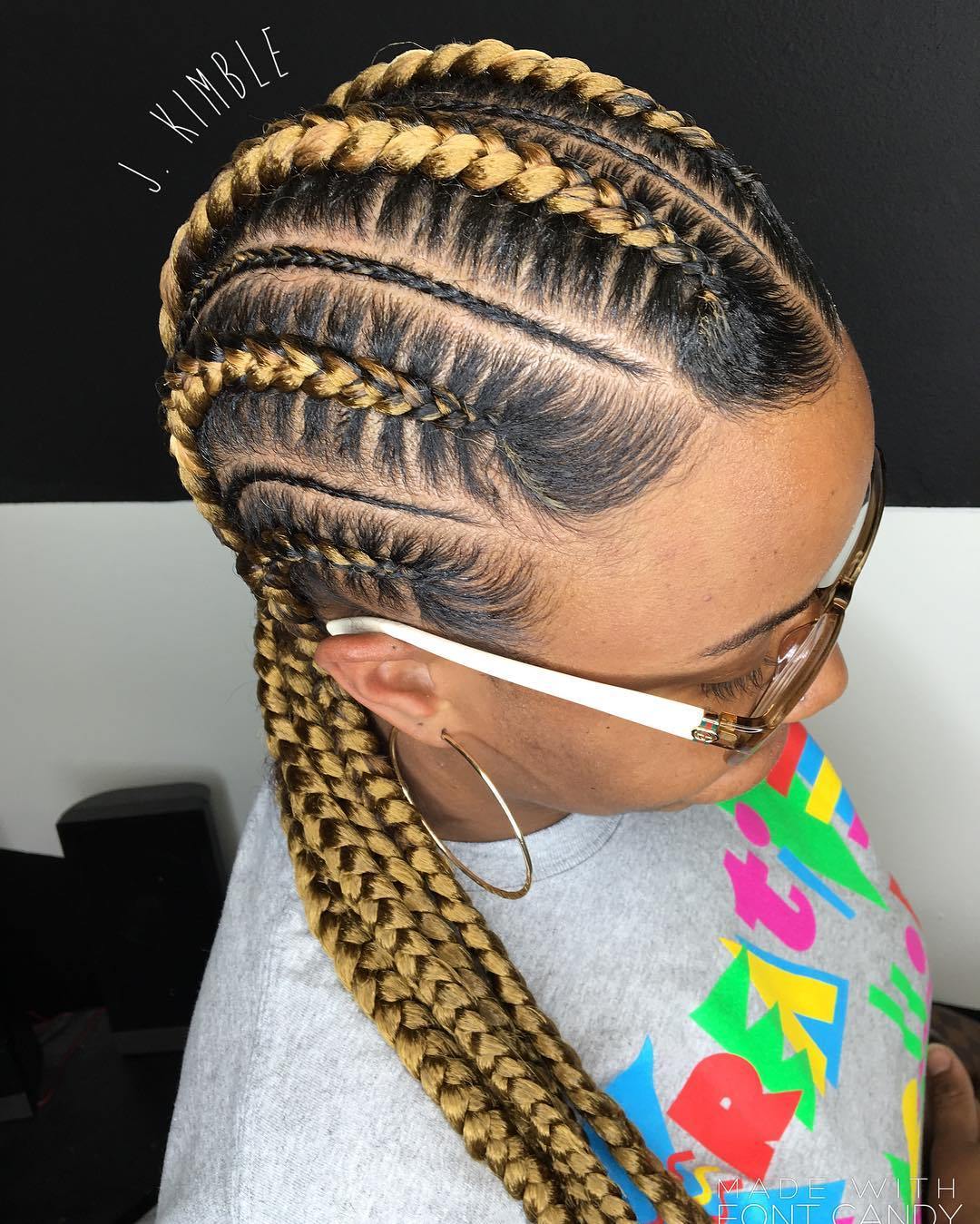 #6: Braided Ponytail
As wonderful as braids can be to create interesting protective styles, braiding hair can sometimes feel heavy when it comes to hairstyles with individual plaits. A cornrow ponytail is great for a casual updo that won't pull on your edges.
#7: Purple Highlights in Black Braids
Outside of the extra length and thickness, adding hair also gives the ability to experiment with color. Weaving in a few pieces of hair for a pop of color like the purple shown here will give you cute braids with a highlighted effect.
#8: Centre-Parted Crown with Fishtail
Although they are known as "boxer braids" now, this double braided look has been popular for quite some time. Despite being one of the most popular and, therefore, common braids hairstyles for black women, the addition of a fishtail braid at the end and platinum blonde streaks makes this look a step above the rest.
#9: Wavy Straight-Back Braids
One of the most classic cornrow styles is the straight –back look. It's typically the first hairdo that new braiders master because the pattern is simple and it does not take a lot of time to complete. To add a softer twist, ask for curvy parts to create a wavy appearance.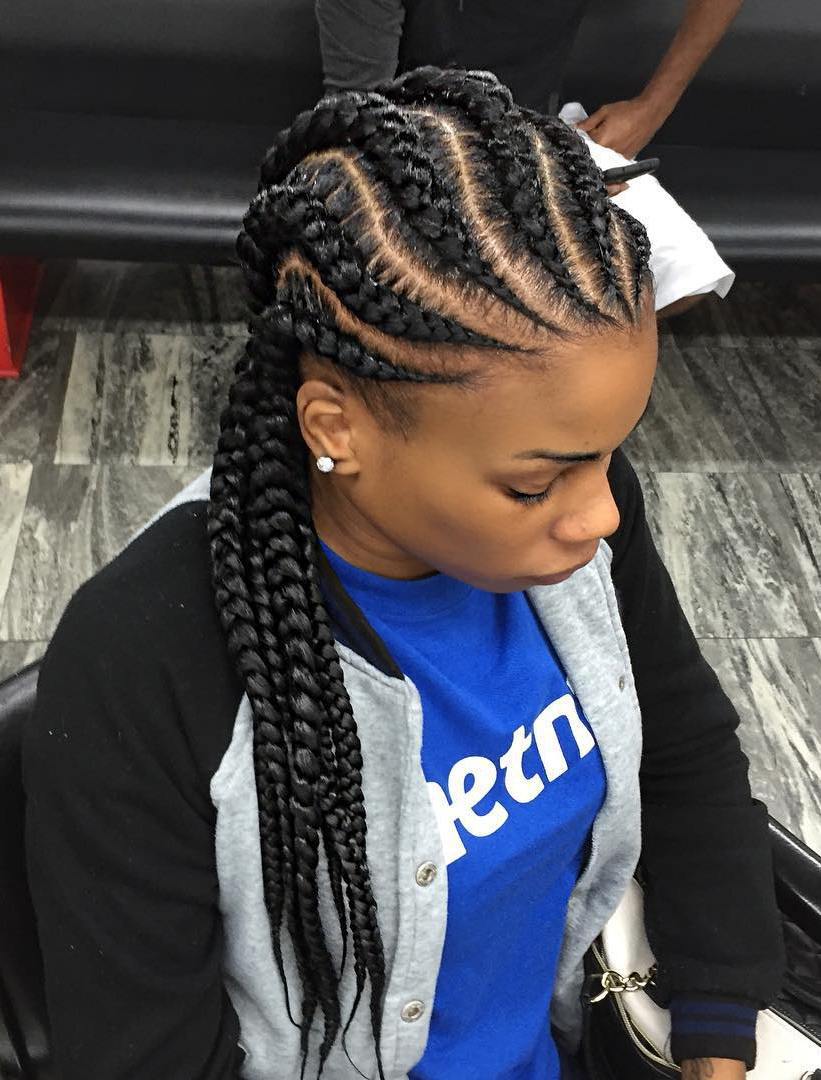 #10: Jumbo Coil with Braids
Instead of a standard bun, try using the pattern of your plaits as the basis for a design. The bold coil stands out more because of the chevron look that the big braids create. Plus, this simple hairdo will look good in any setting.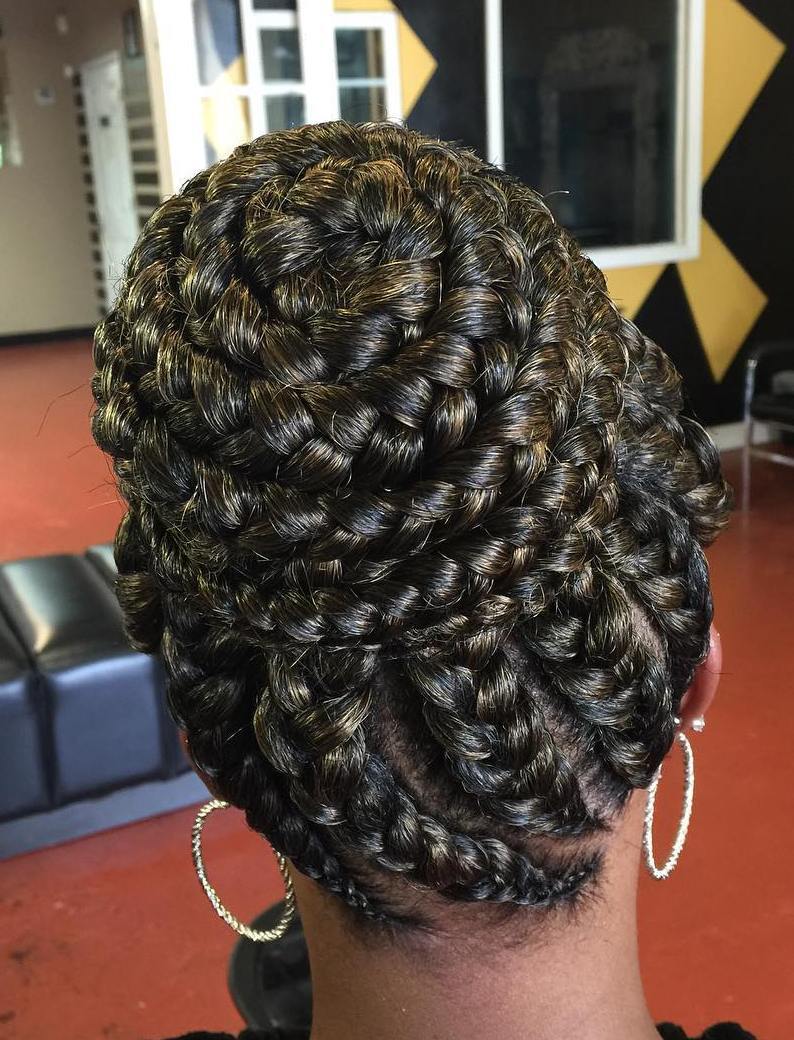 #11: Half-Updo with Long Freely-Hanging Braids
Long braided Ghana weaving hairstyles are a staple for African American women during the summer months. Keep your look fresh with a half-updo that features a nice height on top. This style can be completed in a time crunch for a sexy look that lasts throughout wherever the day may take you.
#12: Braided Updo Hairstyle with Curls for Short Hair
No need to rock a fully braided style to get the effect. Braid the back, leaving room in the front for bouncy spiral curls. This style works well with short to medium hair length, as it does not require much length to complete.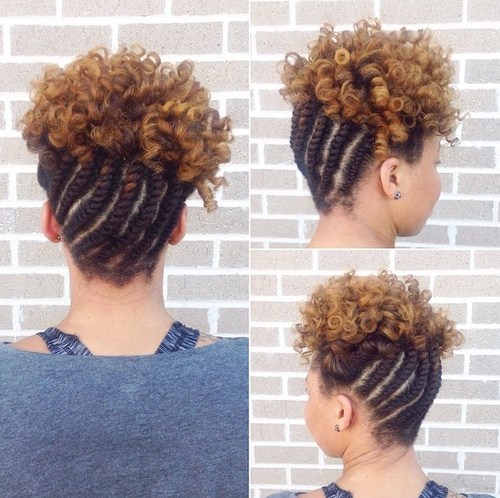 #13: Snake Braids
Long and curvy braids are not your typical cornrows, but the idea is pretty much the same. Try the snake braids if you want a fresh take on the hair braided closely to the scalp. Add golden beads for extra bling!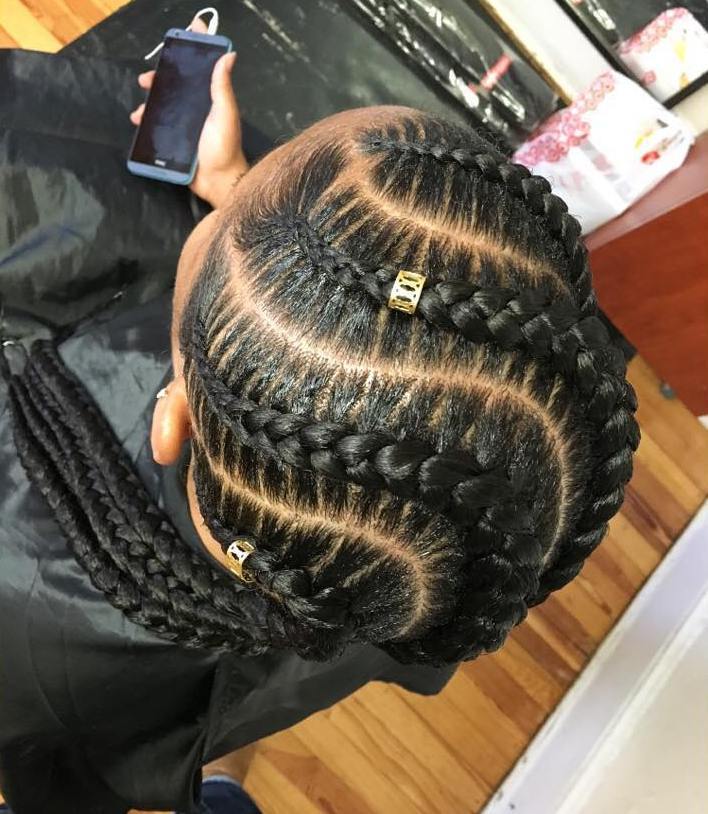 #14: Chunky Mohawk Braids
Mohawk braids are an easy way to try the shaved style without committing to actually cutting your hair. Also the possibilities are endless when it comes to styling the long section of your hair—you can cornrow it as shown, wear individual African braids, twists, or more.
#15: Jumbo Double-Twisted Updo
Here is a simple updo for black women with natural hair that can work for a dressy event or just when one craves a more glamorous moment in day to day life. The best part is that this look can be completed in less than five minutes for a quick and easy black braided hairstyle.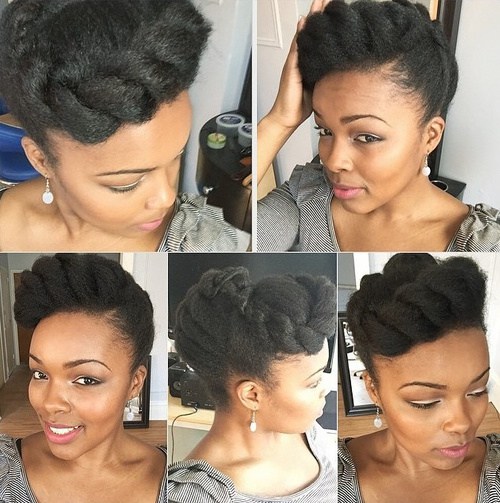 #16: Poetic Justice Braids
One of the most popular hair braids style at the moment is the Poetic Justice look. This is named after the long braided look that Janet Jackson wore in the hit 90's film. Pair with bantu knots on top and flirty makeup for an eye catching look.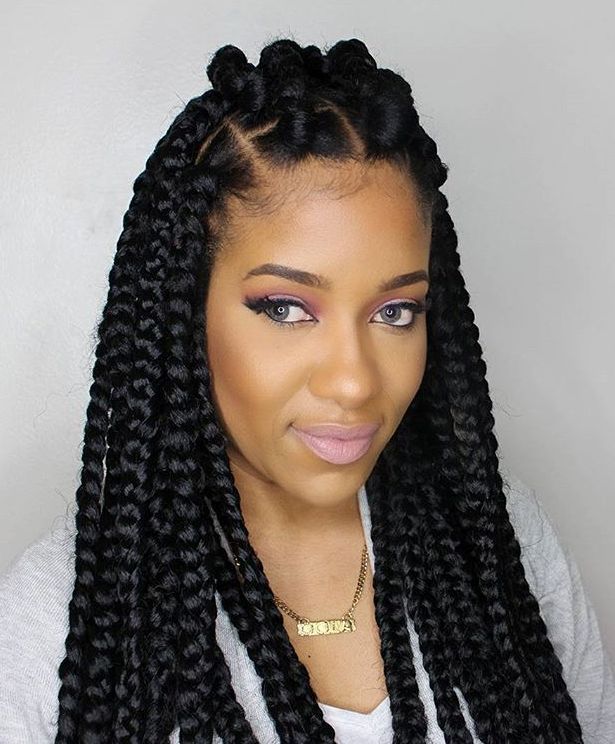 #17: Ghana Braids Bun
Braids all over your head might be fun, but sometimes you want something simpler and classier, like this low braided bun with two plaits and a curved part. The braids are made of added hair, so, you don't need to worry about the length of your hair.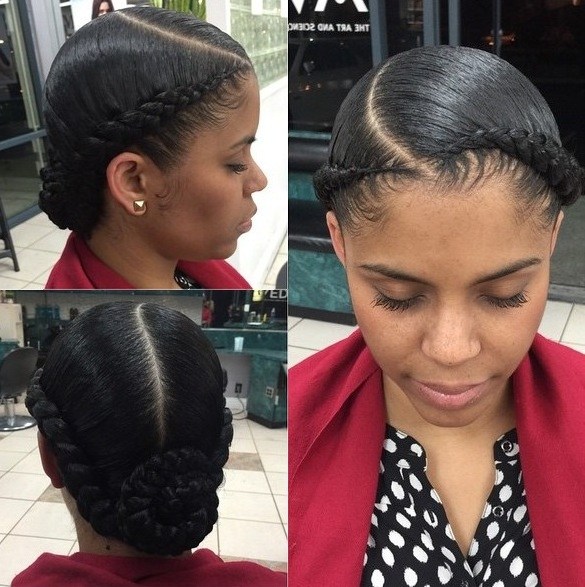 #18: Crossed Twists and Afro Puff Pony
Sometimes a few simple elements combined in one 'do make a gorgeous hairstyle – here is an example! Who doesn't like an afro puff when your hair is of the right length? Add a fun detail in the front and flaunt your customized afro puff. Nothing is better than updated classics!
#19: Braid and Side Bang
If you have a long bob or a medium tapered cut, you can still rock braids as shown here. Use the longest portion of your cut in the middle to create a braid or add hair to the section where you will be able to get the most grip. With a sleek bang in the front—this look gives new meaning to the phrase "business in the front, party in the back".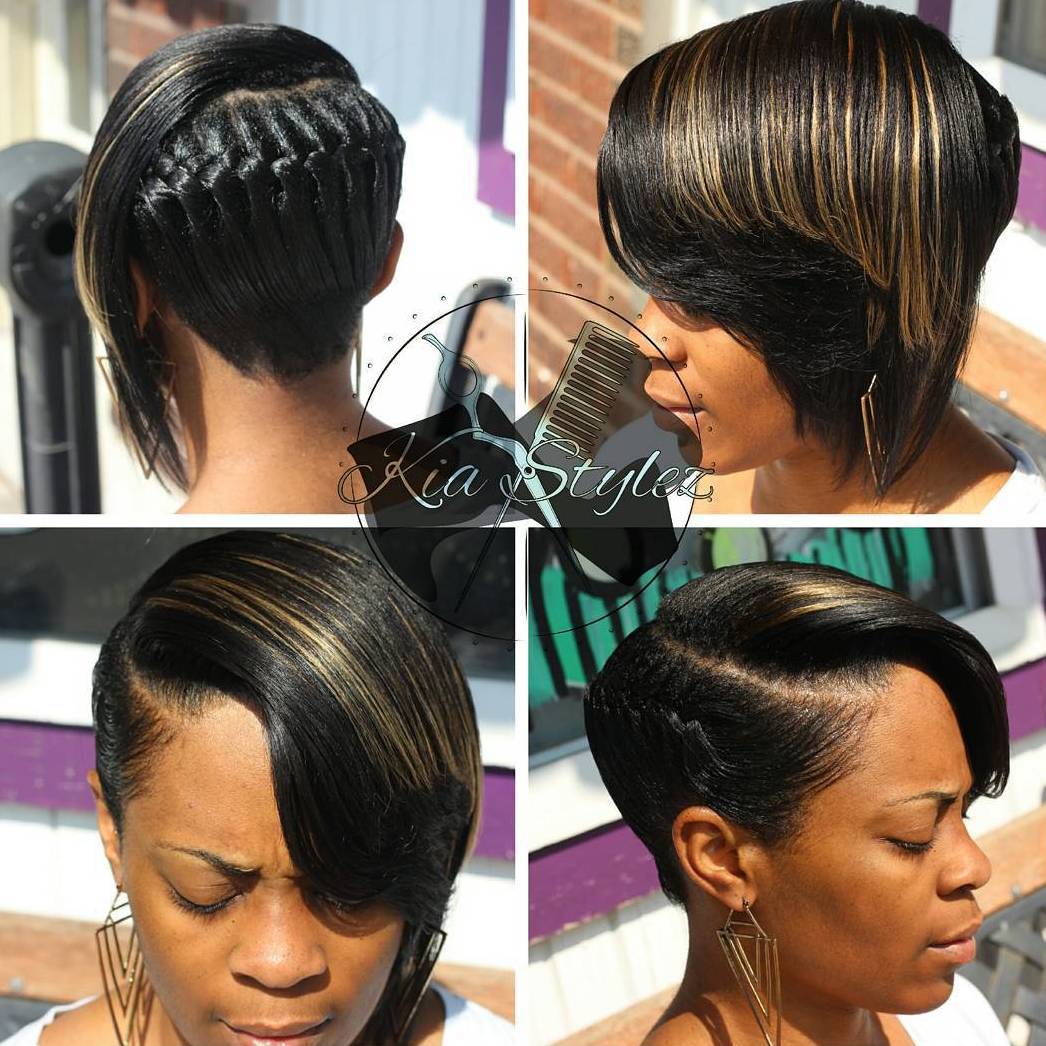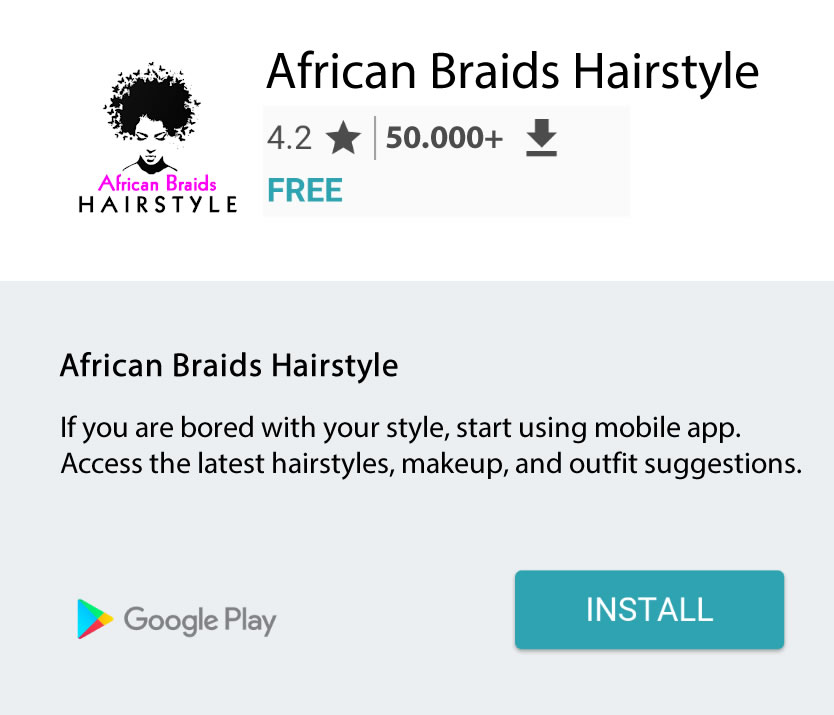 #20: Double Braids Updo
Black braided hairstyles aren't just beautiful, they are creative and practical. Two braids updos ride new wave of popularity, so don't miss the trend and get something quite simple yet classy braided for your trip somewhere or just for a change to brighten up your casual life.
#21: Mixed Braid Updo for Black Hair
Looking for a fun style to wear at a formal event? Mixing in a few braids of different sizes will result in a fashion forward updo for black women. To help the look last for a couple of days, make sure to sleep with a silk scarf at night.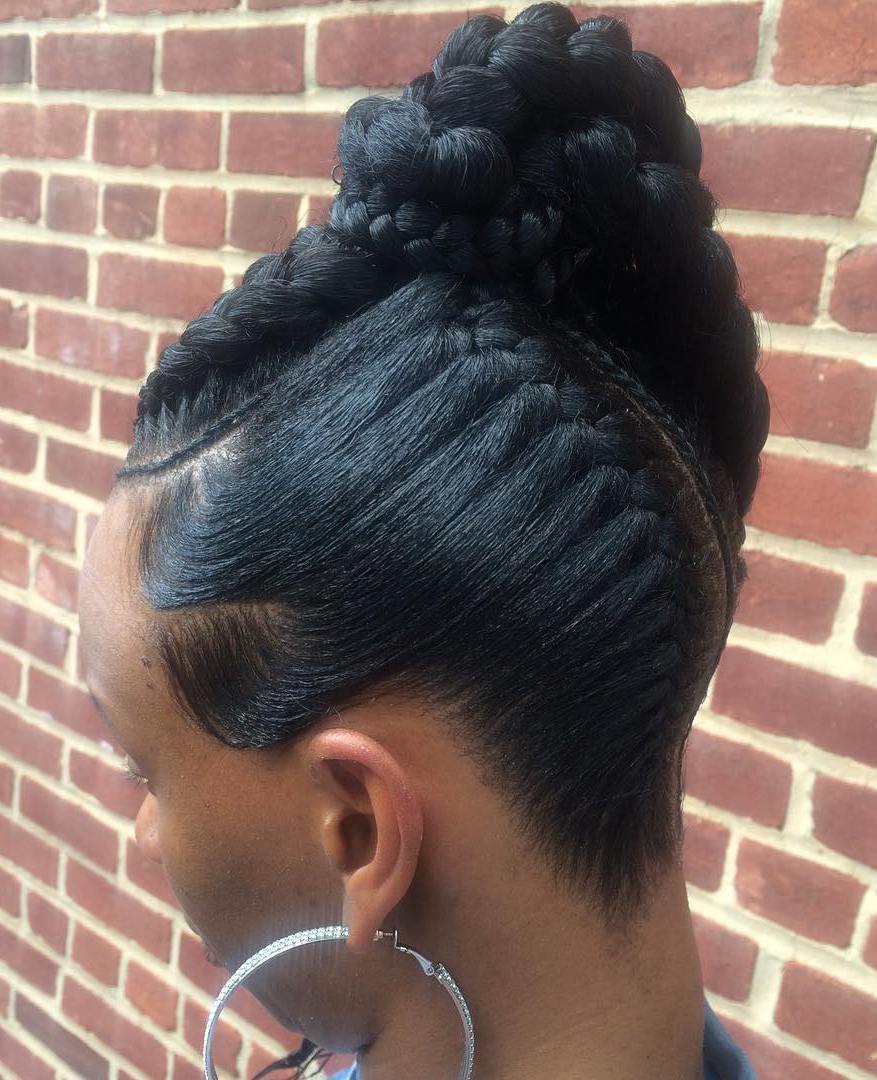 #22: Classy Updo for Black Hair
With goddess braids in braided updos you can take something as simple as a bun and make it worthy of a double take. The smaller the braid is, the tighter the weave will be which will ultimately make your hairdo last longer.
#23: Criss-Crossed Braids with Feed-in Cornrows
Today nobody is impressed by just plain braids. To upgrade your braided hairstyle, criss-cross braids, vary their thickness, try new angles, experiment with different variations of parts, and you'll invent something unique, something that's worth a double take.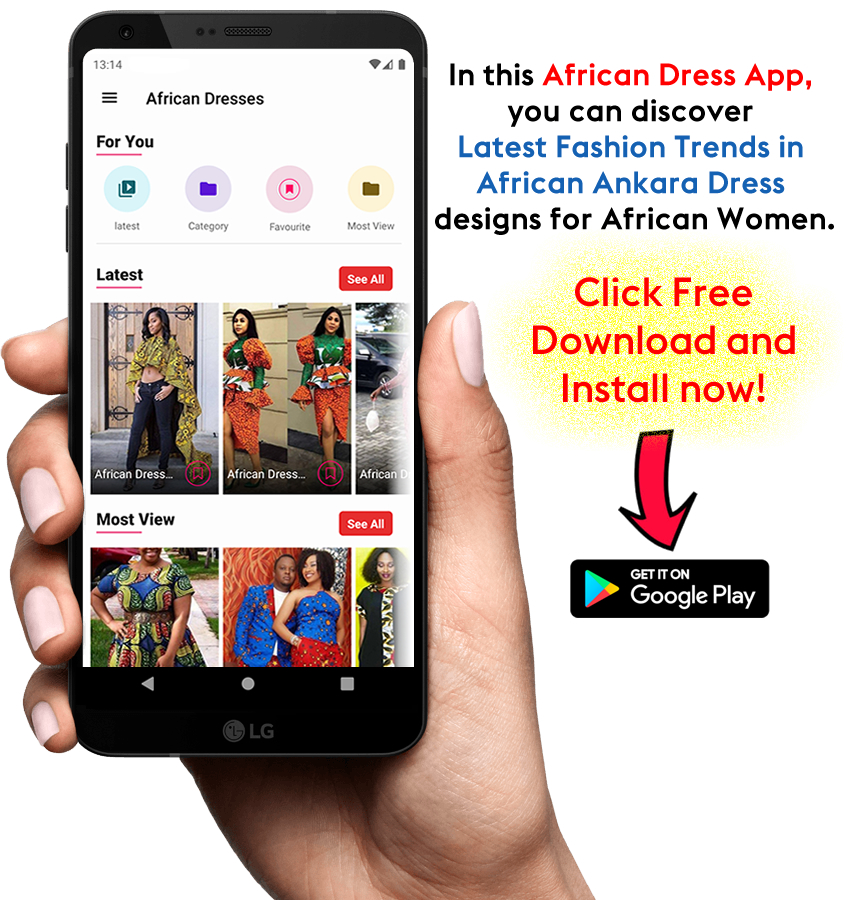 #24: Braids with Curves
One of the best things about wearing braids is the ability to create designs without shaving them into your hair or using color. This can be done with just the parts or by manipulating the actual braid. Pick something that matches your personal style; it can be something simple and beautiful like the slightly curved braids shown or you can go all out with a more intricate look.
#25: Dutch Braid Crown for Black Hair
If you have long natural hair, or want to add length to your strands with extensions, braiding hairstyles can promise you a fabulous new look. This is perfect for nights when you want to go out and don't feel like straightening your hair or twisting it out.
#26: Revamped Braided Ponytail
Take a ponytail to the next level with braids. Because the style is not very versatile, you want to introduce something quirky or fun into the look so that it doesn't feel boring after a couple of days. Incorporating smaller braids, or wrapping hair around your ponytail holder are those simple touches that will keep it exciting.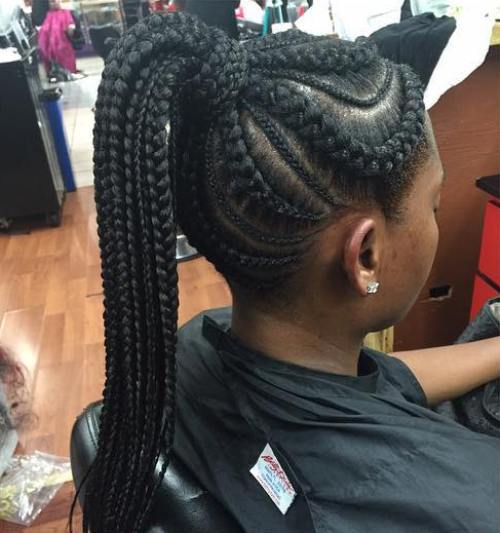 #27: Braided Hairstyle with Jumbo French Braid
A French braid goes from being sweet to sassy the larger it gets—and this style brings a heavy dose of the latter. Try a jumbo braid for an upcoming weekend out; this is a surefire conversation starter!
#28: Bulky Braided Crown Bun
One of the fastest and most pulled together protective styles is a braided bun. This style can be achieved by most textures and lengths. Unless your locks are extremely long and full, it is easy to add hair to create a bulky crown-like bun.
#29: Twisted Updo with Blonde Highlights
Showcase your highlights in the elegant twisted updo with honey blonde accents. Pump up the volume of the style with a beautiful bouffant in the front.
#30: Chunky Twisted Updo
We love the idea of twists in black hairstyles. A twisted updo style for natural hair like this one will combat frizzy strands during humid days, while still appearing polished and pretty.
#31: Cornrows with French Roll Updo
Smaller braids tend to last longer, so if you are willing to commit to a style for a couple of weeks try this braided hairstyle for long hair. The gorgeous rolled Mohawk will suit a variety of occasions like a work trip or vacation with your significant other.
#32: Intricately Twisted Fauxhawk
A true hairdo for a woman who likes to stand out from the crowd with no apologies; with a stylish updothat blends braids, voluminous twists and color, you are sure to make a statement.
#33: Cool Marley Twists
Black women with long, thick hair can recreate this easily by making chunky two-strand twists, but even if you don't have long strands, simply add in "Marley" hair to replicate the style shown. The puffiness of the twists gives off a carefree vibe that looks only cooler as they are becoming messier.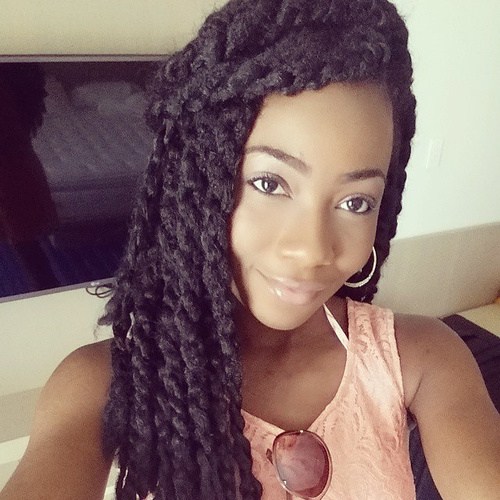 #34: Updo with Cornrows and Twists
No need to choose between braids or twists for your next updo. Blending the two together in various sizes results in an intricate and interesting black hairstyle.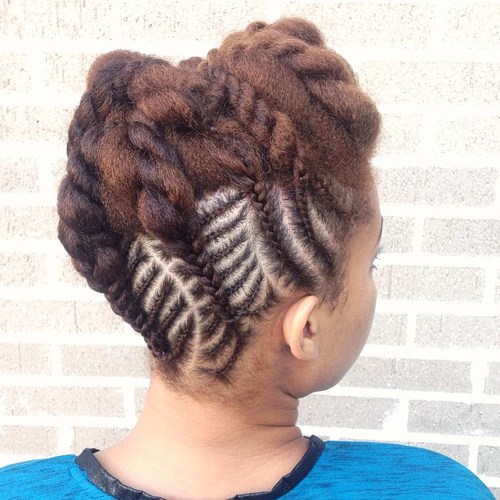 #35: High Bun with Twists
A high bun can go anywhere, from trips to the grocery store to trips to the beach. Give your everyday look an update by adding twisted pieces throughout your bun.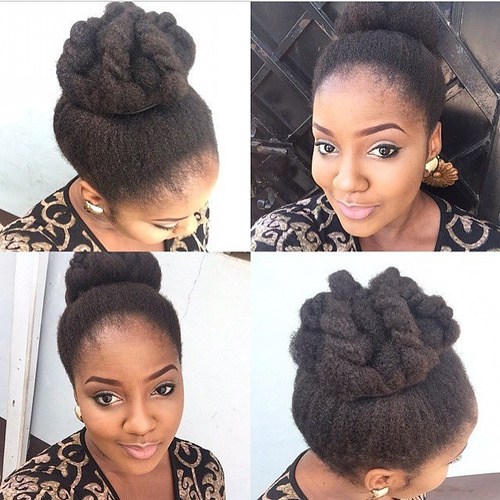 #36: Updo with Forward Braided Bun
Don't get stuck in a rut with the same black braid hairstyles. Try a voluminous loosely braided bun updo for an eclectic twist that would work well for black women with medium-to-long hair lengths.
#37: Twisted Updo with Fun Face-Framing Twists
Create a sort of side bang by brushing your Havana twist braids across your face and pinning them to the side; it will instantly add some drama to your face. This cute braided hairstyle gets a bonus point for pulling double duty—once you untwist the braids you are left with glorious spiral curls!
#38: Large High Bun with a Headband
Although this is not what you would typically think of when you picture braids, this style overlaps three separate sections in a bun to add visual interest. Take it to the next level with dyed ends and a bright headband.
#39: Black Braided Updo Hairstyle with a Cute Design
Use alternating cornrows of different sizes to create an intricate symmetrical design on both sides of your head for an eye-catching look. This can be done with medium to long hair lengths.
#40: Double Bun Mohawk with Undercuts
Show off your shaved sides with two larger than life spunky braided buns; the perfect hairstyle to complement your look for an enjoyable night out.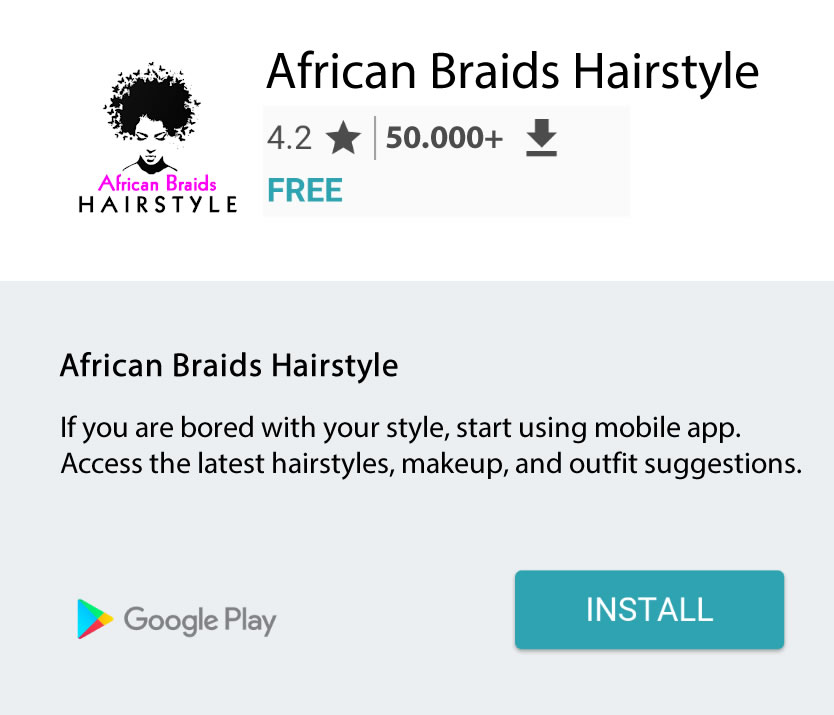 #41: Intricate Boxer Braids
A signature hairstyle is one show-stopping way to showcase your personality as well as your personal taste. Braided 'dos are both protective and, clearly, gorgeous. Look for intricate braided hairstyles that both protect your natural hair and show it off to its best effect.
#42: Long Curvy Braids
One of the reasons black women turn to braids is because they're so versatile. In addition to forming the basis for many protective styles, braids work as stunning hairstyles with natural hair and weaves or extensions. For this fresh asymmetrical style, try curvy plaits with curvy partings – and don't forget to keep those baby hairs slick and tamed.
#43: Black Braided Bun Updo
Swirls, loops, and swoops; thick plaits, thin snaking cornrows, and perfectly curled baby hairs – there are several hair braiding patterns on display here, and all of them reveal just why the braid can be a work of art!
#44: Long Braided Faux Hawk
This Empire-inspired faux hawk takes braided hair to the next level in its execution, intricacy, and literal height. It features several braiding styles, with natural braided hair along the sides and back. The twisted roll that forms the faux hawk and the cascade of braids spilling out of it are adaptable depending on personal preference — thick, thin, long, short, or medium length, just pick a style and type of hair you want to use for extensions.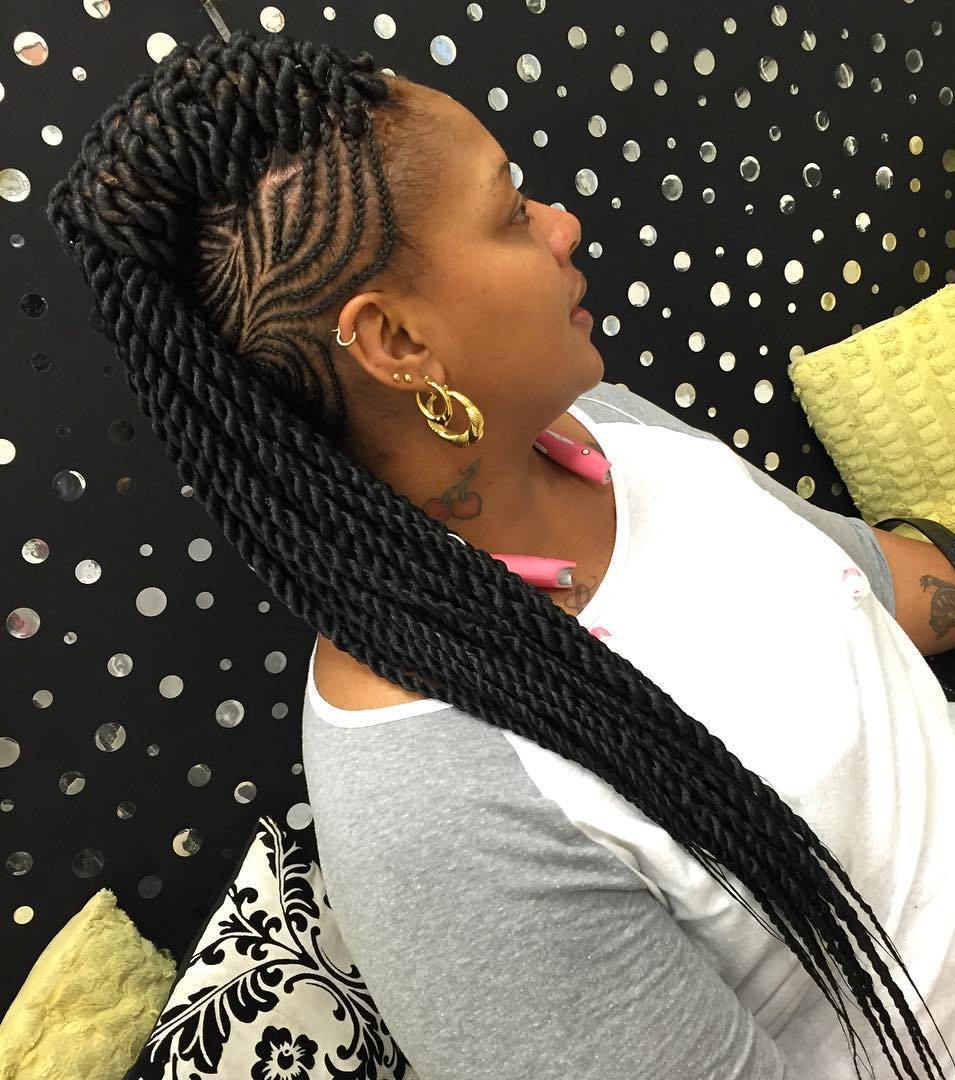 #45: Cornrows with a Twist
Cornrow hairstyles are not just signature styles for black hair, they're deeply cultural hairstyles for black women and men. The rows are cute in geometric patterns, which highlight the skill and artistry that go into crafting these hairstyles. The thickly woven braiding on top can be achieved with natural hair or extensions.
#46: Long, Braided, and Flowing
Long, braided hair is a signature look for black girls and women. There are several types of braids, ranging from twists and locs to free-flowing box braids. Color, size, and design all come in a dazzling variety, and don't forget accessories for individual braids!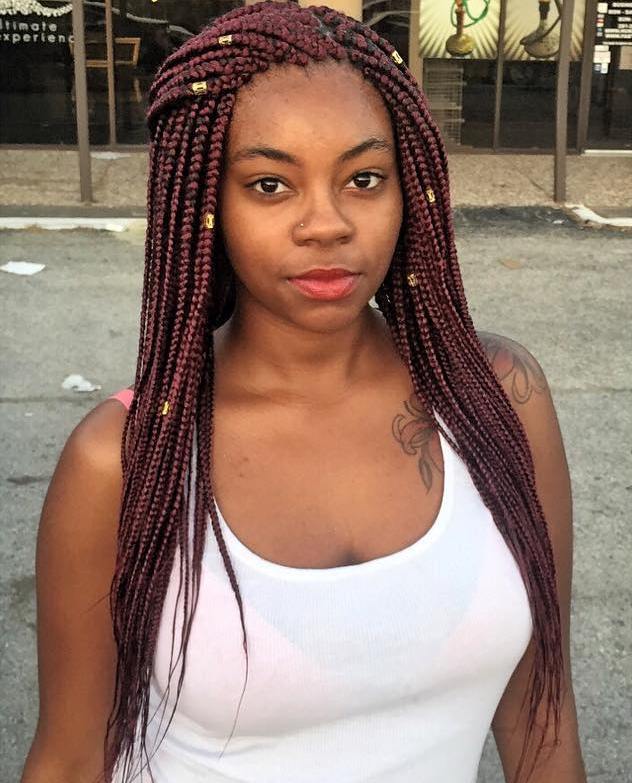 #47: Black Braided Bun
Braided updos are elegant and sophisticated but still fun, and they're versatile and full of flavor, so every woman can choose her own style. This look begins with cornrows that lead to a thick, braided bun. High top knots such as this one are classy and compatible with any outfit.
#48: Chic Braided Bob
Braided bobs are simple but so chic. This is a run-out-the-door hairstyle that never fails – the wearer always looks pretty, polished, and put-together. The best part is that this 'do is a winner with thin, thick, or medium braids.

#49: Reverse Flat Twists
Traditional cornrows go from forehead to nape, but if you have shorter hair and/or want to have some volume on the top of your head, reverse them. The highlighted bunch of curls looks very sweet – girly and playful.
#50: Thick Halo Braid
African braids can take on a variety of different forms. It can be a full head of tiny braids or one chunky halo braid that gracefully wraps around and frames your face.
#51: Gorgeous Pocahontas Braids
This show-stopping double-plait is updated by color and complemented with side cornrow braids for a look you'll be proud to wear casually or for an up-coming event.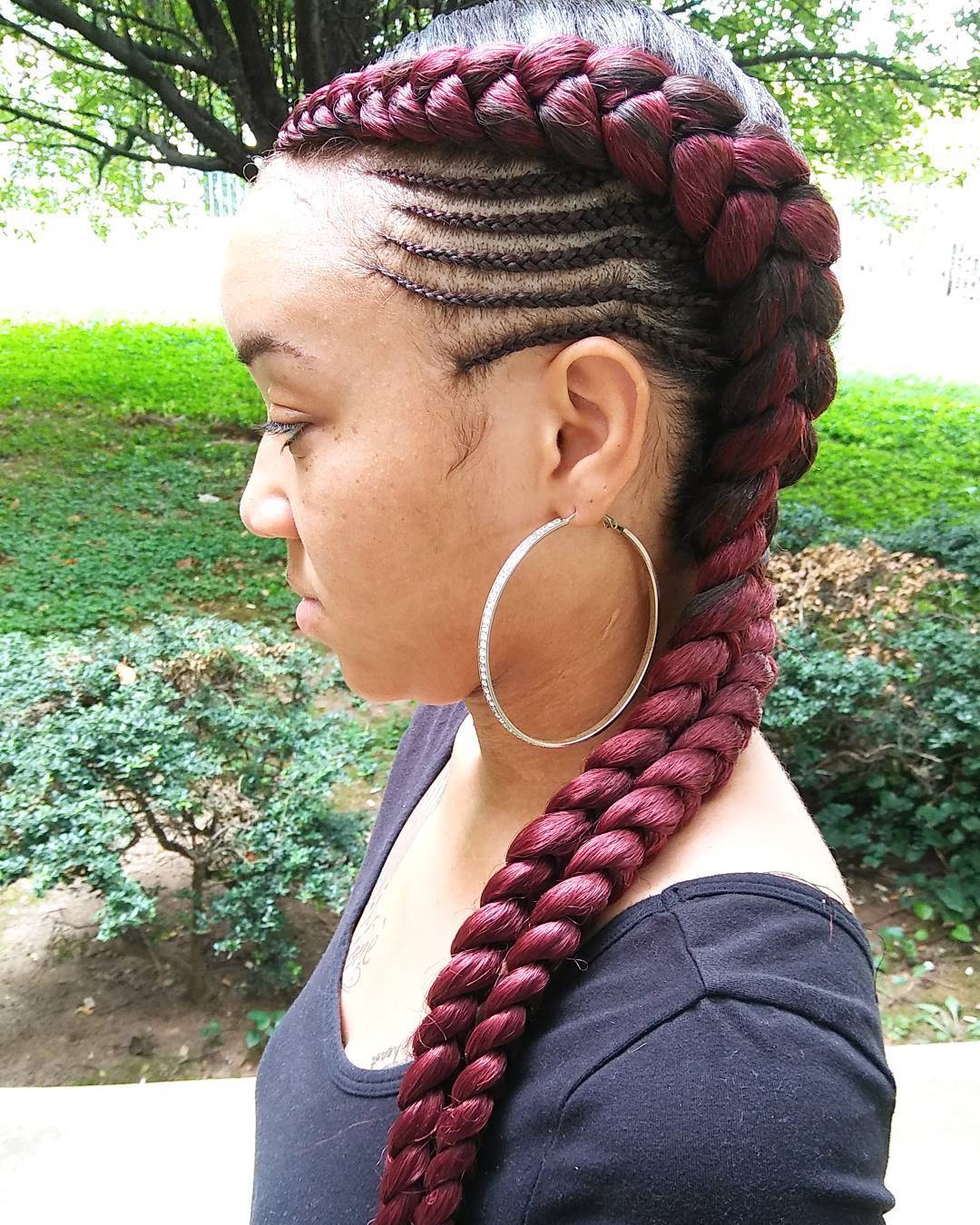 #52: Cute Jumbo Twist Braids
Call them jumbo twists or crochet braids, the result is equally impressive. The style is unfailingly edgy, elegant, and eye-catching. Add some scattered golden beads to break the gorgeous mass of hair you've got.
#53: Flat Twists into Twist Out Curls
Today's twist braid styles often use flat twists with freely hanging ends you can style in curls or braids for a more sophisticated look. These flat twists are done on shorter hair with extensions, yet the style is very natural-looking. Love it!
#54: Black Crown Braid
The crown braid updo is simple but very chic and time tested. You can lift your braid closer to the crown of your head or let it run along the hairline – choose the variety that flatters your face shape and facial features the most.
#55: Black Braided Mohawk
There's no end to a variety of designs one can try with braiding. This mohawk with braids blends curvy cornrows with one point burst rows for a jazzy Mohawk to suit a woman who shies away from wearing boring hair.
#56: Two Cornrow Boxer Braids
Two braids can sometimes be better than numerous individual braids. These absolutely look like your own hair, especially if you choose braiding hair that matches in hue. Braid hairstyles for black women give you freedom to try a new exciting style each time you need a change.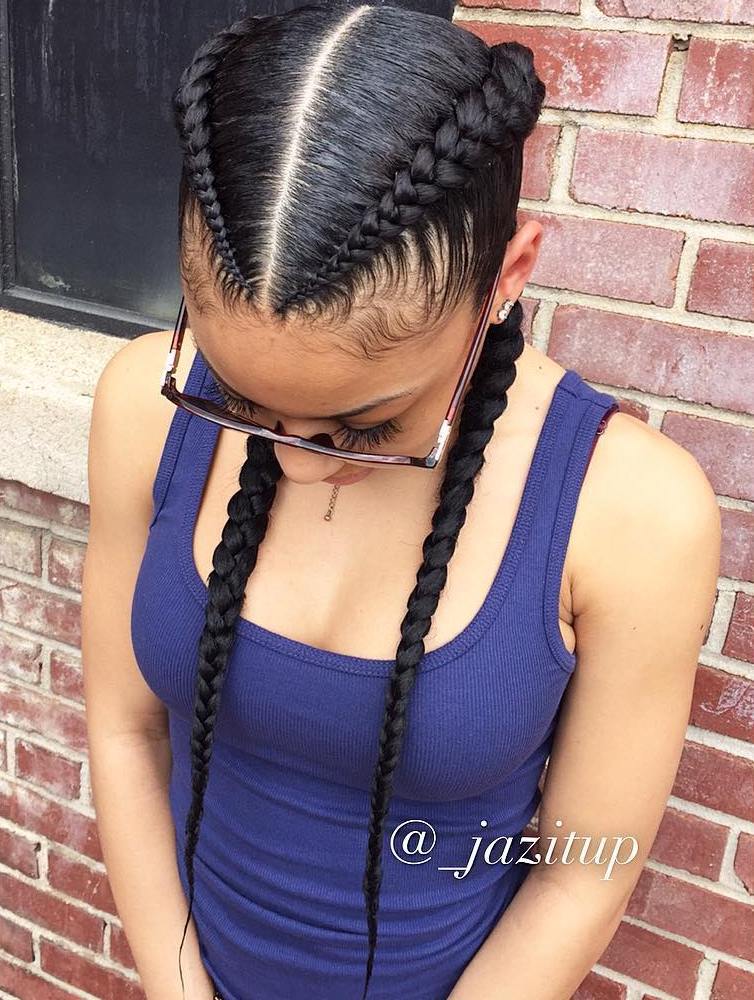 #57: Cornrows and Ghana Braids
The braids that look like cornrows but start off small at the hairline, like Ghana braids, may become your ideal kind of braids if you love the simplicity of cornrows but want them to look more natural.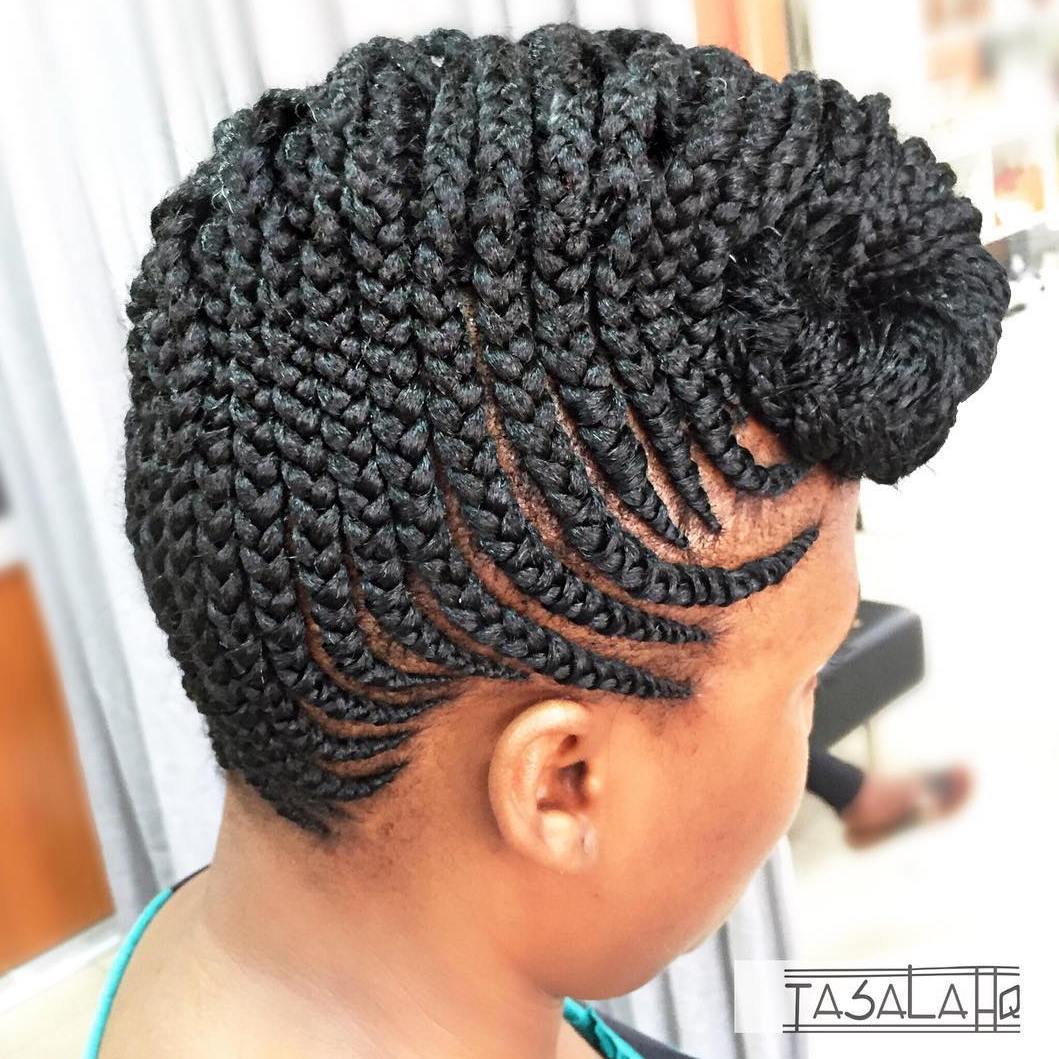 #58: Mohawk with Criss-Crossed Braids
The way the braids criss-cross is nothing less than jaw-dropping. The curls on top add some fun, volume, and bounce to the overall look. If you like to blend styles, this is a great new updo to try!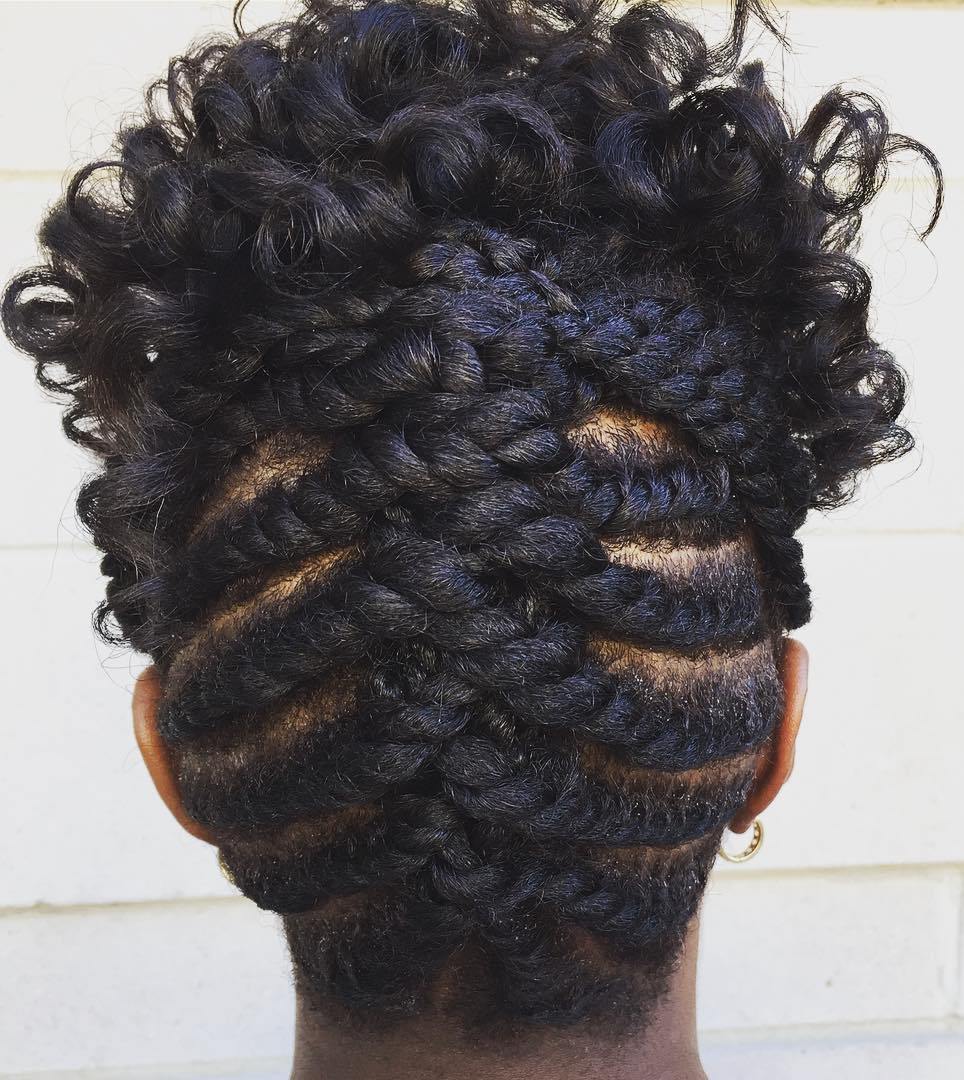 #59: Cool Crochet Twist Braids
Crochet twists are among up-and-coming black braided hairstyles because they're easy to do, flawlessly fierce, and they're protective.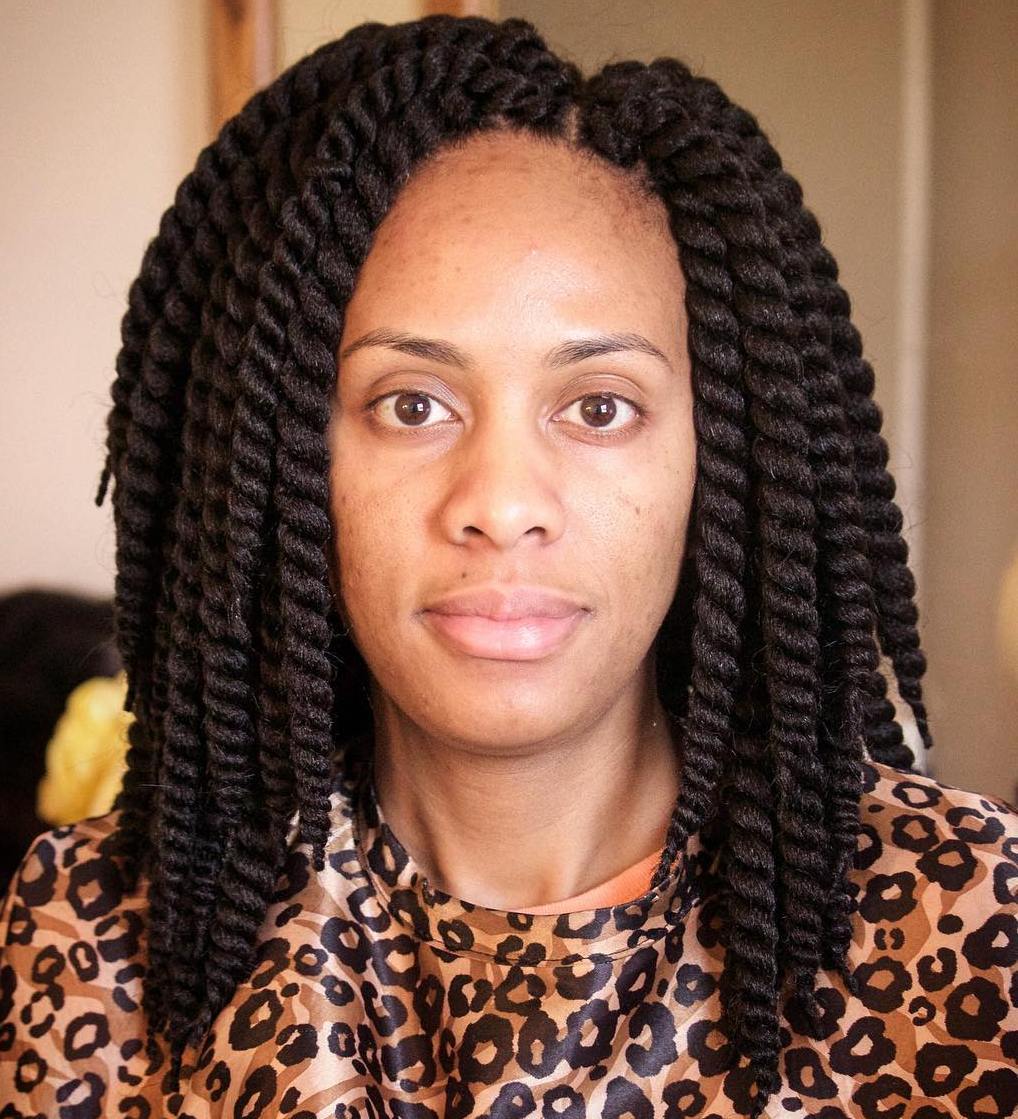 #60: Half-Up and Braided
Wearing black braids half-up, half-down is an effortless way to look on-point every day. This 'do can look professional, it's sporty, sexy and it's casual enough to wear it daily.
#61: An Unmatched Combo: Braids + Curls
Can't decide between braids or curls? Leave your problem of choice behind. With this awesome hairstyle you are getting 2 in 1. African hair braiding section with an explosion of curls at the ends is a wonderful and exciting idea to try.
#62: Outstanding French Style Braids
Extremely chic and stylish, they are not going to be out of fashion in the near future. A gorgeous thick braid, starting at your bang wraps your head gracefully, just to be rolled up at the crown of your head. Look: it's a crown, indeed!
#63: The Most Sophisticated Braided Updo Ever!
Unbelievable… look at that! Those elegant spirals, skillfully rolled into the most sophisticated updo, are worth to grace your head for a once-in-a-lifetime occasion, like wedding, to say the least.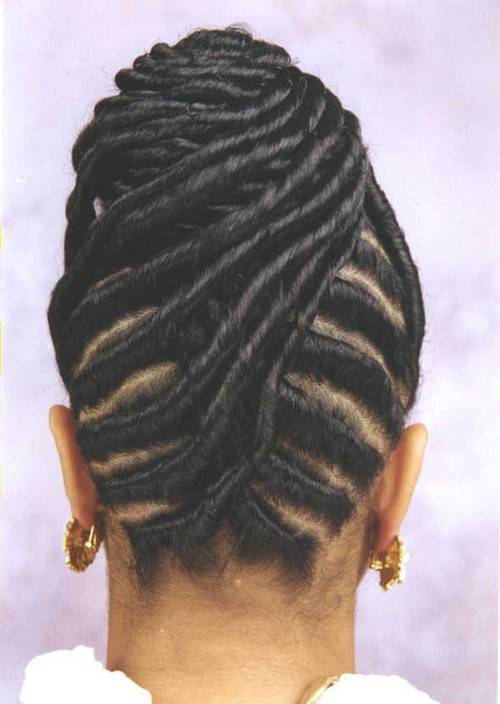 #64: A Feminine Braided Hairstyle for Medium Length
Tresses, falling on your face, always look very feminine and sexy. You can double the effect if you have them plaited into numerous thin tough braids or thick Ghana braids. This hairstyle rims and slims your face outstandingly.
#65: A Neat Pile of… Braids!
Thicker braids are very showy and you can experiment with them. In this impressive updo they are piled on top, while behind there's something to stare at admiringly as well…
#66: Havana and Marley Twists
Are you seeking for some truly dramatic hairstyle? With Havana and Marley twists hairstyles you have found it. People will turn heads, so better prepare your best smile to respond to tons of refined compliments!
#67: Braids and Waves for Any Occasion
Braids, ending in waves, will provide you with good options for a choice of hairstyles. Wear them loose, cascading your shoulders for every day or pile everything up for a superlative updo that is never out of fashion.
#68: Easy and Ingenious
This is one of the best ways of how you can present your natural perm in the best light ever. Let some braids run slantwise for a more creative result.
#69: A Chic Cocks Comb
It's unbelievable what shapes you can come up with, experimenting with braids. Don't forget to complement such a stunning cockscomb with showy earrings, imitating the outlines of your hairstyle, according to Nigerian fashion, like you see in the photo.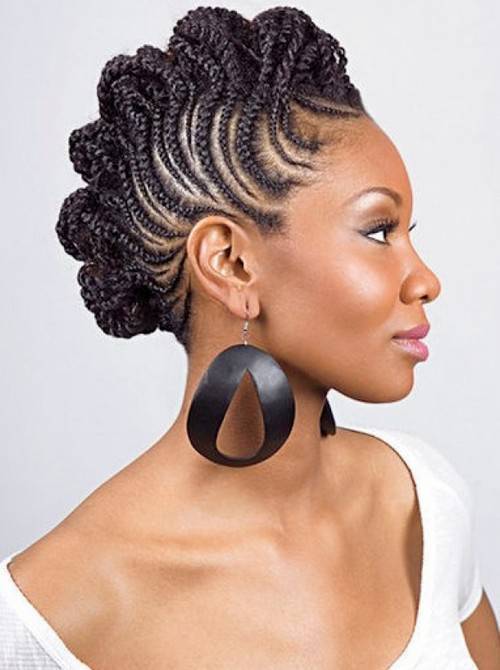 #70: Twist from Box Braids
Keri Hilson also occasionally adopts the box braids trend, and she wears her braids in a modern way – without "baby hair" at front. Well, hers is sleeked cutely into a couple of tiny tendrils.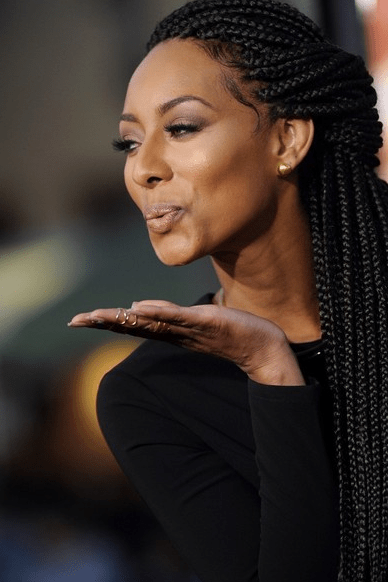 As you see, there are tons of exciting ideas of how to change your image with different types of braids. Take advantage of your naturally thick wavy hair and show the world just how breathtaking you can be!