Tapered natural hair is perfect for women who want a short style with options. Long sections throughout the crown give you the ability to create a look that suits your fashion sense and lifestyle needs. With the right tools and products anything is possible.
Tapered Natural Hair Styles
The following tapered styles offer comfortable lengths and great silhouettes, as well as cool hair color ideas. Your natural hairstyle will look modern and classy thanks to tapering, so give it a chance.
#1: Carefree Natural Spirals
One of the best tips to remember when it comes to unprocessed hair is to sometimes just let it be. Loading it with products or trying to mold it into different shapes can result in lackluster looks. Instead, just use a little bit of molding pomade on your hair and turn your focus onto playing up your facial features with items like false lashes and highlighter.
#2: Tapered Rainbow Hairdo
Channel sunshine and good luck with your natural hair tapered cut that resembles a rainbow. Because your hair is so short, don't try to cram too many colors in there. Stick with one or two complementary hues like caramel and burgundy.
#3: Side Bang for Natural Curls
For a retro yet cute look, channel the late Prince's Purple Reign hairdo with a long side bang and tapered nape. The iconic hairdo looks modern with an ornate septum piercing and chunky hoops.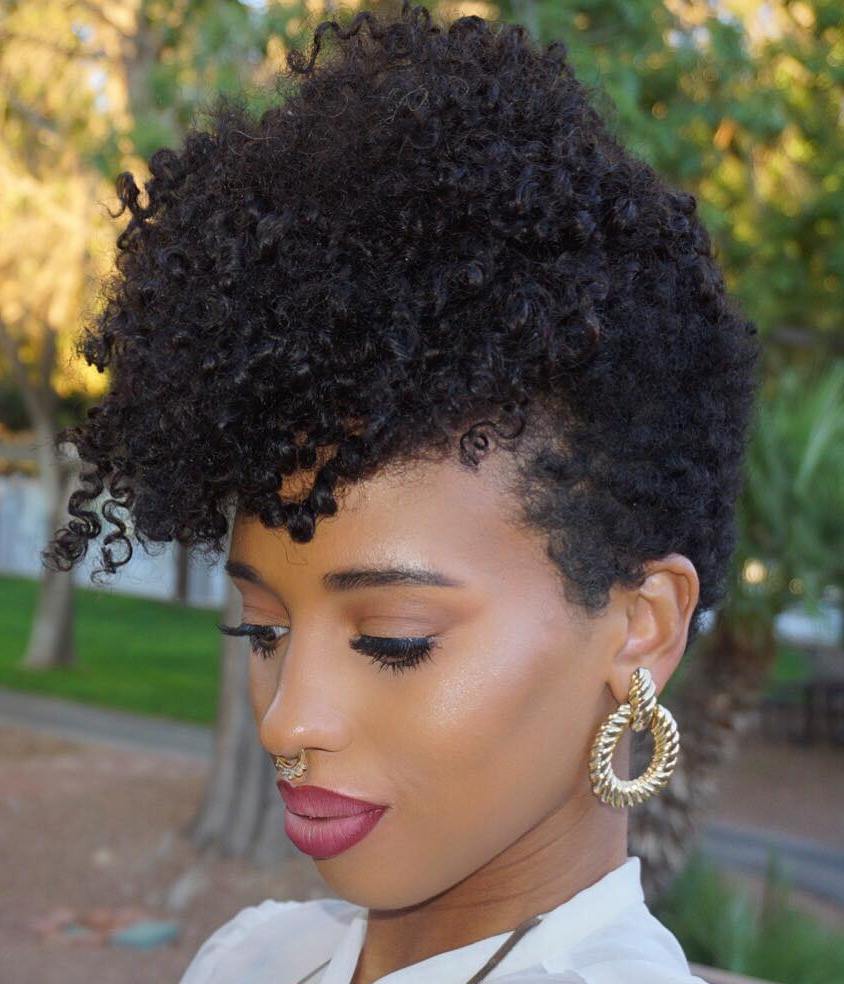 #4: Tapered Straw Set
Natural hair can take on whatever texture you choose as long as you know what tools to use. Surprisingly, to get really tight and thin curls in short styles, you may have the item in your home already—straws! The drinking utensil is used to create an enviable look when setting wet hair.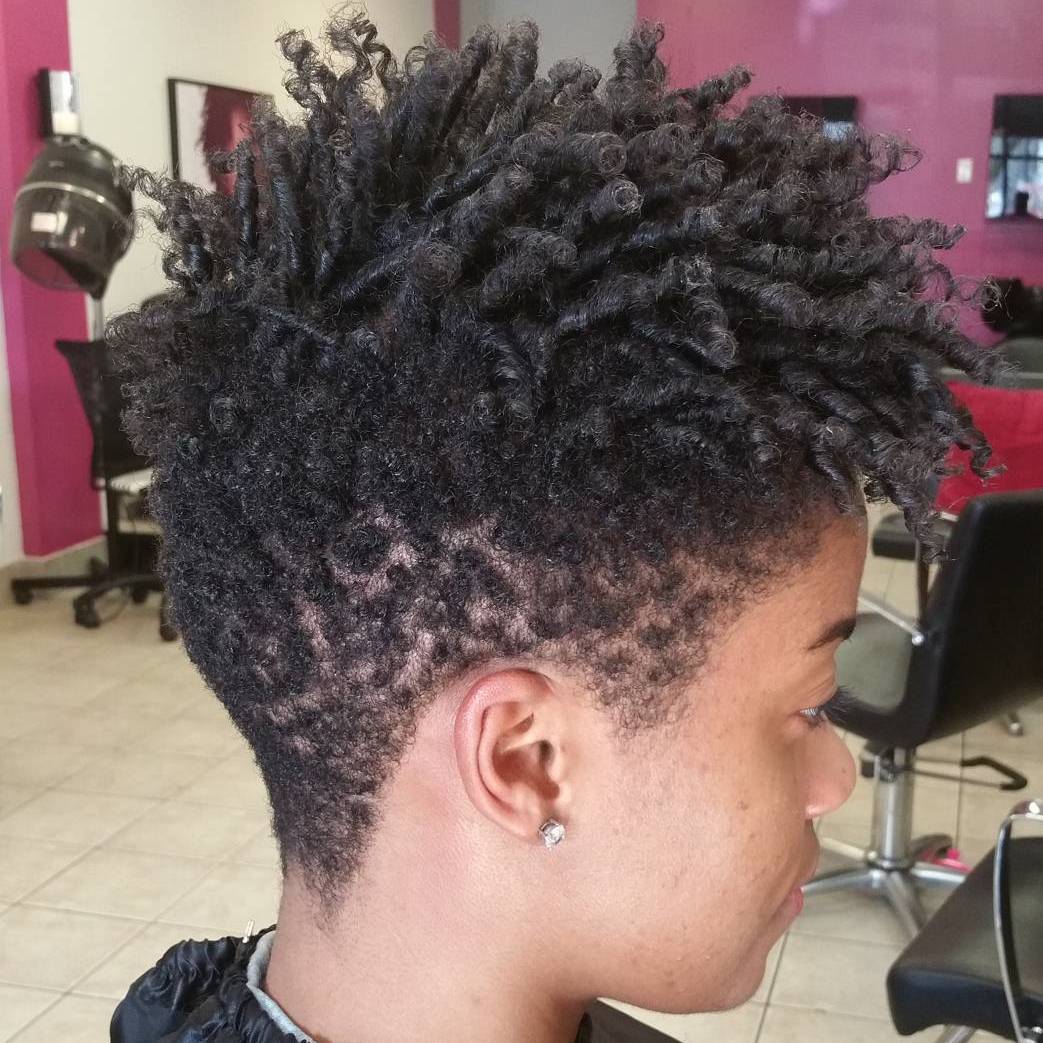 #5: Natural Hair with Curves
If you have a square or angular face, it can be difficult to add softness without loose layers and waves. Mimic the wavy pattern of delicate curls by having your hairline cut into a curved shape to frame the face and direct the eye to the fullest part of the cheek.
#6: Short Natural Burgundy Hairstyle
Black women spend so much money on hair relaxers and weaves – why waste cash when you can look just as gorgeous with a twist on your natural hair? Tapered natural hair is not only sexy, but easy to maintain too – something all African American women can appreciate. Color your hair a soft burgundy hue to liven things up.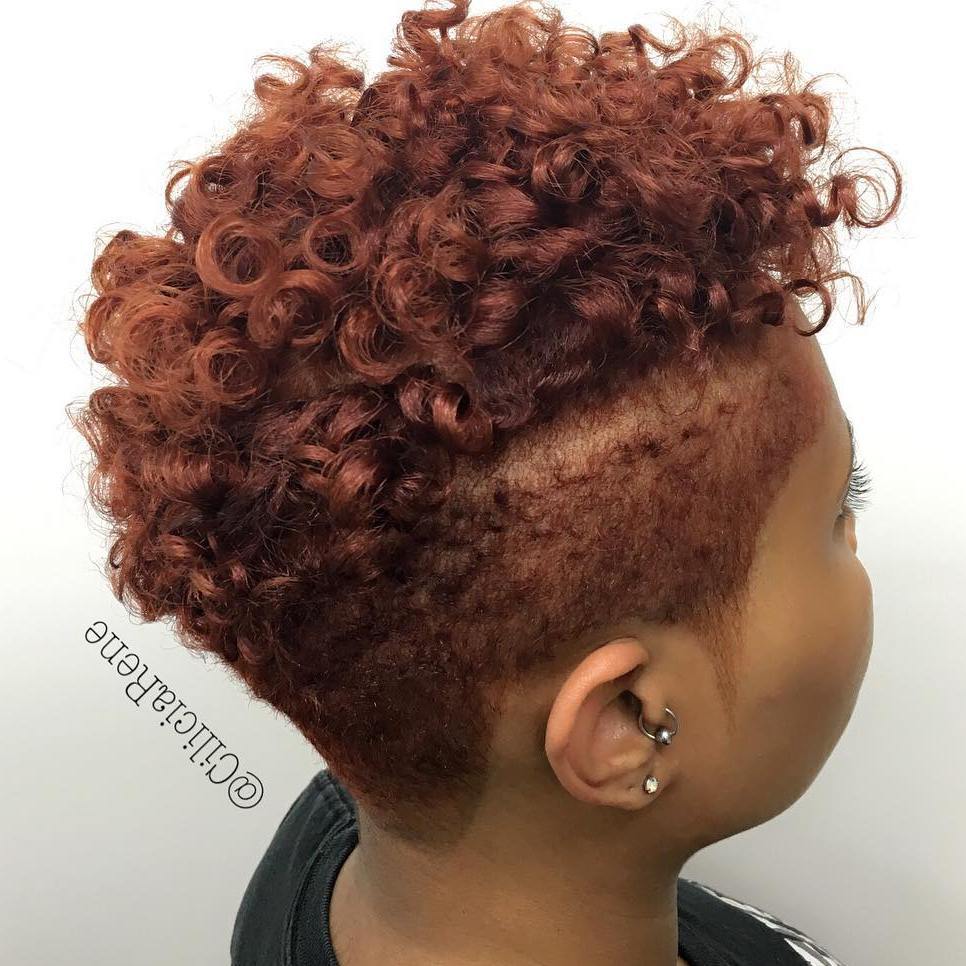 #7: A Bright Statement
Tapered hairstyles don't need to be understated – in fact, going bold with a vibrant and statement-making color is one of the advantages of having short hair. It's affordable to both dye and maintain. On your next trip to the salon, go outside of the box with a bright orange, cool turquoise or an expressive hot pink.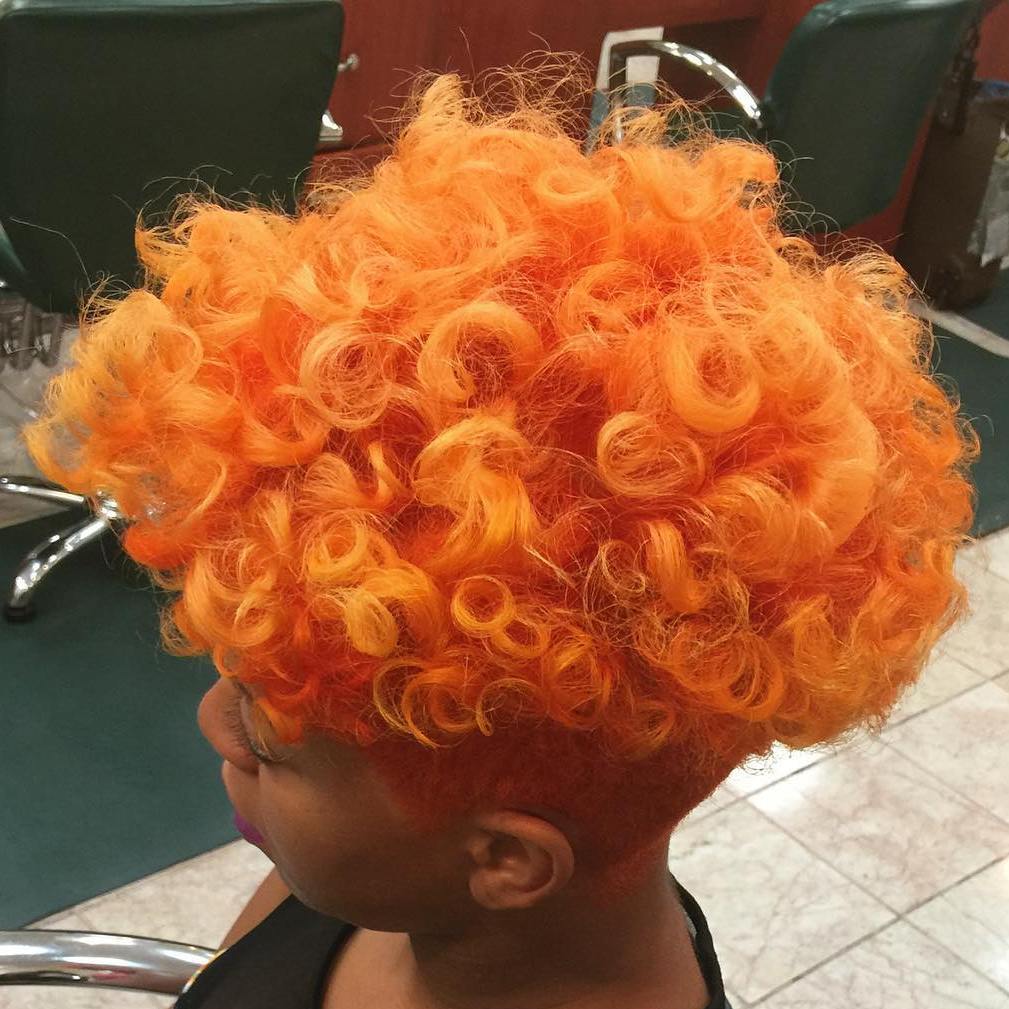 #8: Red Tipped Twist Out
If you want to try a taper haircut but don't want to go too extreme, you can flaunt this trendy style without going overboard. Curly-haired girls look beautiful with just the tips of their strands colored. Have your hair cut into a short taper to maximize the coil in your curls, and then add either temporary or permanent dye in the hue of your choice.
#9: Full Tapered Style
While many tapered hairstyles involve shearing the sides of the head, that isn't always the case. A tapered cut can present that closely cropped signature style while still leaving curls moderately full. Simply tell your stylist you'd like to go easy on the sides.
#10: Natural Cut with Bangs
Want to soften the face and still have some styling options with short hair? Try a taper cut with long bangs and crown section. Allow curly front sections to graze the forehead for a softer, more feminine twist on short hair.
#11: Natural Hair Statement Style
Take a walk on the verge of the wild side with some tiger orange locks combined with a tapered twa. This "teeny weeny afro" allows hair to flow free and stay away from the damage that comes from daily styling – just wake up, wash and go!
#12: Thick and Straight Tapered Hair
Maybe your hair isn't naturally curly, or you prefer the look of relaxed tresses. You can still experiment with tapered natural hairstyles. Try a sort of Mohawk with cropped sides and the tapered length towards the nape of the neck. Brush the top section of hair straight back and spritz with an all-day holding spray.
#13: Ombre Taper
We often think that short hair restricts our hair styling creativity. Try an ombre hair color on your curly black hair to liven things up. Purple, blue, green and red are some color options that work well.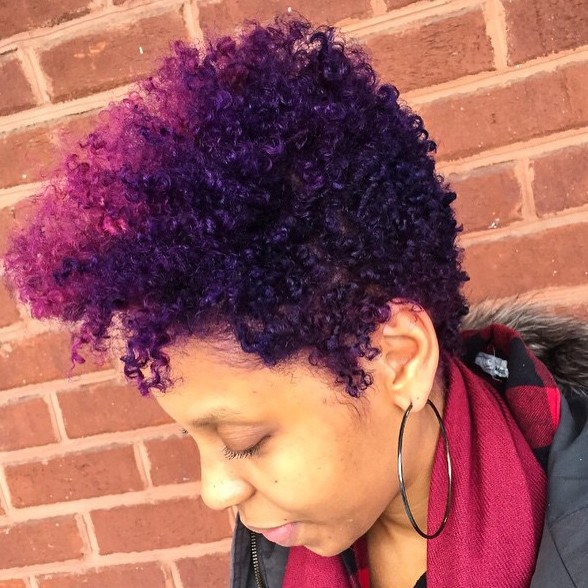 #14: Cropped Cut for Natural Hair
There are so many stylish hair options for women who want to wear their hair short. Tapered afros are chic and easy to maintain. Keep your natural curl and simply liven it up a bit with a modern cut that still looks feminine.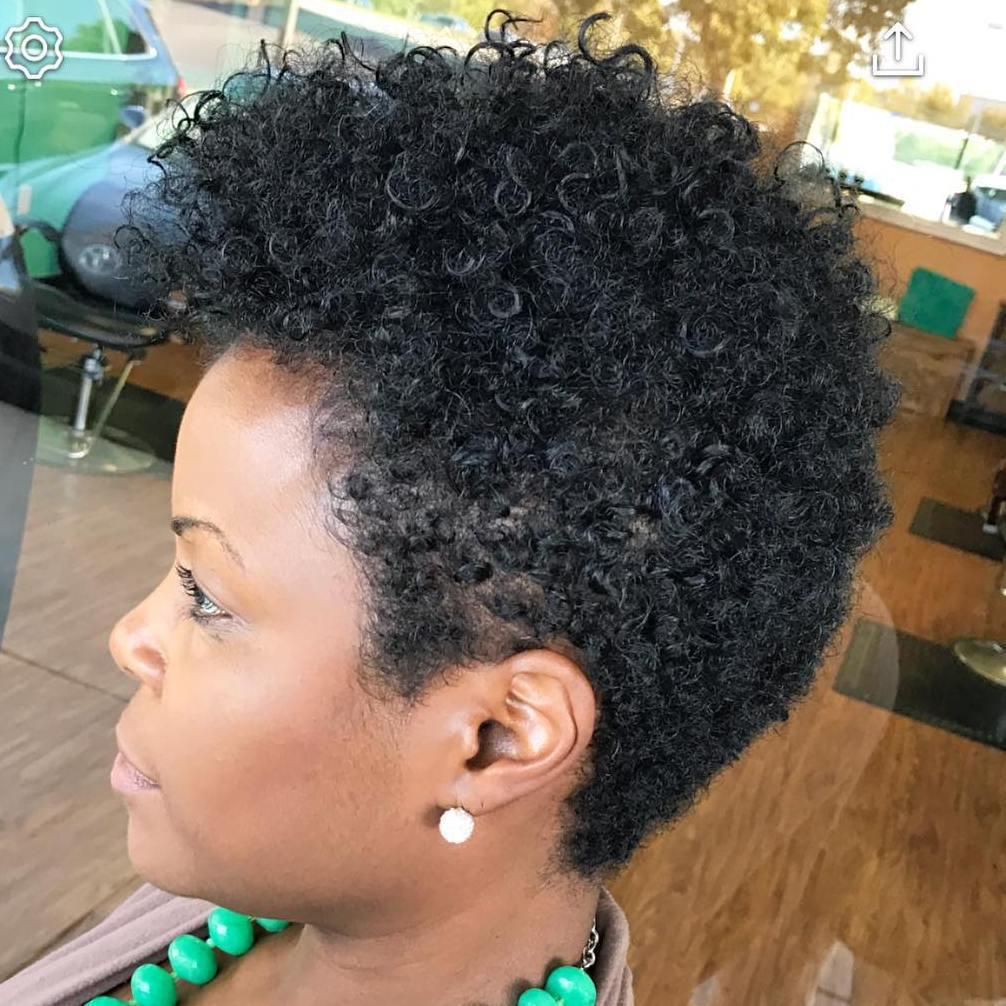 #15: Mountain of Curls
Your tapered natural hair is truly a beautiful statement piece. Not only it tells the world you have an incredible sense of style, but it really looks unique. No two tapers are the same when you pair them with natural curls.
#16: Blonde Tapered Corkscrew Curls
If your curls are tight and tiny, consider this cute cut that will simplify your mornings and keep your fashion sense on point. Color your locks a fun honey blonde to liven up hair that feels dull and drab.
#17: Tapered Hair with Colored Coils
Want to try a short tapered style without compromising on personal expression? Check out this cut for those blessed with corkscrew curls. Upgrade your coils with a deep hue like burgundy, dark purple or caramel brown.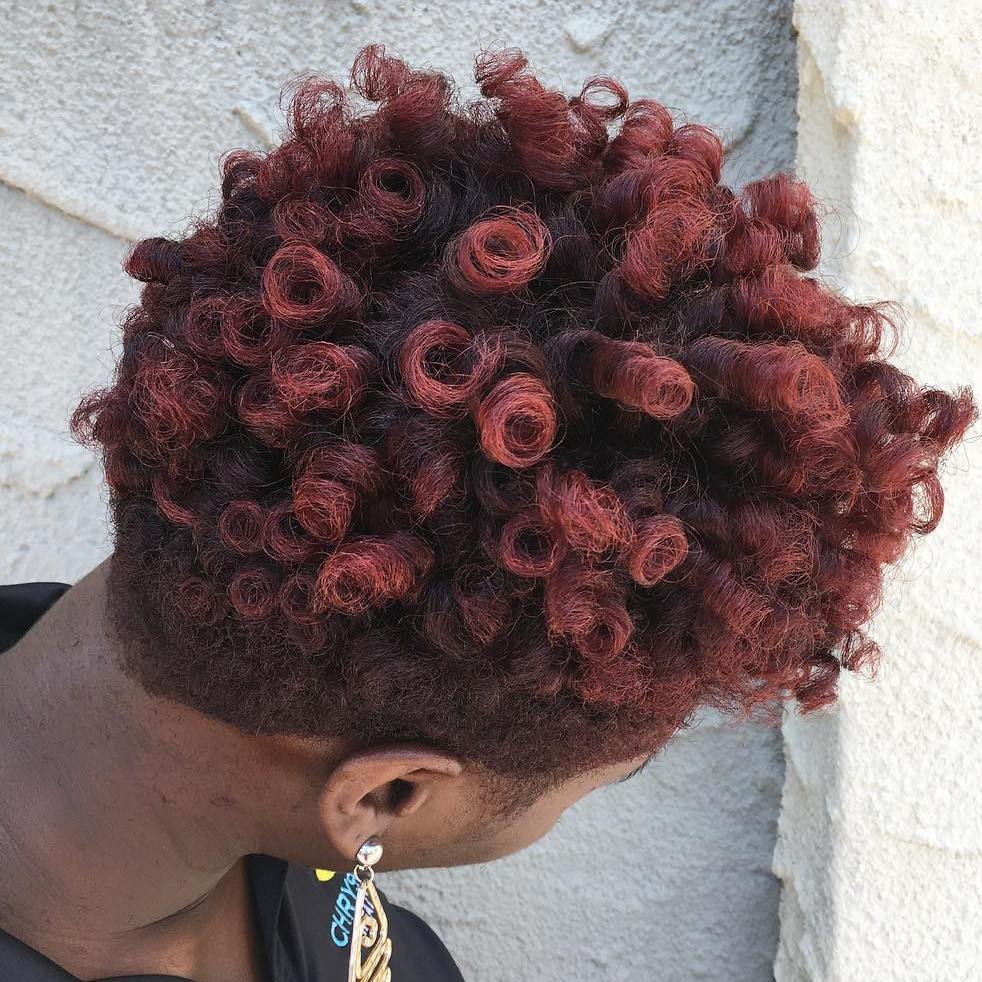 #18: Natural Descending Taper Style
A tapered natural haircut can be as short or long as you wish. For this style, try longer fluffy curls on top with shorter twisted coils on the sides and back. The end result? A beautiful girly style that descends in both length and texture.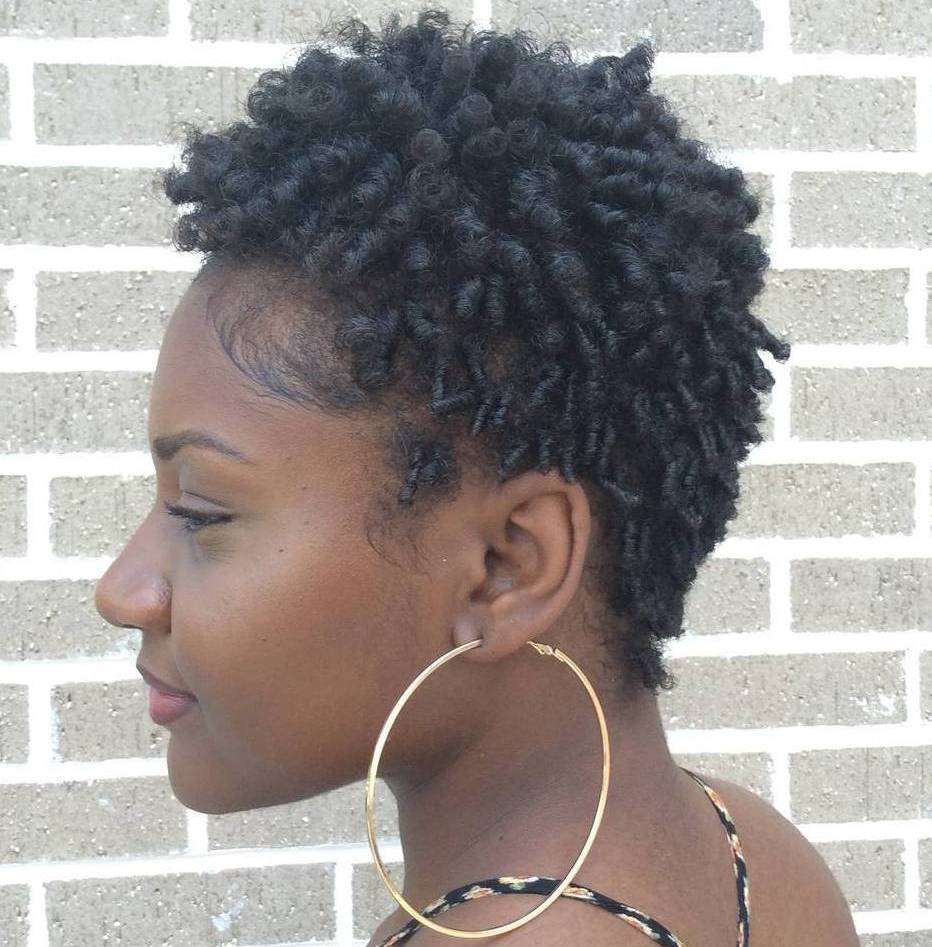 #19: Faded Sides
Accentuate your tapered style with a side fade that is beautifully lined up on the temples. This is the ultimate in wash and go styling, with a mini afro on top and cropped, barely-there sides.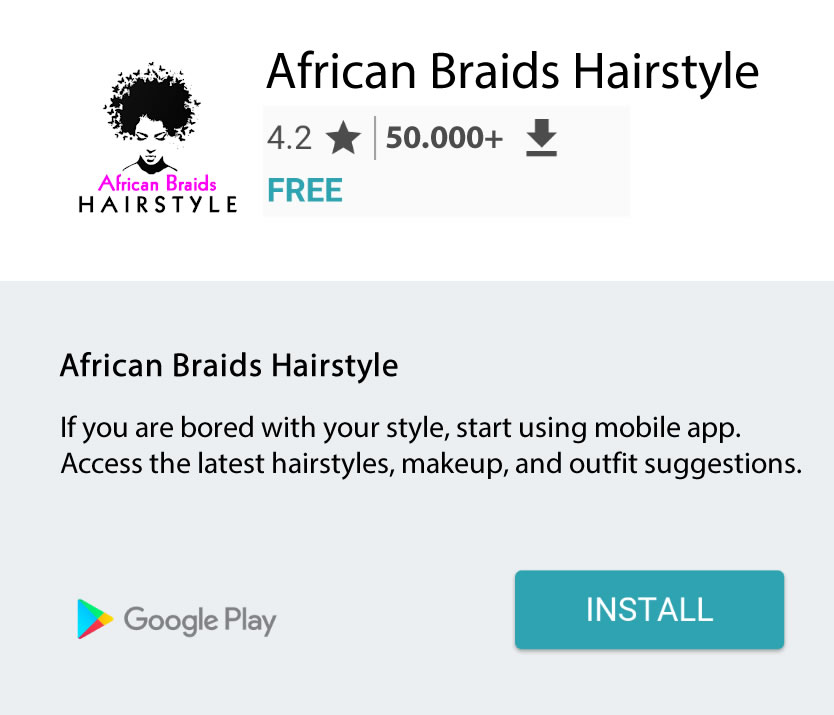 #20: Natural Curls of Gold
Afro hairstyles certainly don't need to stick to the basic black. In fact, pretty much any hue looks gorgeous on black hair, providing you with endless options. Try a golden blonde to add a luxurious sheen to your curls.
#21: Tapered Color Block
Instead of dying the entire head, go for just one or two signature sections. A brightly colored accent can be placed at the nape of your neck, to the side or even in bangs. When it comes to tapered afro styles, there really aren't any rules – it's all about style and individuality.
#22: Long Loose Curls
The long hair taper is currently very popular among women and men. it gives you plenty of strands to curl and set in whatever position you find it to be the most flattering. Large curls free of sticky, crunchy styling products are a great option.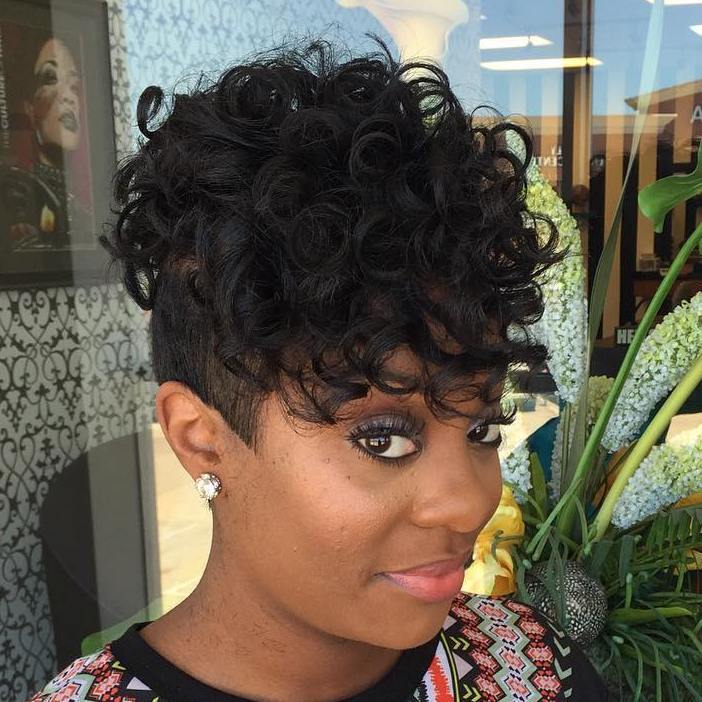 #23: Teeny Tiny Ringlets
If you want to try an afro with taper style, experiment with an accent color and teeny tiny ringlets that are easy to manage and fun to wear. If your hair isn't naturally this tightly curled, you can get it set as such during your next salon visit.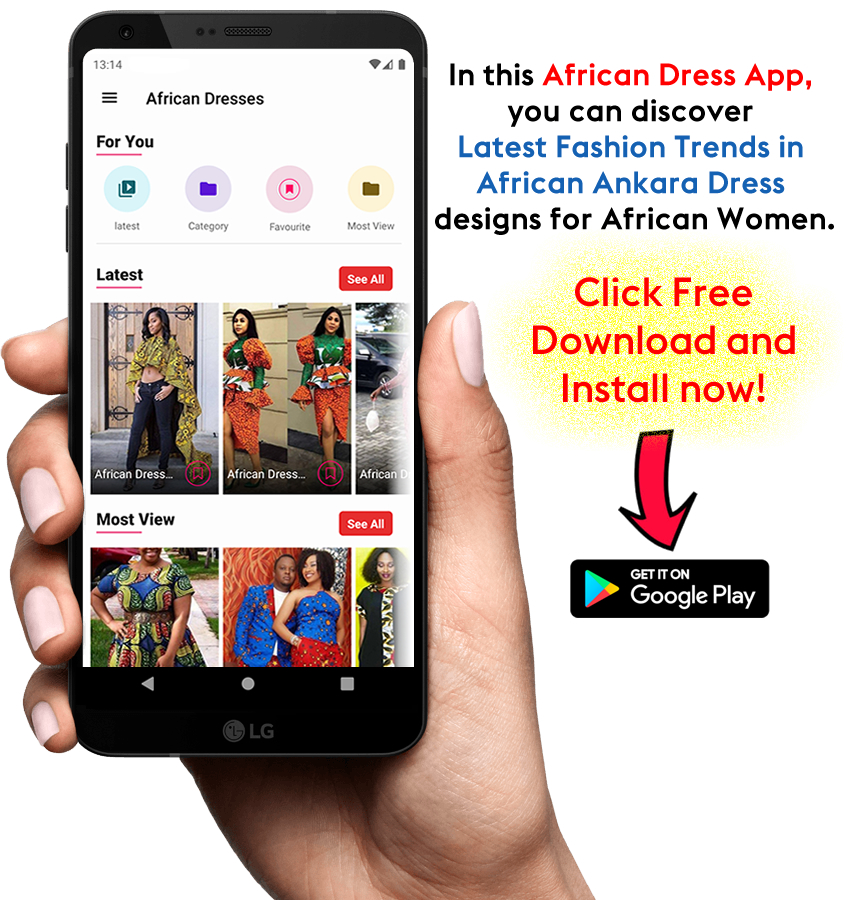 #24: Natural Wave
A wavy afro taper looks a bit more subdued but certainly still just as stylish. Like many tapered hair styles, this cut looks smart and professional, making it ideal for everywhere from the office to the club.
#25: Leaving It Long and Natural
One of the best styles is what Mother Nature has given you – with just a bit of help added in. Let your hair grow in its own natural texture and direction, and then taper the sides and back. Add in some accent color and you've accomplished a breezy, laid back style for natural hair.
#26: Tapered Twist-Out
Twist-outs are the ultimate weapon for natural hair. Simply wash, condition and twist your hair in sections, allowing them to dry at night. For shorter pieces, twirl pieces around your pointer finger to create coils.
#27: Red Hot Natural Hair
Take your tapered natural hair to the next level with a fun pop of color. Red is perfect because you can also brighten your face with a lipstick in the same hue. Make sure that the rest of your outfit is neutral to keep distractions at bay.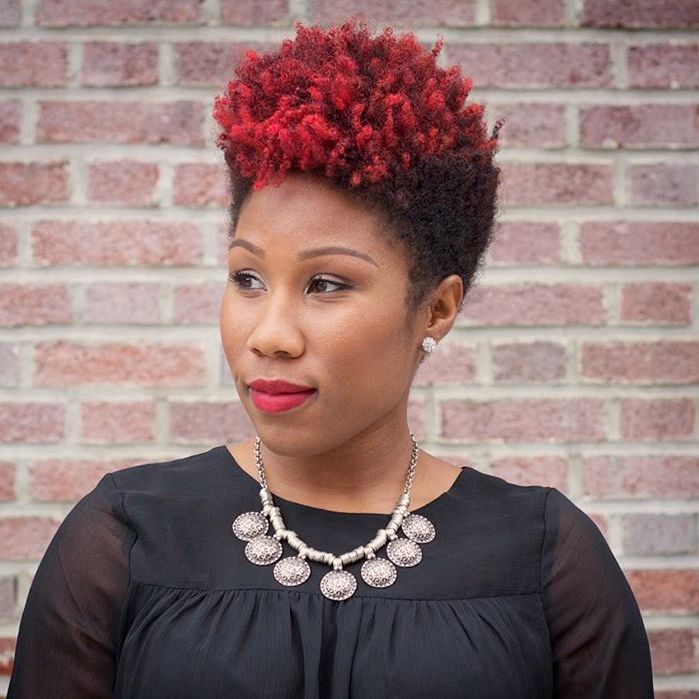 #28: Tapered Shaved Designs
Shaved designs in black hairstyles are nothing new, as men have been getting unique cuts at barbershops for decades. Now ladies have taken over the trend and made it their own with feminine flair like the flower petals shown here.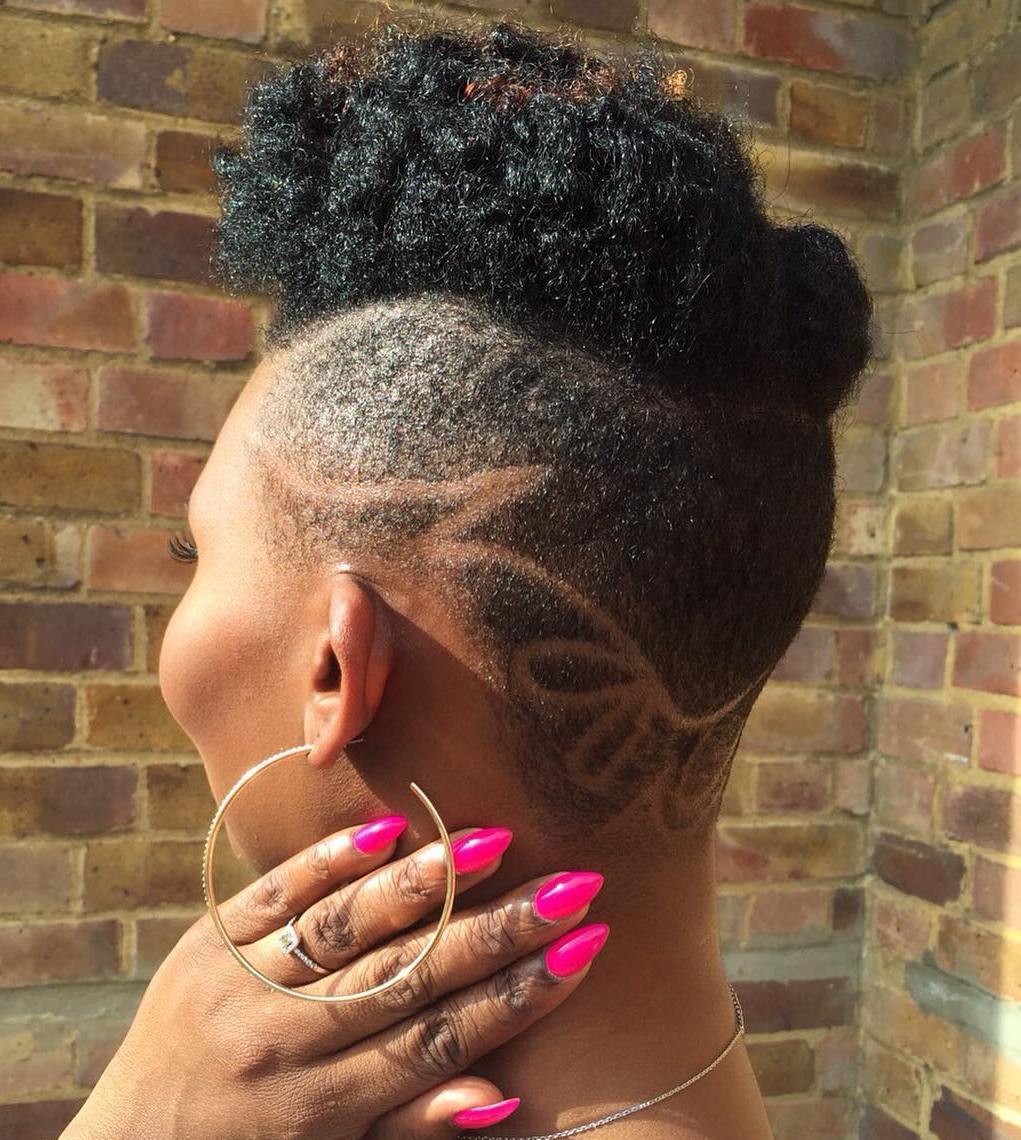 #29: Soft Tapered Ombre
Just because you have a tapered natural haircut does not mean that you have to sacrifice length. By keeping just a small section shaved and the rest chin-length or longer, you have the ability to create many different styles. Blow dry and part down the middle for a bob, or pull it up for a flirty fun look.
#30: Tapered Shape Up
If you have a round face, but want to wear your hair in a short afro, this is the right way to do it. Often referred to as a 'shape-up,' shaving a tapered edge around your hairline adds sharp angles and structure to curvy cheeks.
#31: Golden Natural Curls
Curly hair looks best when it is not weighed down by a bunch of hair products. To define spirals, ask your stylist for soft highlights that will give your hairdo dimension and shape.
#32: Wide Tapered Mohawk
When choosing tapered natural hairstyles the main thing to take into consideration is face shape. If you have a wide or round face, a narrow Mohawk style will only make your visage look fuller. Remedy this by coordinating the width of your hairdo with the high points of your cheekbones.
#33: Tapered Flat-Top
Thick, coarse hair can be hard to highlight, especially if it is short. Instead of opting for fine sections of color throughout, create an ombre effect by only coloring the crown of the cut. A few shaved lines will also add visual interest.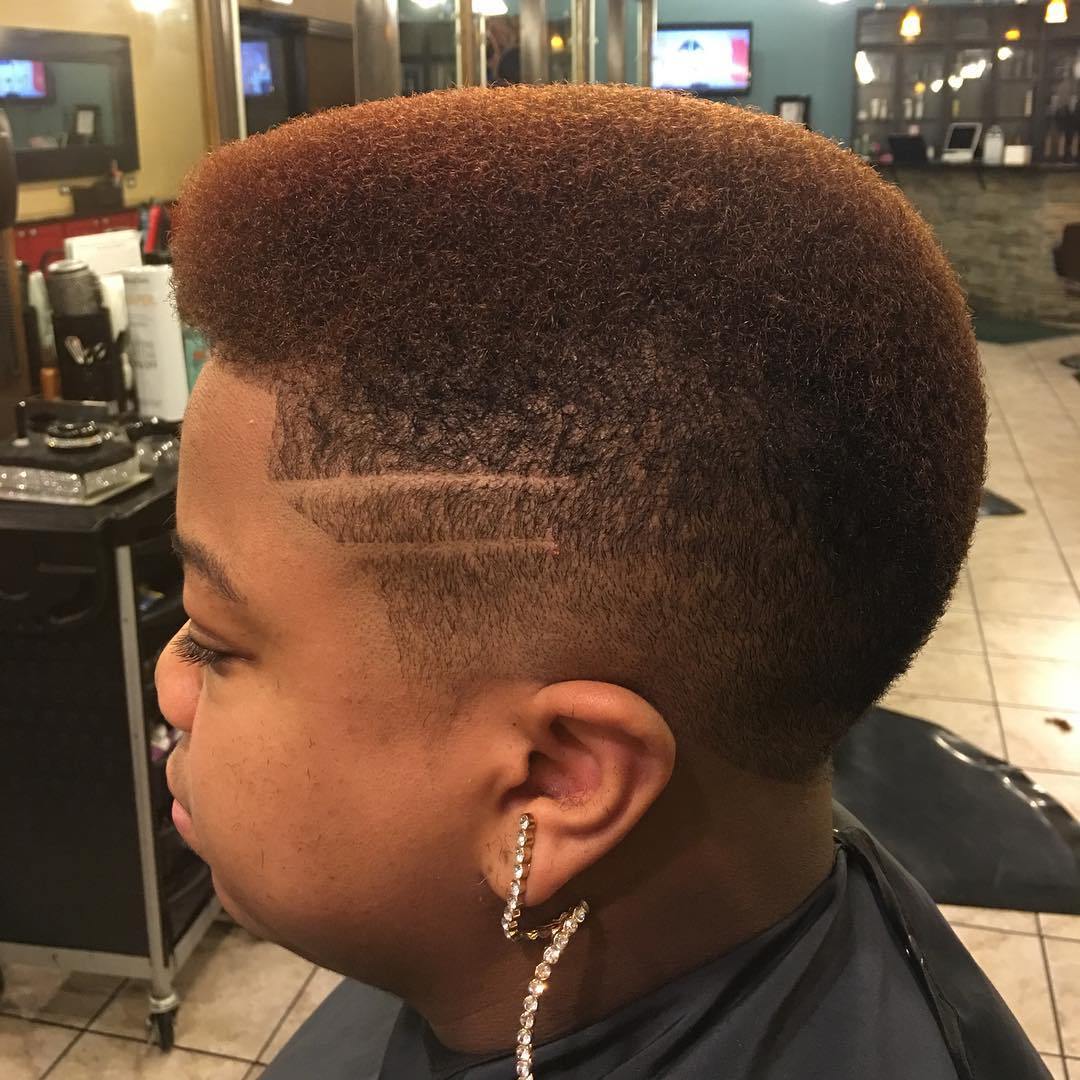 #34: Pixie Cut for Natural Hair
Flexi-rods are among the best hair tools for African-American women with unprocessed hair because they create sleek spirals without the usage of heat. Just wrap sections of wet hair at night and wake up to a head full of bouncy curls.
#35: Bold Bordeaux Tapered Style
It can be hard to find a color that really pops on short tapered natural hair and still looks sophisticated. By mixing brown and red, you can create a deep wine hue that is vibrant and rich.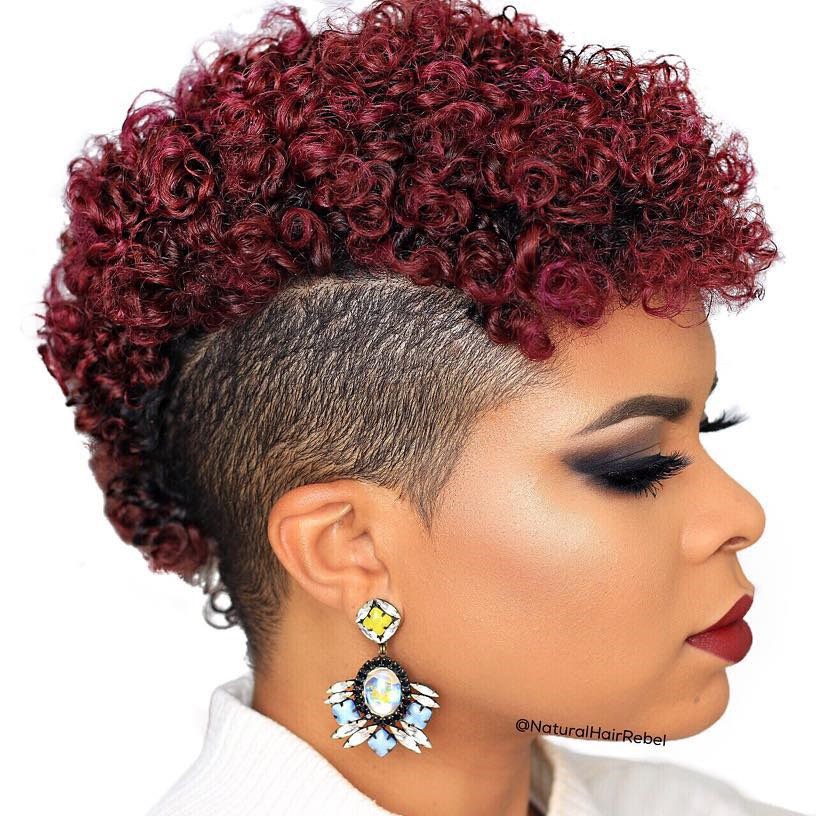 #36: Extra Short Tapered Cut
Many mature women tend to have less time or desire to deal with long hair. A tapered look is perfect for a low maintenance lady who still wants to look stylish and pulled together. Just throw on a nice shade of lipstick and you're good to go.
#37: Short and Sweet Natural Hair
Let your natural beauty shine through with a haircut that doesn't offer any distractions. Soft cropped curls and slick baby hair draw attention to bold brows and beautiful eyes. Plus, this easy look is the epitome of a wash and go hairstyle.
#38: Tapered Cut for Glasses
Tapered hairdos usually have more length throughout the crown with shorter sides and back. But you can also choose a look that is slightly spiked at the front with an even length around.
#39: Golden Brown Tapered Cut
It's amazing how natural tapered hair can be transformed by simply adding an etched line. The design makes the hairdo modern and trendy. Plus, when you grow tired of it all you have to do is let your hair grow out.
#40: Edgy Tapered Two-Tone Cut
Less is more does not always apply to tapered haircuts for natural hair. If your personality is over the top, you deserve a hairdo to match. Bright blonde highlights and an intricate design are just what you need to set you tapered hairdo apart from the masses.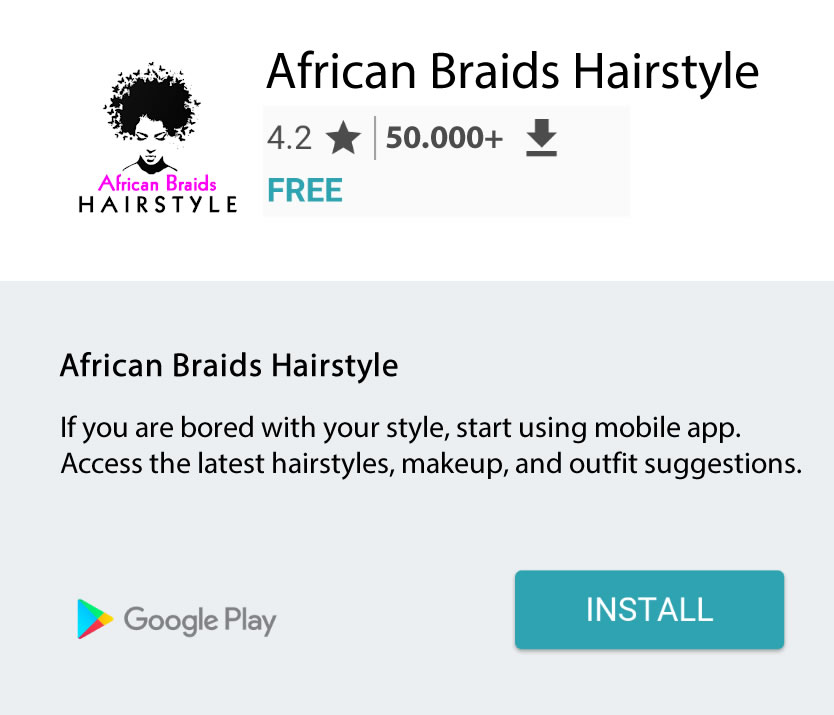 From curls to afros, blonde to Bordeaux, there really isn't any place your tapered natural hair style can't go. Whether you want a classic and simple short cut or a bold and intricate shaved look, the possibilities are endless.